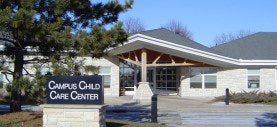 When Sbeidy Dominguez got pregnant during her senior year in high school, her school counselor didn't give up on her college dreams.
"Her school counselor, Rita Guerra, insisted that she was college material," first lady Michelle Obama recounted during a speech earlier this year.
Guerra helped Dominguez find medical care, complete her FAFSA and make up her AP exams after she gave birth. Dominguez ultimately graduated in the top 1 percent of her class and is currently finishing her senior year at the University of California, Riverside, where she is majoring in psychology.
But beyond encouragement for young mothers to pursue their college dreams, there's something else that plays a critical role in making those dreams a reality: campus-based child care.
"UC Riverside has a day care on campus so my daughter was there while I went to class, studied for exams, or finished any school work," Dominguez explained in an email to Diverse. "Once we were home, I could focus on my daughter and not worry about homework."
Despite the growing number of college students with children, campus-based child care has been on the decline in recent years, according to a new report from the Institute for Women's Policy Research.
The percentage of community colleges with child care on campus dropped from a high of 53 percent in the 2003-04 school year, to 46 percent in 2013, the report shows. And at public four-year institutions, the percentage of campuses with child care decreased from 54 to 51 percent from 2002 through 2013.
The report says while affordable and reliable child care is a "crucial support" for the 4.8 million college students raising dependent children, it remains "tough to find."
"High child care costs, difficulty obtaining subsidies, and scheduling challenges often create significant obstacles for student parents, and may contribute to their relatively low rates of college completion," the report states. "Postsecondary systems can play an important role in promoting college success by helping student parents locate and pay for the child care they need to succeed in school."
The report ties the scarcity of child care on campus to the fact that federal funding for Child Care Access Means Parents in School, or CCAMPIS, grant program, has remained essentially unchanged in recent years.
CCAMPIS funding peaked in 2001 at $25 million but has declined and is currently funded at $15 to $16 million, the report states.
The report notes that federally funded child care subsidies could help offset the cost of child care for college parents, but the subsidies are "limited and inaccessible to many families who need them."
The report says only 18 percent — or 2.5 million — of the 13.8 million federally eligible children got subsidized care in 2009. It also notes that 18 states had waiting lists or had frozen intake for families applying for child care assistance.
Also, many states limit eligibility for child care with work requirements that make going to college difficult to impossible.
"Such restrictions can threaten parents' ability to succeed in postsecondary education and training," the report states.
The report notes that the number of college students with dependent children grew by 1.6 million — or 50 percent — from 1995 to 2011. Today, the report states, the 4.8 million college students with dependent children represent about 26 percent of all college students in the nation.
The report recommends improving access to child care for low-income students with children in order to boost their ability to stay in school and earn their degrees.
"College campuses overall should play a more active role in helping to meet the child care needs of students with children," the report states.