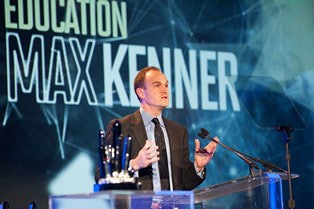 The powerful impact that higher education has on prison culture and incarcerated individuals was recently brought to the fore by Smithsonian honoree Max Kenner, founder and executive director of the Bard Prison Initiative.
On Oct. 16, Smithsonian magazine announced the winners of the third annual American Ingenuity Awards. Among the 10 honorees was Max Kenner of the Bard Prison Initiative (BPI), a leading advocate for the national restoration of college-in-prison programs.
In his speech, he told the audience that by providing incarcerated men and women with educations comparable to any college student, they become inspired and, perhaps for the ­ first time, see their place in the world.
Many have felt marginalized, heard that higher education wasn't for them or felt disconnected from society. Engaging in intellectual pursuit and ­finding purpose changes not only the individual, but his or her relationships with family and the world, according to Kenner.
"The punishment of being incarcerated, obviously there are bars and a lot of physical stuff, but in many ways it centers around the idea that a portion of someone's life can be made irrelevant," says Kenner, who founded BPI in 1999 when he was a student at Bard, to Diverse. "The most fundamental thing that happens doesn't relate directly to the curriculum. It's about convincing people that this period of time in their lives matters and it's up to them to make it as ful­filling and meaningful as possible," says Kenner.
"If they do that, not only will they be more fulfilled as people, but they'll be better prepared for release, be better neighbors, better citizens, better at any role they seek to ­fill later in life."
History of college-in-prison
In generations past, higher education opportunities were commonplace in prisons, but that changed in 1994 when inmates in state and federal prisons became ineligible for Pell Grants.
This caused chaos, according to Dr. Michelle Fine, Distinguished Professor of Social Psychology, Women's Studies and Urban Education at The Graduate Center, CUNY. Without the possibility of higher education, prisoners didn't even want to participate in GED or ESL programs or basic education.
In the years since, non-government-funded programs, such as BPI, have offered college courses to a limited number of prisoners.
"There is substantial research demonstrating that when there is an active and free college program in a prison, the culture of the prison changes, disciplinary incidents diminish, men and women take more responsibility for their own pasts and their futures," says Fine. "It affects the people, the children, the prison culture and the recidivism rate dramatically.
"They're no longer just killing time," she adds. "They're actually using time to rebuild a sense of self — intellectually, ethically and in terms of relationships."
BPI gives incarcerated individuals the chance to earn a Bard College degree while serving their sentences. It is the largest program of its kind in the United States, with approximately 275 men and women enrolled in New York state. Students pursue a liberal arts education in subjects as diverse as those available to the typical Bard student.
"Our prison system in the United States is filled in radical proportions with too many Black men and Black boys," says Kenner. "College opportunity transforms the meaning of the prison experience from one that is designed to close off people physically from other people and also close off avenues for success, happiness or fulfillment in a person's future.
"If they have access to an education like this one, the society at large is saying something more nuanced, more thoughtful and more caring to a person in prison than, 'You are a threat and you will carry a stigma' and 'You will never be a fully recognized citizen in this democratic society again.' We're saying, 'There is a punishment that the state has administered, but what's best for you is best for us and we're going to work together to make that possible,'" he says.
Kenner says he sees many BPI students, both male and female, who are extraordinarily gifted, but were failed by the education system and often dropped out of school.
"The most important thing we can do in the United States isn't just [to] transform the prison system," he says. "We have to transform education in this country, particularly how our best colleges and universities find students.
"We've given up on too many Americans too early in their lives," he adds. "I hope BPI can be a symbol of all the talent that's out there that hasn't had access to the best-possible education and [can] make us be more ambitious in finding those people."
Transforming inmates
Only a small percentage of prisoners have access to higher education, but those who do consistently show its positive impact. There is significantly reduced violence within prisons and dramatically lower recidivism rates.
The Prisoner Reentry Institute (PRI) at John Jay College of Criminal Justice in New York City introduced its prison-to-college pipeline as a reentry initiative in 2011. John Jay College and Hostos Community College lead the Prison to College Pipeline (P2CP), a partnership between the City University of New York and the New York State Department of Corrections and Community Supervision (DOCCS).
PRI is not a degree-granting program like BPI. Rather, it is designed to introduce men at the medium-security Otisville Correctional Facility to the college experience. The PRI perspective is that engaging in a traditional college experience after release provides social interaction and work-related networking that helps ease reentry.
Inmates begin the PRI program two to five years prior to release, taking about two classes per semester. As long as they maintain a C average in the classes they take while incarcerated, they're guaranteed a spot in a CUNY institution upon release. Counselors also help inmates prepare for the parole board and reentry.
There are currently 16 incarcerated individuals in the program and 18 released participants in the community, four of whom are enrolled at CUNY schools.
"It helps our students develop an identity beyond that of [an] incarcerated person," says Bianca van Heydoorn, director of education initiatives at PRI. "A lot of our students when they first come in write their department identification number on their papers because they're so used to writing that number everywhere and being identified by that number.
"Once they get a little into the semester, their primary identity — at least in the classroom — starts to shift to that of college student, which has impact beyond just the facility," she adds. "The options for someone's reentry are automatically expanded because they've had this experience with higher education in the same way that moving beyond any kind of stigma or social oppression has an impact."
BPI has specific reentry programs, including additional coursework geared to making prisoners more employable upon release. Dr. Jed B. Tucker, director of reentry, says those programs currently focus on computer science and public health.
In addition to the personal and psychological shifts experienced while studying, they are prepared to fill jobs where there are opportunities.
"They have career ideas," says Tucker. "Not just, 'I want to get settled and get by,' but development of real interests that they're personally attached to and that they feel confident they can do.
"As we have been able to introduce new curriculums like public health and computer science and as I'm able to report back to our students what their colleagues are doing on the outside, the more their aspirations and what they want become concrete."
Tucker says a number of BPI graduates have gotten jobs in public health and some are now pursuing graduate school. Some are working as health educators in their communities and some are doing research.
"The two most cost-effective and life-transformation things you could do for people in prison are drug and mental-health work and college," says Fine. "We really need federal funds restored for college in prison and college after prison."
Despite its success and growth over the past 15 years, Kenner is honest in saying BPI's financial position, which is dependent on foundation grants and philanthropy, has always been precarious.
"This is an experiment of real optimism and hope, but we're not sure how long it can last," he says. "There's no question that we would like college opportunity to be restored nationally within state prison systems across the United States."