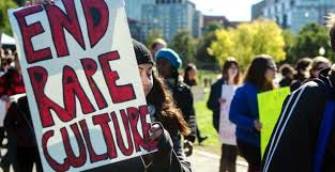 WASHINGTON — Only about 20 percent of campus sexual assault victims go to police, according to a new Justice Department report providing insight into why so many victims choose not to pursue criminal charges.
About one in 10 say they don't think what happened to them is important enough to bring to the attention of police. Other reasons they don't go include the views that it is a personal matter or that authorities won't or can't help. One in five said they fear reprisal.
A recent Rolling Stone article that described a gang rape alleged to have occurred at a University of Virginia fraternity brought renewed attention to the issue of campus sexual assault. The magazine later said it couldn't stand by its reporting. But even before the article's release, the Obama administration had taken steps to pressure colleges to better treat victims, and Congress has grappled with how best to get colleges and law enforcement to work together on these cases.
Researchers from the department's Bureau of Justice Statistics used 1995 to 2013 figures from the National Crime Victimization Survey.
Some questions and answers arose from the report's findings, which were released Thursday.
___
Why would some victims think the crime was not important enough to contact police?
Victims may be reflecting not their own view of the crime, but how they think it will be seen if they report it, said Laura Dunn, a victim's rights lawyer and executive director of SurvJustice.
"They are basically suggesting that they know in our society that the only rapes that are taken seriously are those committed by strangers and are significantly violent," Dunn said.
Some victims view the crime differently if people start blaming them and they, in turn, start to blame themselves, said Scott Berkowitz, executive director of the Rape, Abuse and Incest National Network, which runs a national sexual assault hotline. Or, because they are in a closed social structure where everyone knows everybody, they feel that reporting the crime would be going against their peer group, he said.
Peter Lake, a law professor at Stetson University College of Law who conducts training for colleges on the topic, said there is a disturbing cultural acceptance of this crime, leading some victims to believe what happened to them is acceptable.
Lake said some students he's talked to about rape "don't know what their legal rights are."
___
If they aren't going to police, are victims going elsewhere for support or to report the incident?
Fewer than one in five victims said they received assistance from a victim service agency. While victims can find support from someone like a friend or loved one, there is evidence that people who get help quickly after an attack fair better in the long term, Berkowitz said.
It's unclear from the survey how many victims choose to report the crime to campus authorities rather than police. The survey said a small percentage of victims reported it to officials other than police, but researchers caution against making judgments about a sample that small.
Some victims' advocates have said victims prefer to have their cases adjudicated by their colleges instead of using the criminal justice system. But there have been complaints of schools poorly handling cases and protecting the school's image instead of supporting the victim. Plus, while schools can expel a perpetrator, they can't send that person to prison to prevent repeat offenses.
___
Are all victims women?
No. About 17 percent of the student victims were men, the researchers found. That is a higher rate than among nonstudents, where just 4 percent of victims were male.
__
How do the rates of sexual assault on female students compare to nonstudents?
The Justice Department report said that young women between the ages of 18 and 24 are more likely to be raped than those in any other age group.
The rate of rape and assault was 1.2 times higher among nonstudents than among their peers in school. In both cases, about 80 percent of victims knew the perpetrator. A weapon was used in about one in 10 cases.
Other studies have shown that about one in five women is raped during their college years.
___
Are there differences between the nature of the crime when you compare female students and nonstudents?
Nonstudents were more likely to be attacked at home, while attacks on students occurred more often while they were out, engaged in leisure activities.
There also were some differences in who committed the attacks. Nonstudents were more likely to identify an intimate partner, while college students more often said they were the victim of a friend or acquaintance.
Students were less likely than their nonstudent peers to go to police.
In about 40 percent of the cases, victims thought the person who attacked them was drinking or on drugs.
___
Do police need to be involved anyway?
Sen. Kirsten Gillibrand, D-N.Y., who is pushing a bill that would force colleges to enter into a memorandum of understanding with law enforcement over the handling of such cases, has said the goal should be to get 100 percent of victims go to police. But she said she's heard from survivors who feel re-victimized by the process of seeking justice.
David Cohen, a law professor at Drexel University who has litigated Title IX cases, said there are clearly cases in the criminal justice system where there is abuse of victims and minority groups, and it's far from a perfect system. But, he said, "Rape is an incredibly serious crime that college administrators aren't equipped to handle. It's an issue that very reasonable people disagree about who care deeply about rape survivors and justice."
Ultimately, Cohen said, "If people don't feel like they can get justice in the system, then they are going to keep it to themselves."