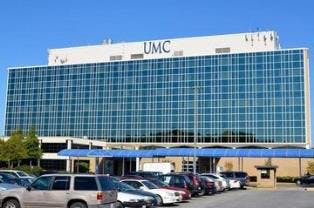 Howard University Hospital will team up with Paladin Healthcare to take over southeast D.C.'s United Medical Center, in a proposal that was announced Tuesday.
Paladin, a California-based management company, has been overseeing day-to-day operations at Howard's Hospital since early October.
Both hospitals have been beset by financial troubles recently. UMC's woes are particularly acute—the hospital, which is owned by the District of Columbia, has cost District of Columbia taxpayers $100 million since 2010, according to The Washington Post. But Paladin specializes in turning around struggling hospitals and is known for taking over management of four hospitals primarily located in East Los Angeles, an area with a high concentration of poverty.
While the Howard University Hospital is on moderately better financial grounds, some feared that financial losses in years past might spill over to adversely impact the university itself. The hospital's revenue has been shrinking over the years, in part as federal rates for reimbursement for indigent care declined.
Paladin is expected to help turn the hospital's declining revenues around.
According to the Washington Business Journal, Howard pays Paladin a management fee, but Paladin does not hold equity in the Hospital, as part of the deal that was announced in early October. The terms of that agreement will not change under the new arrangement.
The District will continue to own UMC under the new proposal. Howard reportedly will bring its clinical staff and services to UMC.
"The Paladin relationship is the latest and most intensive of a series of proactive and deliberate steps taken by the University over the past 18 months to enhance our Hospital's operational efficiency, achieve fiscal viability, advance our historical academic health sciences missions, and continue to provide vital access to care for thousands of the District of Columbia's residents who depend on us and whom we are privileged to serve," Howard President Wayne A.I. Frederick said in a statement in early October.
Howard representatives could not be reached for comment on the latest venture.
Frederick, Paladin president Joel Freedman, UMC Board Chairman C. Matthew Hudson, and Mayor Vincent Gray all signed a letter of agreement putting UMC in Howard and Paladin's hands on Tuesday. The final details of the deal are expected to be hammered out over the course of the next several months.