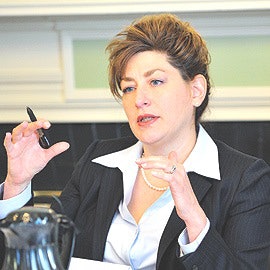 STORRS, Conn. ― Tuition and classes at the University of Connecticut won't be affected by Gov. Dannel P. Malloy's order that the school cut $3.6 million from its operating budget to help offset the state deficit, school President Susan Herbst said.
The cuts, $2.3 million from the school's main operating grant and $1.3 million from the grant for the UConn Health Center in Farmington, are among $54.6 million in rescissions the governor ordered last month to address a projected $99.5 million shortfall in the budget.
Officials said the school plans to look at savings in areas such as equipment purchases, but it does not expect it to affect the school's academic enterprise. The school has a budget of about $1.2 billion, with about 30 percent of that coming from the state this fiscal year.
"We've got to work on that over the next couple of months," Herbst said. "But no, no, no, this will not affect tuition."
Herbst has ordered department heads to suggest cuts to her. The school is in the middle of the fiscal year and is building its budget for the next year.
UConn has $94.6 million in its emergency reserves.
A report issued to the Board of Trustees this month showed the school ended the last fiscal year on June 30 in the black. The school took in just over $1.12 billion in operating and research revenues, about $22.3 million more than projected. It had $1.14 billion in expenses, about $12 million over what had been budgeted. But the school had a net gain of $1.2 million, due to the use of $22 million in prior-year funds.
State funding came in at $308.1 million, or 27.6 percent of the school's total revenues. Tuition and fees accounted for $397.1 million.
The school's expenses included $673.8 million for salaries, wages and benefits. That's 1.2 percent more than was in the budget. The report blamed the higher costs on higher than expected health care and retirement expenses.
The school spent about $1.2 million less on energy than forecast, $14.5 million less on equipment and $1.7 million less on debt service after refinancing.
It spent $11 million more than budgeted on research, and $12.2 million more on other expenses, mostly in technology purchases and startup costs for new hires.
The school has added 190 faculty members since announcing its hiring push three years ago.