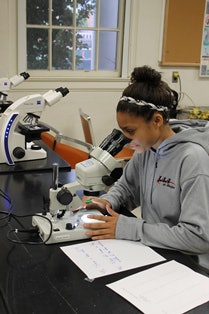 In recent years, there has been a quiet shift in higher education, as economic factors and social and political forces have combined to change the landscape. From academic year 2001-02 to 2011-12, the number of associate degrees awarded increased by 71 percent, while the number of bachelor's degrees awarded increased by only 39 percent, according to the National Center for Education Statistics (NCES).
As the demand for associate degrees has increased, four-year institutions have joined community colleges and technical schools in offering Associate of Science and Associate of Arts degrees in a variety of disciplines. Dr. Regina Smick-Attisano, an associate professor and executive director of the Thompson School of Applied Science at the University of New Hampshire (UNH), is an advocate for associate degrees being offered by four-year institutions. She says it's an underpublicized opportunity for many students.
"It began with agricultural programs at land-grant institutions," she explains. "At the University of New Hampshire we offer more than agricultural programs." Smick-Attisano says the Thompson School offers programs including civil engineering, culinary arts and nutrition, and small business management. "If you want to start your own business, you don't necessarily need a business degree in accounting; you need a degree in how to get your business off the ground," she says.
The list of associate degrees at UNH-Manchester, according to the university's website, includes A.S. degrees in biological sciences and business administration and an A.A. degree in general studies.
In high demand
The NCES reports that, in 2011-12, about 1 million associate degrees were awarded by postsecondary institutions, an increase of 8 percent from the previous year. Most of the degrees were in the categories of liberal arts and sciences, general studies and humanities; health professions; and business, management, marketing and related areas.
However, the statistics show that the demand has increased in newer disciplines such as homeland security and ever-popular majors such as law enforcement and nursing. As a result, four-year institutions, including some flagship universities, have joined community colleges and technical schools in offering associate degrees well beyond agricultural sciences.
"We see in our program many nontraditional students and first-generation students," Smick-Attisano says. "Unfortunately, as standards for our baccalaureate programs get higher and higher, especially at our state institutions, we leave a portion of the population out, which is unfortunate … so I think these kinds of programs at land-grant and other four-year institutions really give an opportunity to students and I think we ought to pay attention to it."
She points out that associate degrees appear to be becoming more accepted by employers and society in general. Smick-Attisano also notes that some two-year students prefer to live on campus and enjoy "that larger 'rah-rah' college experience with a smaller learning environment for them."
Some universities promote that aspect of college life to attract prospective associate degree students. At Virginia Tech, the associate degree in agricultural technology is described as a program where "students can participate in all activities at Virginia Tech with the exception of NCAA sports and the Corps of Cadets."
That program is designed to prepare students for careers in agricultural and green industries, which have become increasingly popular as environmental issues and the effects of climate change become more prevalent.
Regional campuses of flagship universities commonly offer associate degrees. The University of South Carolina's regional campuses, for example, in addition to baccalaureate and some graduate programs, also offer A.A. and A.S. degrees. At the Salkehatchie campus, both degrees require core courses in English, numerical and analytical sciences, social and behavioral sciences, the humanities and fine arts.
Unfair advantage
The growing trend is not without controversy. There is concern among higher education leaders that community colleges and technical schools will suffer as more universities award associate degrees in addition to bachelor's, master's and Ph.D.s, despite the fact that community colleges have been encroaching into baccalaureate territory for years.
Last February, The (Cleveland) Plain Dealer reported that Kent State University leaders planned to award associate degrees to students who completed 60 credit hours. It was presented as a measure to help students who may drop out of college but who have earned—and paid for—two years of college. It also was a way for the university to receive more money from the state, which was basing some funding on degrees granted.
Representatives of the Ohio Association of Community Colleges voiced opposition, saying it would lead to unfair competition for the two-year institutions. However, Kent State's regional campuses are already offering associate degrees with only the designation of Kent State University as the degree-granting institution.
In Maryland, the state permits the University of Maryland, College Park (UMD) to issue certificates, but not degrees, to students who complete 60 credits in certain disciplines.
Glori Hyman, director and instructor in UMD's Institute of Applied Agriculture, has the challenge of offering a diverse range of two-year programs without the customary associate degree. "It is equivalent to an associate degree; however, in the state of Maryland four-year institutions are prohibited from offering associate degrees, so it's a 60-hour certificate program," Hyman explains.
Most of the students who enter her program do not continue to the bachelor's degree, she says. "The majority of our students are planning to get the certificates and start their careers, the reason being that our students are highly employable," she adds. "We have about a 90 percent employment rate of our certificate students having jobs when they graduate."
Although the program is relatively small, about 55 students currently, Hyman says it is "very hands on, very applied and very specific to what the student wants to do. They are very passionate and focused on their career choices. We also have a required internship where they work a minimum of 320 hours in their field—so they are well prepared for the job market and many of them get offered jobs at the site where they did their internship."
Courses of study range from golf course management to beekeeping, she says.
As Institute of Applied Agriculture students, they can live on campus and have all the resources of a UMD student.
"Our program is definitely nontraditional. … We have every age from 17 to 72. It's not what you think of at a four-year university," Hyman says, adding that the students seek it out for that reason.
Some of them, she says, already have bachelor's degrees, even some Ph.D.s, "and they're looking for a career change and sometimes it's (a) lifestyle change. They're tired of the rat race and looking for something else."