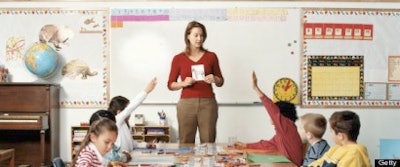 The federally proposed regulations to rate teacher preparation programs should be withdrawn and reformulated to be made less punitive and more focused on providing access to the teaching profession for underrepresented minorities.
Those were among the key recommendations made during a panel discussion hosted at the National Press Club Tuesday by the Howard University School of Education and the American Federation of Teachers.
A fundamental problem with the proposed regulations is that they rely in part on the standardized test scores of K-12 students, which are unreliable indicators of teacher effectiveness, said Arthur Hernandez, dean of the College of Education at Texas A&M University — Corpus Christi.
"Tests are very design specific," Hernandez said during the discussion, titled "The Disappearing Act: The Impact of Federal Policy on Teacher Diversity and Teacher Preparation Programs."
"If we use tests in a way that are other than the way they were intended, the results are suspect," Hernandez said.
Hernandez said the proposed regulations were unfair because they judge teacher preparation programs on things they can't control, such as whether graduates go on to teach and, if so, how long they stay in their jobs.
Sharon Robinson, president of the American Association of Colleges for Teacher Education, expressed similar concerns about the regulations, which call on states to develop "meaningful systems to identify high- and low-performing teacher preparation programs."
"States not only have to develop data systems, but [also] tests to go into those data systems to create metrics that researchers say is not a valid measure of the individual teachers, and then that invalid metric will go into a data system to create program evaluation metrics that is further questionable because of all the factors between that program and what the teacher encounters in the classroom," Robinson said.
Under the regulatory framework, only those programs deemed by states as "effective or better" would be eligible for federal TEACH grants. The TEACH grants—named so as the acronym for Teacher Education Assistance for College and Higher Education—provide up to $4,000 per year to students who agree to teach in a high-need field in a low-income school for at least four years.
Robinson and others said the proposed regulations could hurt diversity within the teaching profession because they call for more stringent entrance requirements, such as a 3.0 GPA, into teacher prep programs.
"Where we're really going with this is an intrusion on the mission of the institution because the federal government is saying programs must have an entry standard of at least 3.0 or the upper quartile of ACT and SAT test takers at your institution," Robinson said.
"There are a lot of programs, including prestigious ones, that don't even require ACT or SAT as part of the entry consideration," Robinson continued. "Others don't require it because their mission has them focus on under-represented students and first-generation college goers where they say: 'We have what it takes to get you ready as a learner to be successful in this program.'"
Robinson said the proposed regulations could also become a disincentive for teacher prep programs to send graduates to work in high-need schools because the lackluster performance of students in those schools could reflect poorly on the teacher prep program from which their teachers graduated.
Representatives of HBCUs expressed wariness about the impact that the proposed regulations would have on their institutions given the fact that they are not funded on par with predominantly White institutions, or PWIs.
"There is still a memory of de jour and de facto segregations in the South that cannot be overlooked when we talk about the federal government or a state government involving itself in the business of historically Black schools, particularly a historically Black school that has been inadequately supported by the state government or, for that matter, the federal government," said Derryn E. Moten, professor and acting chair of the Department of History and Political Science at Alabama State University and vice chair of the American Federation of Teachers Higher Education program and policy council.
Lezli Baskerville, president and CEO of the National Association for Equal Opportunity in Higher Education, the membership and advocacy organization for the nation's 104 HBCUs, raised similar historical concerns.
"If year after year states make proposals to cut, merge, submerge or disengage in terms of funding and support for HBCUs generally and schools of education in particular, if the Department of Education now gives states authority to determine which of its institutions will be rated as performing highly, exceptionally and so forth, they are making an investment of public funds in a system they know to be discriminating," Baskerville said.
Baskerville said the proposed teacher prep regulations should be withdrawn or, at the most, implemented only on a pilot basis where there are a significant number of HBCUs in order to see how the institutions fare since they educate a significant number of disadvantaged students.
Hernandez said the proposed regulations should be withdrawn and revamped to focus more on inclusion and to strike a better balance between access and excellence.
Robinson said AACTE members have supported the development of state data systems on teacher prep regulations "but they don't want these state data systems used as a sledgehammer."
"What we don't want is for the data system to become a threat to a program when it is being used to inform that program how to change," Robinson said.
Comments on the proposed regulations for teacher prep programs are being solicited by the U.S. Department of Education through Feb. 2. Federal education officials have said the final regulations —once adopted—would be published in September 2015. States would then have a year to get stakeholders involved and design systems of accountability and to collect data.