COLUMBUS, Ohio — The buzz of a fresh national football college championship was clearly in the air for the 43rd annual Martin Luther King, Jr. Celebration at The Ohio State University last night. Headlining the festivities was National Action Network founder and MSNBC host Al Sharpton, who engaged in a compelling on-stage Q&A with Diverse's very own Dr. Jamal Watson at The Ohio Union.
In the dialogue with Watson, Sharpton went way back to his roots as a child preacher working amidst many of the civil rights leaders portrayed in the celebrated motion picture Selma, currently playing in theaters. Sharpton spoke of how Selma gave insight into the numerous behind-the-scenes struggles of many who ended up working together to help bring to fruition the Civil Rights Act of 1964 and the Voting Rights Act of 1965. Such infighting was driven in large part by the tension of facing constant death threats.
Most of the civil rights leaders of the '60s "had spent months in jail, none of them expected to live past 40. Dr. King was killed when he was 39. They were always living at the height of stress and tension. And in those kind of situations you go off on each other, but they would come out with a united front," Sharpton said.
Memorably, Sharpton also spoke about his work to shine a media spotlight on injustice. Though he is often criticized for constantly seeking out cameras and reporters, he says such a posture is the key to success in pushing for justice.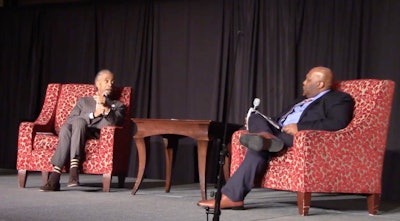 "Yes, you use drama to bring national publicity. You cannot, in many ways, impact national policy without a national spotlight. So when you hear critics say we like media, that's true. We use media as part of the strategy," Sharpton said. "Nobody calls me to keep their problem a secret. They call me because they want the world to know about it," referencing the recent media storm over then deaths of Michael Brown and Eric Garner at the hands of police officers.
Dr. Valerie Lee, vice provost and chief diversity officer in the Office for Diversity and Inclusion at Ohio State, said regarding the Sharpton Q&A, "When people hear his name they want to pigeonhole him as just one type of activist. But he's had a long history across an arena of different types of activism. Tonight, what he said, reached across generations."
"Not many of us in here can say we got stabbed for marching or advocated with the marginalized," said Dr. James Moore, associate provost in the Office of Diversity and Inclusion at Ohio State, referring to Shapton's brush with death in 1991 when stabbed while leading a protest in Brooklyn. Sharpton spoke movingly about forgiving his attacker, Michael Riccardi, in line with the principles of nonviolence King espoused. "I thought that was quite meaningful to hear," Moore added.