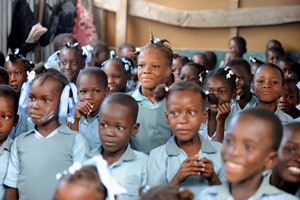 In the five years since a devastating earthquake shook Haiti, scholars have felt a sense of urgency to present accurate depictions of the country.
In the days and weeks following the earthquake on January 12, 2010, images of death and destruction were broadcast around the world. Many people — from celebrities to journalists — stepped forward to o­ffer explanations of how such an event could take place. Many of the articles and interviews presented negative portraits of Haiti, some even blaming its people and Vodou practices for allowing such devastation to occur.
"The media has long reinforced the idea of Haiti as a failed state, a country where poor governance, corruption, poverty and violence are all found in excess," says Dr. Claudine Michel, a professor of Black studies at the University of California, Santa Barbara and editor of ­The Journal of Haitian Studies. "The country's national religion is continuously maligned and the populace blamed for centuries of colonial and neo-colonial projects. These depictions intensified after the quake.
"The role of serious scholars of Haiti is to not only dispel myths and misrepresentations but to o­ffer 'new narratives' that correct analyses and restore historical records and the people themselves," she adds. "We have seen a number of powerful Haitian and non-Haitian voices emerge in the U.S. landscape."
What has developed over the past five years is a slow and steady increase among undergraduate and graduate students interested in studying Haiti. There is a sense of urgency — a word used by several experts — among scholars with ties to Haiti and long-held academic interest to research, write about and teach the subject.
"The moment we have folks paying attention, you want for there to not be one story about Haiti, but for there to be multiple," says Dr. Manoucheka Celeste, an assistant professor of comparative ethnic studies at the University of Nevada, Las Vegas. "It makes the work feel like it's urgent and it's constantly needing to be a part of everyday conversations we have."
Celeste's work centers on media representations. She notes that the world often understands Haiti through dominant frameworks of poverty and race.
"It's important for scholars of Haiti to present those counternarratives, to give information about Haiti and places like Haiti and the people of these places beyond what we're told," says Celeste, who chairs the Haitian Studies Association (HSA)'s Emerging Scholars Committee.
"Our work has been to add layers of nuance," she adds. "It's about showing Haiti and Haitians as complex and creating a body of scholarship that reflects the place for what it is."
Some institutions have created platforms for this scholarship. Dr. Francois Pierre-Louis, an associate professor of political science at Queens College, City University of New York (CUNY), says CUNY's former chancellor, Dr. Matthew Goldstein, sponsored an initiative with CUNY faculty and staff to help rebuild Haiti's higher education system after the earthquake. Faculty were encouraged to teach courses at public universities in Haiti and students' travel to Haiti was supported.
Language barrier
Dr. Patrick Bellegarde-Smith, a professor emeritus of Africology at the University of Wisconsin–Milwaukee and president of the HSA, says there is an incredible amount of scholarship about Haiti written by scholars in Haiti that is rarely translated from French and/or Creole, so it receives limited exposure. There is also scholarship produced in Canada, France, Belgium and Switzerland that is in French and not translated to English.
To create greater exposure for the work, he has arranged for this year's HSA annual conference to take place at the Université de Montréal in Montreal.
"One of the things I would like for HSA to do is to become a clearinghouse so that … we talk to each other across language barriers," says Bellegarde-Smith.
His own scholarly work has always been published first in English, and then, in some instances, subsequently translated into French, Spanish and Portuguese. He says most scholars haven't been as fortunate. Only rare individuals, such as author Edwidge Danticat, who writes in English, have had their work translated into multiple languages.
Young scholars engaged in Haitian studies are embracing the idea that it is essential to study and write in English, French and Creole. Dr. Yveline Alexis, an assistant professor of Africana studies at Oberlin College, says that Dr. Marc Prou, an associate professor and chair of Africana studies at the University of Massachusetts Boston and executive director of HSA, cultivated that perspective in her.
"To truly study Haiti and begin to understand the diverse people on that island, one has to journey to the nation's archives and libraries," says Alexis. "You cannot truly study Haiti from abroad."
Alexis says accurate and authentic Haitian scholarship involves interaction with Haiti's citizens. Currently at work on her first book, she is planning to utilize a bilingual format. She says that she is also interested in examining the differences between engaging in conversations in French versus in Creole.
"There's a need for documenting and discussing Haiti and its people in multiple ways in order to have these meaningful and accurate descriptions," she says.
Newfound interest
While financial constraints will likely prevent colleges and universities from creating Haitian studies departments or even delineating it as a major, students do have an interest in the topic and are making it the focus of a major in Africana studies.
"Haiti does not loom large in the American consciousness, but it is a giant country by Caribbean standards — after Cuba and the Dominican Republic," says Bellegarde-Smith. "It resonates in the lives and psyches of Caribbean people."
As young academics engaged in the field, Alexis and Celeste agree. Alexis says young people have a hunger to explore diverse histories and learn about the Black experience across the diaspora.
"I teach Haiti in all of my classes," says Celeste. "As an instructor, since the earthquake I've made it necessary for the students to understand a Black world that includes Haiti or a broader world that includes Haiti because, of course, the history is quite important to Black history."
Pierre-Louis says the earthquake has brought newfound interest in the island. "There has been an influx of new scholarship and more concerted effort to understand how Haitian earthquake survivors are coping in the aftermath of the quake," says Pierre-Louis. "Issues regarding mental health, youth, gender, as well as economic development have been approached in new ways."
Dr. Mark Schuller, an assistant professor of anthropology and NGO (non-governmental organization) leadership development at Northern Illinois University, says while his work was already about NGOs, the earthquake sharpened his focus. His 2012 book, Killing with Kindness: Haiti, International Aid, and NGOs, has received attention from other educators. He uses it as a teaching tool and Skypes with other classrooms that use it.
"Certainly, there's a greater interest in Haiti after the earthquake," says Schuller. "People are looking for something to explain why there is such obvious lack of progress despite our good efforts.
"Haiti is too often dismissed as a basket case," he adds. "There's a culturalist argument that it's resisting progress because of Vodou and lack of forward thinking. There's a really powerful, negative discourse about Haiti that's inherited from the Haitian revolution.
"It is absolutely necessary to reshape the conversation, to ground it into the political, economic realities and the global realities. There is a sense of gravitas."