With transgender issues and rights receiving more and more public attention, some women's colleges are facing them while others avoid the challenge of reconsidering admission policies and student parameters.
"We don't think it's our role to define a woman," says Brian O'Rourke, vice president for enrollment management at Mills College, the first women's college in the United States to develop a formal admissions policy regarding transgender or transitioning applicants.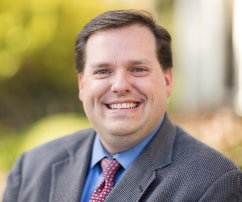 "Going back to the initial founding of women's colleges, the purpose of women's colleges was to challenge traditional gender roles," he continues. "At Mills, why we felt comfortable being the first to implement this policy—similar to having been the first women's college to create a computer science program, for example—is that we felt that this was an appropriate step in terms of examining traditional gender roles and issues of gender in society right now."
Mills is a small college in Oakland, Calif. At the undergraduate level, which numbers about 920 students, it is a women's college with a deeply held tradition. In the early 1990s, after the board made a decision to go coed, students, faculty, staff and alumnae went on strike until the policy was overturned.
Over the past decade, O'Rourke says approximately three to five transgender students per year expressed interest in applying. Furthermore, current students identify as transgender males or gender neutral. The policy, which was approved by the board in May 2014, took a couple of years to establish.
During the 2012-13 academic year, the faculty and staff committee to explore issues of diversity and social justice identified this as an issue of higher education that needed further conversation on the Mills campus. After preparing a report about the transgender experience at Mills, the gender equity and identity subcommittee was created.
The subcommittee spent the 2013-14 academic year developing the policy. That was taken to the board and vetted through legal counsel before being brought to a vote at the May 2014 meeting where it was approved.
"We've had students on our campus for some time that either transitioned while they were here or were in the process of transitioning," says O'Rourke. "It's certainly been part of our campus culture."
Just last week, Bryn Mawr College in Pennsylvania announced its board has set inclusive guidelines for undergraduate admission.
The statement opened with, "After months of study and consultation, the Board of Trustees of Bryn Mawr College voted at its February 7 meeting to accept the recommendation of its board working group charged with reviewing the College's mission with regard to transgender, non-binary and gender nonconforming applicants."
Unlike Mills, which accepts applicants who identify as transgender men, Bryn Mawr states, "Those assigned female at birth who have taken medical or legal steps to identify as male are not eligible for admission."
While Mills does accept transgender men and welcome students who transition female-to-male during college, it holds steadfast to its identity as a women's college.
"If a student's original gender assignment was born female, but identifies now as male or gender neutral, we have the conversation through the admissions process of what it means for us to be a women's college," O'Rourke says. "They're coming to a campus with an environment that is very proud to be a women's college."
O'Rourke says much of this conversation has been propelled by student activists. Shane Windmeyer, co-founder/executive director of Campus Pride, applauds Mills and Bryn Mawr for creating inclusive campuses but expresses concern that all too often the responsibility for a safe, inclusive learning environment is placed upon transgender students, often leaving them vulnerable and exposed.
"Progress is happening because of allies and trans people who are on those campuses, who have transitioned while they were at women's colleges, and are looking for their place amongst the student body as a trans person," says Windmeyer. "Change has occurred because of those brave students who have stepped forward and their allies."
Campus Pride, which works with student leaders and campus organizations in the areas of leadership development, support programs and services to create safer, more inclusive colleges and universities, has been advocating for transgender rights for nearly a decade. Resources are available at www.campuspride.org/tpc.
Although this is very much a present issue, many women's colleges are not publicly addressing it. To date, Mills, Bryn Mawr, Mount Holyoke College and Simmons College are the only schools to establish inclusive transgender policies, although a number of other colleges are in the process of developing such policies.
Representatives of Spelman College, Bennett College and Mary Baldwin College declined to be interviewed for this article.
"Typically, campuses that are quiet or invisible are the ones that don't want to be seen as not LGBT friendly, so they're just being quiet," says Windmeyer. "There's a lot of complex dialogue and conversation that need to happen. Luckily, there is now a handful of women's colleges that have taken the leap—having these conversations and creating inclusivity.
"We need to engage the other women's colleges and frankly the rest of higher education in this dialogue."