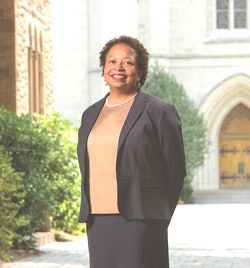 Dr. Joanne Berger-Sweeney had been dean of the College of Arts and Sciences at Tufts University for nearly four years when she considered entering a new program that grooms female and minority administrators for college and university presidencies. Dr. Joanne Berger-Sweeney is president of Trinity College in Hartford, Connecticut.
"I actually had to wrestle with myself about my ambitions," Berger-Sweeney recalls. "But once I decided to join the program, I was actually articulating to myself that I had an ambition to be a college or university president."
­The neuroscientist set her sights on achieving that goal within 18 months. It did not take that long. A year after starting the program, Berger-Sweeney was appointed to lead Trinity College in Hartford, Connecticut, where she has been president since last July.
"I am the first woman president and the first president of color. ­They got a 'twofer,'" Berger-Sweeney says with a laugh.
Tangible growth
For nearly three decades, the number of women who serve as college presidents or chancellors has grown slowly, from 10 percent in 1986 to 26 percent in 2011, according to the American Council on Education (ACE). Its latest American College President Study estimates 13 percent were of color in 2011 and 4 percent were women of color.
In 2013, ACE launched the Spectrum Executive Leadership Program to increase the number of women and people of color in presidencies. Berger-Sweeney joined the first of three cohorts to go through the mentoring and skill-building program, which lasted six to eight months.
Of the 66 participants, eight have since become presidents, six permanently and two on an interim basis, according to Kim Bobby, the program's director. All eight are people of color, five of them women. One is Dr. Roslyn Artis of Florida Memorial College, an African-American.
Bobby says another eight have advanced to higher positions, such as executive vice chancellor, vice president and vice dean.
"Based on our experience so far, we're proud to see that we've had so many advance, and all of them are people of color — the men, too," Bobby says.
Last year, there was a spurt in women rising to the top job on campuses around the country, but, because some also left presidential positions, it is unknown whether the overall percentage rose.
The new female presidents at HBCUs, besides Artis at Florida Memorial, include Dr. Elmira Magnum, the first to lead Florida A&M University on a permanent basis, and Dr. Pamela Hammond, interim president at Virginia State University.
Anthony Owens, national director of communications at the United Negro College Fund, says women hold 8 of 37 presidencies at member colleges, or 22 percent. That level is slightly below the 26 percent for women nationwide but way above the 4 percent for women of color.
In 2014, two White women were named to lead prominent liberal arts colleges: Dr. Laurie Patton at Middlebury in Connecticut and Dr. Kathleen Murray at Whitman in Washington state.
"We have seen a growth in the number of women who are presidents of colleges and universities [in recent decades]," says Dr. Catherine Hill, vice president of research at the American Association of University Women. "It's wonderful to have leadership at the top. We also want to see leadership throughout the ranks of full professor, throughout the ranks of administration."
Hill, Berger-Sweeney and Murray identified the same crimp in the pipeline that prevents more women from reaching the top — being promoted to full professor.
"We see women and men really near parity in terms of getting doctoral degrees, not in every field, but in many fields," Hill says. "Then at the assistant professor levels, it's much closer. Then at the associate and full professor, we see a dropping off, and especially at the most senior levels of full professor."
Hill says survey data from the American Association of University Professors show that only 9 percent of women in academia were full professors in 2013-14. For women and people of color, she says, making it through the tenure review is a major obstacle.
"If you don't get through that process, you're not going to be considered for the presidency," Hill says.
Climbing the ladder
From a tenured professorship, academics who aspire to the top job can begin moving up the administrative ranks, as both Berger-Sweeney and Murray did.
"I was an assistant, an associate, a full professor. I was an associate dean at Wellesley [College] for six years. I was a dean of the school for four years [at Tufts]," Berger-Sweeney says. "I had, coming into this presidency, 10 years of progressively increasing administrative experience."
Murray, a piano specialist who taught music, made a similar climb. She was an assistant, associate and full professor at Lawrence University in Wisconsin, then dean of the Conservatory of Music and dean of the faculty there.
Murray transitioned to Birmingham-Southern College as provost and vice president for academic affairs before becoming provost and dean of faculty at Macalester College.
Berger-Sweeney advises women of color to pursue a similar route to the college presidency.
"That traditional route provides individuals and, particularly, women of color with the credibility that they will need to succeed," Berger-Sweeney explains.
Both Murray and Berger-Sweeney spent the bulk of their careers at liberal arts colleges. Murray says the gender disparity among full professors at such schools will be whittled away, but it will take time.
"Twenty, 30 years ago, these kinds of institutions weren't hiring as many women," Murray says. "So it's the men who have been able to advance through the ranks, just by virtue of their productivity, but their longevity as well. The women are just starting to catch up."
While that advancement unfolds, ACE's Spectrum Executive Leadership Program has sought to increase the movement of women and people of color into presidencies.
Each participant is assigned a "presidential adviser" or mentor. Berger-Sweeney's was Dr. M. Lee Pelton, president of Emerson College in Boston and an African-American. He peppered her with questions about what kind of college or university she wanted to lead, Berger-Sweeney says.
Bobby says each cohort met as a group at the beginning and the end of the program.
"In between, they operated like a learning community," she says. Participants had monthly conference calls with their presidential adviser and conducted webinars, readings and studies of timely administrative issues.
At the closing meeting, Bobby says, every participant engaged in a mock interview for a presidency, conducted by an executive search consultant. The interviews were videotaped so participants could review their performance and sharpen their interviewing skills.
American Express funded the Spectrum program, which ended in October, Bobby says, but ACE is seeking additional funding to continue it.
In the meantime, ACE has scheduled a two-day program in April for mid-career administrators — department chairs, directors and associate or assistant deans — who aspire to become presidents. They envision the new program will help to build a pool of candidates for the Spectrum program when it resumes in the future.
"We know that, at the mid-career point, that's where a lot of people get stalled. They don't get the right mentorship, sponsorship, advice," Bobby says. "They end up sometimes in jobs that might be dead end or don't lead to advancement. And we know that's where a lot of diversity is."
With the mid-career program, Bobby says, "We're hoping that by creating this pipeline you are going to see more diversity in the senior leadership and in the presidency."