More than five million youths—most of them U.S.-born and therefore citizens—would have better learning outcomes and a higher quality of life if the courts allow implementation of President Barack Obama's executive order to postpone deportation of their undocumented immigrant parents.
That is the conclusion of a new report, released yesterday by university researchers in California, that documents educational and other disparities and disadvantages endured by the children of people who entered this country without authorization.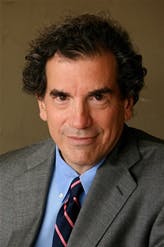 Robert Suro (Photo courtesy of University of Southern California)Lifting the threat of deportation would ease fears of families being broken apart, which would allow children to concentrate better at school, the report's authors say. Relief from deportation also would encourage parents to tap more often into health care, food stamps and other entitlements that their children qualify for but frequently bypass out of fear that a parent's status will be discovered.
Titled "Removing Insecurity: How American Children Will Benefit from President Obama's Executive Action on Immigration," the report was compiled by scholars at the University of Southern California and the University of California, Los Angeles. The report supports the Deferred Action for Parental Accountability (DAPA) program, which would let qualifying fathers and mothers of U.S. citizens and lawful permanent residents remain in this country for three years and obtain work permits if they meet such conditions as passing criminal background checks and proof of continuous residence here since Jan. 1, 2010 or prior to that.
An estimated four and a half million U.S.-born children have at least one parent who's an undocumented immigrant. Another 750,000 foreign-born youths who were brought here as undocumented immigrants would also benefit from implementation of DAPA.
The university researchers explored learning outcomes and educational attainment of the children of unauthorized immigrants. About 7 percent of all school-age children in this country have a parent who immigrated without authorization, according to the California report.
Among the findings, the report states:
As early as age 2, the children of undocumented immigrants show lower cognitive and language skills, according to results of standardized tests, than do their peers in families without immigration issues. This illustrates how the everyday experiences of undocumented parents differ from legal immigrants in ways that can negatively impact a child's development. For instance, undocumented immigrants tend to have fewer connections to child care resources that can cultivate cognitive skills in order to keep secret their unauthorized status.
School-age children of undocumented immigrants are at greater risk for developmental challenges and an achievement gap. The California researchers cited a New York University study that examined test scores among kindergarteners. Those with undocumented parents scored lower than their classmates on standardized math and reading exams.
On average, children who grow up with an undocumented immigrant mother end their formal schooling about 18 months earlier than do their peers.
The California researchers also examined college enrollment and graduation patterns among families in amnesty programs that were part of the Immigration Reform and Control Act of 1986. They cited a University of California, Irvine study that surveyed amnesty participants and nonparticipants. About 43 percent of survey respondents whose fathers had become a legal permanent resident under an amnesty program either earned a college degree or pursued college education, compared with only 14 percent of children whose fathers had remained undocumented.
Furthermore, 52 percent of the children of amnesty beneficiaries who had become U.S. citizens enrolled in college.
"Being the child of an unauthorized immigrant exacts a high price," the report states. "A parent's unauthorized status traps a child in a shadowed labyrinth of insecurity and confusion that proceeds from being born and raised American and yet harboring a sense of not belonging. The effects are tangible. Fear and uncertainty breed difficulties from early childhood through adolescence and emerging adulthood. The negative effects have been measured in educational achievement and cognitive development. But these negative effects can be reversed and place these young people on a life trajectory equal to their peers."
The report's release coincides with this week's court filing of a legal brief by education organizations and children's rights advocates in support of President Obama's executive order. The president announced his plans in November, but implementation has been blocked thus far because 26 states led by Texas have sued, saying the president overreached his executive powers. The case is pending in a federal appellate court.
"Reasonable minds can differ on whether there is blame to attach to the parents," says Roberto Suro, director of USC's Tomás Rivera Policy Institute and the report's lead author. "There is no reasonable case to be made for punishing their children. Yet, every day they are being punished."
His co-author agrees.
"The relief proposed by the president will bring very real benefits to these children and their parents," says Dr. Marcelo Suárez-Orozco, co-director of UCLA's Institute for Immigration, Globalization and Education. "Protecting a parent from deportation is the right thing to do. It significantly improves these children's lives, enabling them to contribute productively for decades to come."