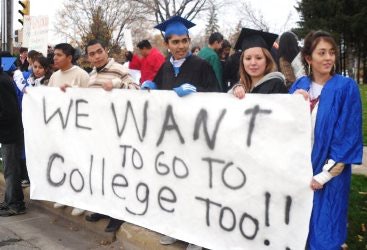 Undocumented students in Texas are eligible for in-state tuition at public colleges and universities, but some Texas state lawmakers are attempting to change that. Under Senate Bill 1819, brought forward by state Senator Donna Campbell, institutions of higher education would charge undocumented students out-of-state tuition.
The bill was first brought to a senate subcommittee on border security Monday and was passed Tuesday to the Veterans Affairs and Military Installations Committee. According to the Texas Tribune, Campbell said at the Monday hearing that the rationale behind repealing the law was to ensure that state resources go to legal residents first. According to the Quorum Report, an online newsletter that covers Texas politics, she also said that 735 students benefited from in-state tuition in 2002, a number that increased to 25,000 by 2013.
According to a report from the Center for Public Policy Priorities, an Austin-based think tank, 24,770 non-citizen resident students paid in-state tuition under House Bill 1403 in 2013, or 1.9 percent of all students statewide. The report noted that those students also paid $51.6 million in tuition and fees in 2013.
"There is not any fact-based evidence to support [the bill]," said Ann Beeson, executive director of CPPP. "(Senator Campbell) is asserting that there is a cost to tax payers that derives from the existence of this program and these particular students. … That is a complete misunderstanding of the way funding for higher education works."
CPPP submitted testimony and opposition to the bill. Beeson said that, since HB 1403 was signed, the state has spent less on higher education, meaning that students are picking up more of the tab in their tuitions.
Some opposed to HB 1403 have argued that permitting undocumented students to attend public institutions at in-state tuition takes away seats from legal citizens. Beeson said that this was also a misconception—the schools that undocumented students are most likely to attend need more students. "Seventy-five percent of these (undocumented) students are in community colleges, and community colleges in Texas are looking for more students. They want these students," she said.
Texas was the first state in the union to implement an in-state tuition policy for undocumented students by passing the Texas DREAM Act, or HB 1403, in 2001. Since then 19 states have followed suit, according to the University of Houston Law Center's Institute for Higher Education Law and Governance.
Former Texas Governor Rick Perry signed HB 1403 and stood by it even after taking heat from other Republicans. Perry famously said that other presidential hopefuls were "heartless" in 2011 after they criticized him for his support of the Texas DREAM Act at a Republican presidential debate. Perry said that it benefited the state and the nation to provide higher education to undocumented immigrants who were brought to the United States as children.
Current Texas Governor Greg Abbott's public statements on the Texas DREAM Act, if not overtly hostile to it, have not been overwhelmingly supportive, and his lieutenant governor, Dan Patrick, has taken a strong stance against it. On the campaign trail Patrick vowed to repeal the act if elected.
According to a report from Excelencia in Education published in March 2015, Latinos make up 38 percent of Texas's total population, making the state home to the second largest Latino population in the country. Currently, 48 percent of the K-12 population is Latino. Excelencia is a Washington, D.C.-based not-for-profit dedicated to advancing Latino educational opportunities.
The Excelencia report, which looked at policies that "help or hinder" Latino college completion in California, Colorado and Texas, found that Texas's in-state tuition policy for undocumented students benefits Latino college completion.
Affordability is a major part of the equation. Undocumented immigrants are more likely to resort to informal work, where they may earn less. Requiring undocumented students to pay out-of-state freight would be prohibitively expensive for some, said Deborah Santiago, COO and vice president for policy of Excelencia.
"Having the (bill) put on the table, to repeal it completely, I think abandons the young people who after the past years—and the way Texas historically has done it—had thought they had an open pathway to an affordable education," said Santiago. "I'm not saying we shouldn't have any kind of border control. I just think the culture, the ethos, the engagement (in Texas) has been a little bit more open than what this potential rescinding of legislation would indicate."
According to the Quorum Report, the Texas Senate Republican Caucus has not rallied around Campbell's SB 1819. Senator Kevin Eltife reportedly told the Quorum Report on Wednesday that he was not in favor of repealing the bill.