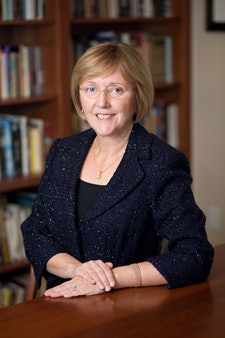 Smith College is the latest all-women's college to announce that it will consider individuals who self-identify as women in their admissions process starting next fall. The decision is a break from previous policies and catches Smith up with schools such as Wellesley and Mills College, who made similar announcements earlier this academic year.
"The construct of what it means to be a woman has evolved, I think relatively recently," said Smith President Kathleen McCartney. "There's a growing acceptance in our culture that transwomen are women." McCartney said that at the end of last year, she and Smith's board chair Elizabeth Mugar Eveillard decided to start a campus conversation about the issue, inviting responses from alumnae and students.
Smith still considers itself a women's college. Under Smith's old policies, applicants had to be legally female at the time of application, with corresponding legal documentation in the correct gender pronoun to match. The new policy eliminates such requirements.
To change gender on certain documents, such as birth certificates, some states require that individuals undergo sex reassignment surgery. Transactivists point out that high school seniors applying to college are unlikely to have completed the surgery, thus disqualifying many from applying to all-women's colleges under old policies.
"All colleges are called upon from time to time to reevaluate how they operate," McCartney said. "We felt called upon to reevaluate our admissions policy. At the same time we really wanted to adhere to our mission as a woman's college."
Transwoman and activist Calliope Wong brought attention to seeming contradictions in Smith's admissions policies in 2013, the year she was applying to college. Her application and application fee were sent back to her with a letter explaining that Smith applicants must be female at the time they apply. Inspired in part by Wong's story, a transactivist group at Smith, Q&A, started a campaign to ensure that students who self-identify as women would be considered in the application process.
As is the policy at most all-women's colleges, Smith supports and graduates students who transition to male after arriving on campus. "Part of our statement has always been that Smith accepts women and graduates students," said Greta Stacy, Smith SGA president.
Stacy said that many students are now excited that admissions policies will be more inclusive. "[The old admissions policy] definitely privileged people in certain backgrounds and certain circumstances, and not all transwomen have that privilege," Stacy said.
McCartney said she is establishing a working group on campus to consider how to best meet the needs of trans and gender non-binary students. "Smith is a continuous learning organization; we'll continue to reflect on our policies," she said. Under the new policy, Smith will not accept applicants who identify as male, and will continue to use gendered pronouns. McCartney said that she will establish a working group to address issues that will affect transgender students, such as rooming and participation in athletics.
Although Smith's decision has generally been hailed as a positive step forward ― there were only a few scattered public voices of dissent ― some say that further changes may occur as concepts of masculinity and femininity continue to be redefined to meet more inclusive standards.
"I personally think gender queer or non-binary transpeople have a place and a legacy at historically women's colleges, but I don't think students or administrators have figured out what that place is going into the future," Ollie Schwartz, a transmasculine graduate of Smith's class of 2013, wrote in an email. "It requires a re-visioning of the entire existentialist project of 'womenhood' which is only now beginning to be dismantled with the change in admissions policy."
Schwartz, who was one of the founding members of the Q&A campaign for transwomen, said that Smith showed that it was able to evolve as an institution by carefully considering how to be more inclusive of students transitioning on the female to male spectrum, back in the '90s and early turn of the century. Yet a similar period of evolution will have to occur now that students transitioning on the female to male spectrum will be admitted. He said that students will push the administration to hold themselves to the same standards that they held themselves to in prior years.
"Language in many classrooms, student organizations, and support services is still very unwelcoming to women of trans experience," he wrote. "There is still a lot of work to be done both among the student body and the administration before Smith can truly say they are a safe space for women of trans experience."
Staff writer Catherine Morris can be reached at [email protected].