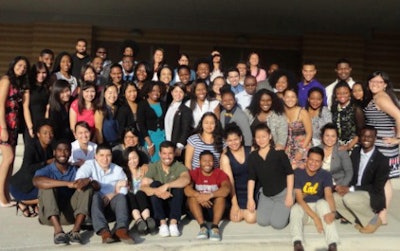 In the early part of the 20th century, violence at the hands of the Ku Klux Klan led to race riots in some of the major cities in Oklahoma. The University of Oklahoma remained closed to Black students until a 1950 Supreme Court case, McLaurin vs. Oklahoma State Board of Regents, forced the school to admit G. W. McLaurin, a Black man, to its graduate school. Eleven years later, the Southwest Center for Human Relations Studies was founded on OU's campus in response to social unrest in Oklahoma City and Tulsa to further the work of integration and civil rights in the region.
And that center's first initiative was a large annual two-week workshop for public school personnel attempting to comply with court school integration decisions. That conference has evolved from a small regional assembly for those struggling with issues of civil rights and race in Oklahoma to a large National Conference on Race and Ethnicity in Higher Education (NCORE) that attracts over 2,000 people around the country each year.
The Southwest Center's current director, Dr. Kathleen Wong says much of the work she is doing now is very similar to the work the center's founders were doing in 1961.
"It's kind of weird," she said. "It really had as its roots, I feel like, some of the stuff that I'm doing today. … [like] training with Oklahoma City police." A few weeks ago, Wong facilitated a discussion on police brutality and anti-Black sentiments with Norman police and various student leaders on campus.
"The Southwest Center has not done that kind of work in the past dozen to 15 years," she said. "Their pretty exclusive activity was putting on the NCORE conference, and to be fair, it was a period of growth for the NCORE conference."
This week, more than 2,400 NCORE participants are descending on Washington, D.C. for the 28th national conference, including over 1,044 who participated in the pre-conference activities through Wednesday afternoon.
"I'm concerned about trying to be inclusive so that we provide opportunities for younger folks to come in. I think it's a great opportunity for older people to mentor younger people. … And so we've done some things to sort of open up more slots and opportunities for people to get experience doing the work," she said.
"I think NCORE has grown because … people are often the only or the first or the only remaining person in their unit who does this kind of work," said Wong. "So they labor in kind of these highly tokenized situations and in silos, and so when they come here, they're at a place with hundreds, even thousands of other people who are doing similar work and so it's, people report that they feel so invigorated, they have time to think, they have time to challenge themselves — and they're not able to do this with a critical mass of other people on their campuses."
"People have found this annual … place where they can kind of connect with other people, not necessarily of similar mindsets, because I think, if you've been in the workshops, people call each other out, people challenge each other, people challenge themselves," she continued. "It's just a space where people can have productive conflict and learn. They can learn for themselves, or they can bring back information to help colleagues, or they can bring back programs and curricular materials, assessment materials."
From professionals of color who need to seek solace in being around other people of color to white professionals who work on campuses where conversations around race are taboo and who are looking for an environment to explore questions to those who want a safe space to educate others on topics like preferred gender pronouns, NCORE continues to provide an environment that, at least for a couple of days a year, seeks to provide a safe space for all conversations about race and diversity.