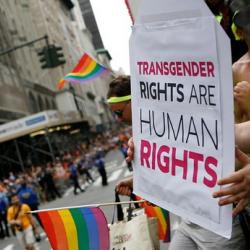 With transgender identity thrust prominently in the national spotlight in recent months, researchers at the University of Chicago and Rice University report that among transgender individuals there may be limited support for the inclusion of a transgender category in the U.S. Census.
Conclusions from survey study published earlier this year in the journal Transgender Studies Quarterly found that 41 percent of respondents endorsed a transgender option on the census. Only about 25 percent of the 134 respondents surveyed for the study indicated that they identify as transgender on official forms when given the option to do so. More than 70 percent of respondents reported their gender as either male or female.
Dr. Karen Schilt, an assistant professor of sociology at the University of Chicago and the study's lead author, and Dr. Jenifer Bratter, an associate professor of sociology and the study's co-author, completed their study with surveys conducted at transgender conferences in Philadelphia, Seattle, and Los Angeles.
"Basically, the goal of the work is to ask the question of whether the transformation in race—that allowed us to start thinking about multi-racial as something to study and as something that could be measured in data—could that transformation also be happening in gender," Bratter told Diverse.
Bratter, who is director of the Program for the Study of Race, Ethnicity, and Culture at the Rice University Kinder Institute for Urban Research, said the study revealed that transgender individuals appear to identify more strongly with a gender that's different from their birth sex than the transgender study.
Those "who identified as male or female and who felt others viewed them as unequivocally male or female—even when that wasn't their sex assigned at birth—were less likely to have an interest in checking off the 'transgender' option," Bratter said.
On the other hand, the transgender category has the most appeal to "those who feel outsiders do not see them as they see themselves," Bratter explained, noting that census data have historically been important in tracking discrimination.
Although the study's authors believe it's likely the census would undercount the transgender community, the transgender option would prove useful for policymakers since it would enable them to monitor to a limited extent the dimensions of a socially vulnerable population.
"Transgender individuals experience discrimination. … Community organizations that aim to serve these groups really need hard numbers to justify what they're doing," she said.
Schilt says the transgender census category should find favor among those who feel they experience discrimination due to their transgender identity. "The [U.S.] Census should consider adding multiple gender options—as it did for the race question—and allow respondents to check all identities they feel are salient," she said in a statement.
In 2000, the U.S. Census began allowing respondents the option of checking more than one race to describe themselves. That development led more than 6.8 million people, or 2.4 percent of the U.S. population, to list two or more races as their identity that year. By 2010, nine million Americans, or 2.9 percent of the population, labeled themselves as multi-racial.
Advocates have argued that adding a transgender census category could help socially legitimize the transgender population. However, U.S. policymakers have done little to explore the possibility of the transgender identity on the census. Countries that have added gender categories beyond male and female include India, Nepal, and New Zealand.
Transgender identity recently reached high visibility in the U.S. when former Olympian champion Bruce Jenner debuted as Caitlyn Jenner with a cover story in Vanity Fair magazine. In addition, Time magazine named transgender actress Laverne Cox as one of the publication's 100 most influential people earlier this year. And the cable television series Transparent, whose lead character is transgender, won a Golden Globe award this year.