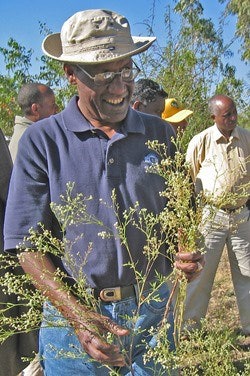 Virginia State University has secured a grant of $748,465 from the U.S. Agency for International Development to fund a project to combat the aggressively invasive weed parthenium in East Africa. Fifteen scientists from six countries will collaborate in implementing the project. 
Dr. Wondi Mersie, director of research at the historically Black university's Agricultural Research Station (ARS), is the project's principal investigator. Mersie said that parthenium releases toxic chemicals harmful to other plants, some of which could be sources of valuable medicinal or industrial compounds. While Ethiopia, Kenya, Tanzania and Uganda are the focus of the project, the work has worldwide implications as the weed is able to thrive in various climates and could be a threat to spread to other parts of the world.
Parthenium reduces the yield of major crops, taints the milk and meat of domestic animals that consume it, and causes severe dermatitis and respiratory ailments in humans.
As it relates to the subsistence farming targeted by the projects in the African countries, parthenium is controlled by hand weeding primarily by women and school-age children. Successful management techniques of the weed through the project could reduce the manual workload. In Australia and India, for example, parthenium is controlled through the use of insects, pathogens and competitive smother plant species.
ARS is part of Virginia State's College of Agriculture, which provides research-based solutions, information and technology for students, individuals, families and communities. The College of Agriculture jointly manages the Virginia Cooperative Extension program with Virginia Tech.