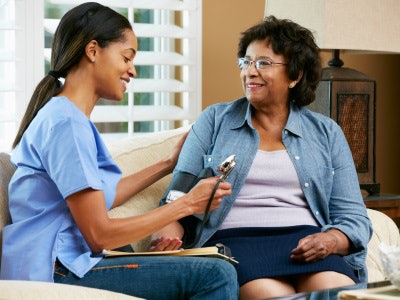 A college degree may not only be the best way to secure gainful employment in the modern economy—it's also becoming increasingly associated with living a longer life.
A new study released by the Center for Retirement Research at Boston College found a "sizable gap" in mortality rates between college-educated individuals and their lesser-educated counterparts.
"Mortality differs substantially by educational attainment," states the study, titled "Sources of Increasing Differential Mortality Among the Aged by Socioeconomic Status."
More specifically, the study states that mortality rates of survey respondents with a college education are half those of respondents who did not complete high school.
The researchers also found "strong statistical evidence" of a "growing inequality of mortality risk" by socioeconomic status among individuals born after 1930 compared to those born before 1930.
Anthony Carnevale, a labor economist and director of the Georgetown University Center on Education and the Workforce, said the fact that college-educated individuals are living longer stems from a "complex network of mutually reinforcing economic, social and educational mechanisms that only can be dealt with through a multifaceted economic and educational policy response."
"They are nested together in ways that make their combined negative effects mutually reinforcing, resilient, and superficially legitimate as class, racial and ethnic barriers to life, liberty and opportunity," he said.
Asked to explain in layman's terms why college-educated individuals—who tend to earn more income over their lifespans than their less educated peers—are living longer, Carnevale said: "People who have more money have better health care, less stress, more leisure, tend to work indoors with no heavy lifting."
The Boston College study is by no means the first effort to examine the relationship between educational attainment and morbidity.
And the authors acknowledge that their paper fails to settle the issue of what causes of death precisely are leading to increased disparities in mortality between those with college degrees and those without.
They cite prior research that found smoking, obesity, high cholesterol and hypertension "played only a small role"—a finding that they said was "particularly striking given that smoking and obesity are the two leading behavioral causes of death" and are linked to socioeconomic status.
"In sum, the source of the increased mortality differential remains uncertain and controversial," the study states.
The study purports to provide "new information on the growing inequality of mortality risk" by socioeconomic status and "may point to some potential causes of the trend."
"We find an increase in mortality differential by SES (socioeconomic status), whether sample members' SES is measured by average earnings or educational attainment, but the specific causes of death contributing to widening mortality differences are less clear," the study states. "According to our estimates, differentials have widened for many specific causes of death."
In examining deaths between 1992 and 2010, the researchers found that there was a "significant decline in mortality due to cancer and heart conditions for persons in the top half of the predicted income distribution."
"That is, compared with people in the top half of the income distribution who were born in 1930 and earlier years, people predicted to have high income and born in later years faced a significantly lower risk of death due to either cancer or heart conditions," the study states. "On the other hand, we find no statistically significant evidence of a change in mortality due to these causes among people in the bottom half of the predicted income distribution."
In other words, more well-off individuals are dying less from cancer and heart conditions while the poor continue to die of those things at the same rate as they have historically.
The study also examines morbidity by race.
"Notice that race is a strong distinguishing characteristic only for blacks below age 75," the study states in reference to a table that shows Black men and women age 50 to 74 suffer significantly higher mortality rates—1.34 and 1.46, respectively—than non-Hispanic White men and women, who had mortality rates of 0.96 and 0.90, respectively.
Hispanics, on the other hand, had lower mortality rates than all groups at all ages.
The chart also shows a clear pattern of higher predicted or actual household career earnings being correlated with lower mortality rates.
For instance, men and women age 50 to 74 in the top quartile of actual household career earnings had mortality rates of 0.66 and 0.54, while men and women age 50 to 74 in the bottom quartile had mortality rates of 1.39 and 1.35, respectively.
Carnevale, the labor economist at Georgetown, said the racial and economic disparities show a stark reality for people of lesser means.
"Poor people and minorities don't really live in America," Carnevale said. "They live underneath America."
Jamaal Abdul-Alim can be reached at [email protected]. Or follow him on Twitter @dcwriter360.