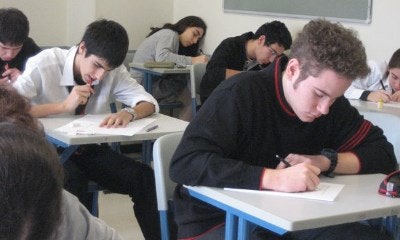 PITTSBURGH ― A Chinese citizen who lives in western Pennsylvania has pleaded guilty to charges she used phony passports to take English-language fluency tests used for college entrance purposes for two other Chinese women, including one now enrolled at Virginia Tech.
Yunlin Sun, 24, of Berlin, is one of 15 Chinese citizens who were indicted last May in the scheme. Federal prosecutors in Pittsburgh allege they scammed tests run by Educational Testing Service and the College Board — such as the SAT — for nearly $6,000 per exam.
The alleged scheme involved tests administered in Pittsburgh and its suburbs since 2011.
Sun acknowledged taking the Test of English as a Foreign Language, or TOEFL, in November 2013 for Yue Zou, 20, of Blacksburg, Virginia, and again in December 2013 for another Chinese woman identified only as an unnamed co-conspirator.
Zou and her boyfriend and co-defendant, Yudong Zhang, 21, have pleaded not guilty. Both were still listed Monday as students on Virginia Tech's website. Zou is studying finance and Zhang is studying general engineering at the school. Officials haven't responded to requests for comment on their status or the test-related charges.
Zhang allegedly sent a photocopy of Zou's passport to a Pittsburgh man, Han Tong, 24, who pleaded guilty last week to being the central figure in the conspiracy.
Tong, a former University of Pittsburgh student, used a Chinese Internet forum called QQ Chat to contact a China-based business that arranged to have proxies like Sun take SAT, TOEFL and graduate school entrance exams.
Assistant U.S. Attorney Jimmy Kitchen told the judge on Monday that Sun provided her photo so it could be used to make phony passports in the name of Zou and the other Chinese woman, which Sun used as her identification when taking the tests.
Zou and the other, unnamed woman paid the Chinese testing service, which sent some money to Tong, who split it with Sun, Kitchen said. The prosecutor didn't say how much money was involved in the two tests Sun took, but the indictment indicates some students paid just under $6,000.
Tong will be sentenced Nov. 12 and faces potentially decades in prison while Sun, who pleaded guilty only to an umbrella conspiracy charge, faces up to five years in prison and a $250,000 fine.
Because they're Chinese citizens, those convicted also face deportation. Although some of the defendants are expected to not contest deportation in exchange for probation sentences, Sun was married several months ago to a Pennsylvania man and wants to remain in the United States, her defense attorney Robert Mielnicki said after Monday's guilty plea.
She, a civil engineer with a graduate degree from Carnegie Mellon University in Pittsburgh, intends to "do everything in her power to remain in the U.S.," Mielnicki told U.S. District Judge Joy Flowers Conti.
Sun will be sentenced Dec. 4. Her immigration attorney, who was also in the courtroom, declined comment.
Sun is the third person to plead guilty in the scheme.
Biyuan Li, 25, of Boston, last month pleaded guilty to conspiracy, acknowledging that he paid to have the Graduate Record Examination taken for him by a proxy test taker who also used a fake passport. He faces the same penalties as Sun when he's sentenced Oct. 30.