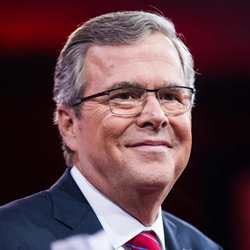 The 2016 presidential race is already setting up to be one for the history books. Between legacy heavy-hitters like Hillary Clinton and Jeb Bush throwing their hats in the ring, to the outlandish (yet somehow effective) antics of Donald Trump, the race to the Oval Office will be an interesting one.
Behind all the 30-second sound bites and social media memes, however, are the real issues that will impact Americans when the next president is elected. Education is one area where the choice in president will be especially critical—so which candidate will be the best for education in the country? More specifically, which candidate's policies will best support diversity on college campuses?
Let's take a closer look at some of the platforms of the big names in the race and what they mean for the future of diversity in higher education in America:
Hillary Clinton
It is not expected that at any point in her campaign Hillary Clinton will propose tuition-free college, but she has already called for reform in the cost of attending and in alleviating the burden of debt from graduates. Clinton would like to invest more in public colleges and universities in order to give more people the chance to attend, regardless of socioeconomic background. If successful, her plans could certainly mean a higher amount of minority and first-generation students will attend college and heightened diversity on all campuses.
Jeb Bush
Back in 2009, Jeb Bush voted to guarantee the top 20 percent of high school students in his home state of Florida admittance to college. He also pushed for greater support for minority and disadvantaged students in the state's schools back in 2002. As governor, however, Bush voted to eliminate affirmative action in college admissions and proposed no alternative plan to maintain diversity on campuses. Following his announcement that he will run for his party's nomination, Bush alluded to wanting to eliminate student loans completely, but those remarks stand in stark contrast to his long-time support of for-profit colleges (and K-12 schools, too). Perhaps Bush would implement more affordable college options, but it's doubtful that diversity on campuses would increase during his tenure.
Bernie Sanders
Candidate Sanders has never tried to cover up the fact that he believes in socialism and the pursuit of a college degree is no exception. Sanders believes that the right to a college degree should be extended to all Americans, not just those who can afford it. Of course being elected to the highest office in the land won't automatically mean that millions of Americans can cash in on free college; but it will mean that the wheels are in motion for that sort of setup to become reality. Remember the people who said that national health care would never actually become law? Well, the same people should heed Sanders' call for free college because, if he should somehow land the presidential seat, it could become the law of the land.
Donald Trump
Though Trump has never had to repay a student loan of his own, or of his children's, he has actually been pretty outspoken about the mishandling of student debt by the U.S. Department of Education and for-profit colleges. Unlike Trump, who was able to file for bankruptcy following a bad business investment and walk away from the debt, Americans who collectively hold the $1 trillion in federal student loans have no such luck. Given that option, or eliminating the profit factor, could be a game-changer for minority and low-income students with college degree aspirations.
Ben Carson
At first glance, it would appear that Ben Carson would have a vested interest in helping minorities succeed on college campuses. He is, after all, a medical doctor of color. Carson appears to be completely oblivious to the actual cost of a college education today, however. He's dismissed President Obama's proposal for free two-year community college, citing Pell Grants as the solution. He's also mentioned that those who can't afford college should simply work for a few years to be able to afford it later on. He seems completely out of touch with the diverse base of potential college students who do not have the income of a neurosurgeon, and it rings similar to Mitt Romney's "have your parents write a check for college" comments from the 2012 race.
What do you think? Which presidential candidate will be the best for diversity on college campuses?