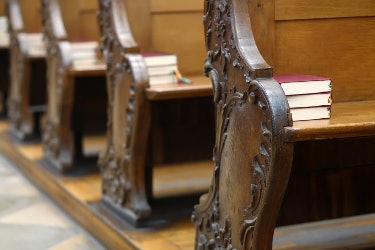 At a community forum in Atlanta, organized by the Forum for Theological Exploration (FTE), church leaders considered what the future of Christian church and its many denominations will be in the United States. Of particular interest to the speakers was how the millennial generation might be incorporated into religious organizations.
Millennials are less drawn to organized religion than preceding generations. A Pew study, which came out in May 2015, found that millennials are less likely to profess any sort of religious affiliation, particularly compared to older generations. A full 36 percent of young millennials (those born between 1990 and 1996), identified as unaffiliated with any church in a 2014 Pew survey.
Older millennials (born between 1981 and 1989) are only slightly more engaged in religious organizations. Among older millennials, 34 percent identified as unaffiliated in the 2014 survey. That 34 percent, however, indicates an increase from the last time that same generational group was surveyed by the Pew Research Center in 2007. Only eight years ago, 25 percent identified as unaffiliated.
For church leaders, a dearth of millennials in congregations is of great concern, presaging fewer faithful in future generations. Yet churches and faiths have a definite role to play, even in events that are unfolding at the present moment. The Black Lives Matter movement is one where the church can and does have an active role, said Minister Natasha Patterson, chaplain resident at Emory University Hospital Midtown.
"Young people are watching to see how the church will respond," Stephen Lewis, FTE president, said of the Black Lives Matter and other dramatic social shifts that evolved over only the past year.
What the contemporary social climate appears to demand is the church's more active involvement in the communities that are ministered to by churches. Dr. Rodger Nishioka, a professor at the Columbia Theological Seminary, said that the church of the 21st century must be more "apostolic" than the church of the 20th century.