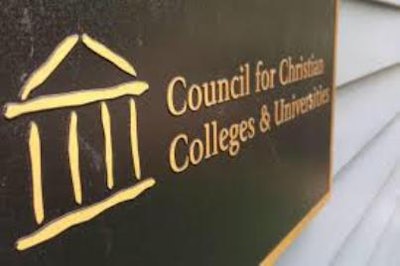 The Supreme Court decision on same-sex marriage this summer was regarded as a great victory for the gay community, but questions remain regarding how some Christian colleges and universities will respond to changing social mores.
More than 100 Christian colleges and universities in the United States adhere to a traditional view of marriage, which holds that marriage is defined as solely between a man and a woman. The Council for Christian Colleges and Universities (CCCU), a Washington, D.C.-based organization, is the umbrella organization for 120 institutions holding similar views.
Two then-CCCU member institutions, Eastern Mennonite University and Goshen College, announced in July that they would change their policies to allow for the hiring of faculty and staff who are in same-sex relationships. Although the timing of the announcement was very close to the Supreme Court decision, both schools said that their decision was inspired by a new theological position of forbearance for the gay community, formalized at a Mennonite Church, USA convention this summer.
EMU and Goshen's announcement was met with vehement dismay from some other CCCU institutions. Union University and Oklahoma Wesleyan University (OKWU) withdrew their membership from the organization as of early September. Other schools threatened to leave as well. As a result, CCCU leaders, who originally said they would discuss EMU and Goshen's decision with member schools over a period of six months, sped up the deliberation process.
On Monday afternoon, the CCCU announced its final resolution in a press call. During the press call, CCCU president Shirley Hoogstra revealed that EMU and Goshen voluntarily withdrew from the CCCU on September 15 after it became clear that a substantial contingent of CCCU member schools thought they should not stay in the organization.
"What we have appreciated about both EMU and Goshen is their high integrity and the fact that they cared so much for us as an association," Hoogstra said. She also characterized Goshen and EMU's decision as "generous" and "sacrificial."
Although there had been some talk of EMU and Goshen remaining affiliate members, a statement on the CCCU website explains that their withdrawal "[renders] the question of affiliate status moot."
The press call shed more light on how other CCCU member schools view the question of theological unity. Leaders at Union and OKWU, the two schools that already withdrew, said that they could not be part of an organization that did not speak with one voice on the topic of marriage.
"We believe in missional clarity and view the defense of the biblical definition of marriage as an issue of critical importance," OKWU president Dr. Everett Piper said in a statement in early September. "The CCCU's reluctance to make a swift decision sends a message of confusion rather than conviction."
Other CCCU schools appear to have been willing to accommodate EMU and Goshen, as Hoogstra revealed during the Monday press call. Approximately 75 percent of CCCU's member presidents agreed with the CCCU board recommendation that EMU and Goshen be moved to affiliate status. Hoogstra noted that, in general, there was a lack of consensus among member presidents about the role of affiliate members. "We found that the affiliate category was widely confusing for our association," she said.
Presidents at the more extreme end of the spectrum were evenly matched. Almost 20 percent of member presidents were in support of the two schools retaining full membership in the organization, while nearly 25 percent of member presidents supported neither member nor affiliate status for EMU and Goshen.
Staff writer Catherine Morris can be reached at [email protected].