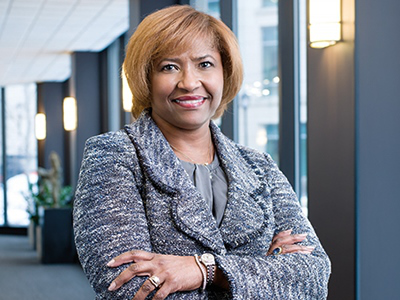 At a time when the term diversity appears steadily shifting in meaning and sliding off many radars as a priority, more than 100 of the top diversity officers across the country gathered in Chicago this week for what has been described as closed-door, frank talk about the status of diversity and how to regain the momentum it once had.
Hosted by the executive leadership initiative of Northwestern University's school of business and co-sponsored by the National Association of Diversity Officers in Higher Education (NADOHE), the three-day conference attracted dozens of top diversity officers in higher education, corporate America, the military and other government agencies. It began Wednesday at the Kellogg School of Management in Evanston, just north of Chicago, and ends late Friday.
The gathering was designed to encourage candid conversations about challenges facing diversity efforts, say its organizers. There was no plan to end the meeting with a fixed agenda or mandate for action, said NADOHE President Benjamin Reese, vice president for institutional equity at Duke University and the Duke University Health System.
"We are trying to foster collaboration across these sectors," says Reese, who described the gathering as one of "very senior people" from across the diversity landscape. "In order to effectively engage the issues of our time, it requires interdisciplinary and cross-sector approaches," said Reese, noting many current ideas and strategies are rooted in the Black-White racially defined era and need updating in a variety of ways.
The chief diversity officer (CDO) summit at Northwestern comes on the heels of a diversity announcement last month by New York Gov. Andrew Cuomo that advocates describe as a welcomed spark to the nation's diversity efforts.
Cuomo, acting after a vote by the SUNY board, announced a new "Diversity, Equity and Inclusion" policy for the nearly 460,000 student State University of New York (SUNY) System. Part of the plan requires each of the 64 campuses of the SUNY System to hire a chief diversity officer and develop a "strategic" plan to "increase" diversity among students, faculty and staff.
Cuomo's move was the first major enhancement of the SUNY System's initial affirmative action plans launched in the late 1970s and early 1980s under then-SUNY Chancellor Clifton Wharton. In those days, the systemwide effort focused on stepped-up action to enhance the presence and participation of Blacks in all aspects of academic offerings and university activities.
The SUNY plan unveiled by Cuomo is essentially affirmative action on steroids, with the diversity strategies to include race, ethnicity, religion, sexual orientation, gender, gender identity and expression, age, socioeconomic status, status as a veteran, status as a student with a disability, first-generation students, and international students or those who transfer between colleges, according to a statement from the governor's office.
Reese, president of NADOHE, characterized the New York governor's action as a "real forward-looking" announcement, with added importance stemming from its backing by all of the SUNY System's campus chief executives, trustees and the governor. "It demonstrates a deep commitment," said Reese.
Indeed, the New York announcement gave the CDO summit a timely boost.
The summit's roster of speakers and facilitators includes top diversity names from institutions of higher education across the country; the accounting, insurance and hospitality industries; food and beverage makers; and top diversity names in the aerospace industry.
"Diversity [and] inclusion today is really at a crossroads," said Anise Wiley-Little, chief human capital and diversity officer at the Kellogg School of Management at Northwestern. "Events like this always recharge CDOs."