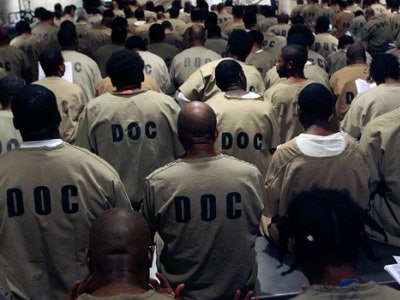 The U.S. Department of Justice and the Federal Bureau of Investigation are presently looking into an incident in which a school resource officer brutally assaulted a teenage girl at Spring Valley High School in Columbia, South Carolina, earlier this week.
The incident is the latest in an onslaught of cases of police aggression against African-American citizens, often youth, across the country. In fact, roughly 100 miles southeast in Charleston, Officer Michael Slager awaits trial in the murder of Walter Scott, the unarmed Black man Slager shot in the back following a traffic stop April 4.
One hundred-seventy miles north, in Winston-Salem, North Carolina, experts gathered Wednesday for a panel convened to address the issue of criminal justice reform in the 21st century.
Noting the highest-in-the-world incarceration vs. population ratio in the U.S., antiquated laws and seemingly excessive punishments, the panelists said the United States as a nation must find a way to curb the problems in police-community relations and lower the overall incarceration rate, but also change the attitudes of those in authority toward those they are to serve.
"We're still under 1980s assumptions about our society," said former U.S Attorney for the Middle District of North Carolina Walter Holton, who added that these assumptions most negatively "affect African-American young men."
"We need to change the whole view of the world in the U.S. that [says] we need to be locking people up," said Wake Forest University School of Law professor Mark Rabil. "You might think that we don't have slavery in this country anymore … but if you look at the 13th Amendment, slavery was never really abolished."
Rabil continued, saying that the present-day system of mass incarceration perpetuates a cycle of modern-day slavery.
"Everything is not a crime. In this country, we go from 'war on' this and 'war on' that," Rabil said. "And it's this mentality of always going to war … and we dump this on the police so much that there's this defensive militarization" attitude that is evident when they attempt to police citizens.
There is a serious mistrust of police, particularly in the African-American community.
Holton said that, for instance, when polling some young Black men on why they carry guns, "the No. 1 answer is 'to protect my little brother. I'm not comfortable trusting the police to protect my family.'"
But it is irresponsible to blame police for all of the ills associated with the negative community-police relationship, the panelists said.
"Police did not cause these problems," Holton said, paraphrasing recent remarks by President Barack Obama. "The problems go much beyond law enforcement, so to try to fix them has to go beyond" conversations about just fixing the police departments.
Holton went on to say that the solution is a communitywide effort, one in which educators have a large part to play. Ninety percent of inmates are high school dropouts, he said, noting dropouts have a 63 percent greater chance of going to prison than a college graduate. And few would argue that once a person has a criminal history, it is harder for that person to prevail and attain credentials that would allow that person to earn a livable wage and break the cycle of recidivism. This fundamental understanding has been at the cornerstone of recent Obama administration policies to begin allowing Pell Grants to prisoners hoping to further their education and a proposal to redirect prison funding to the most disadvantaged schools in the most crime-ridden and low-income areas.
Holton also pointed out another key component of the perpetuation of the arrest cycle: "Prison is the No. 1 mental health provider — more than all the hospitals in the country," he said.
"And the [mental health] services aren't that good" in prison, he quipped.
"Everything is a police problem," Rabil concurred. "We don't fund mental health, and we lock up everyone that we're mad at, good or bad."
It has been reported that the young lady at Spring Valley High School may be yet another example of police being called in a case that may have better called for a mental health professional. While not many details are known yet in her case, outlets are reporting that the young woman had recently been orphaned and placed in foster care.
As Holton said, "We have to have the courage to get rid of the things that don't work, even if they're popular."