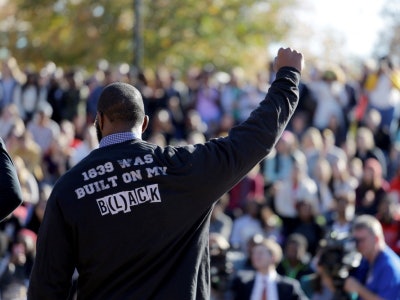 Roughly half of all college and university presidents say racial climate on campus is a "higher priority than it was just three years ago," according to a new American Council on Education survey being released today.
The finding is hardly a revelatory one given the social unrest that hit campuses nationwide last fall, most notably with the student-led protest against racism that ultimately led to the resignation of University of Missouri System president Tim Wolfe, whose resignation came after Black football players at Mizzou threw their support behind the cause and threatened to stop practicing and playing until Wolfe was gone.
Be that as it may, the survey—titled "Racial Climate on Campus: A Survey of College Presidents" and conducted by ACE's Center for Policy Research and Strategy—serves as a reminder of the fact that student-led efforts to root out racism and increase diversity on campus are likely to confront American college and university presidents for some time to come.
The survey found that 53 percent of presidents at four-year institutions and 87 percent at two-year institutions report students have organized around concerns about racial diversity.
With respect to how presidents respond, 86 percent of presidents at four-year institutions and 71 percent of two-year institution presidents say they have met with student organizers on more than one occasion.
The question of paramount concern, however, is not exclusively whether presidents respond but rather how adeptly they respond.
Eddie Comeaux, associate professor of higher education at the University of California, Riverside, said that, in order to make campuses feel more welcoming for groups that historically have been underrepresented or excluded, it will take more than just numerical increases in diversity among students, faculty and staff.
"We can't just take pictures and put them in yearbooks or on websites and say we have the most racially diverse campus nationally," Comeaux said.
After achieving a more diverse student body and a more diverse faculty and staff, Comeaux said, "The next step would be how do we create the conditions where we take advantage of the educational benefits of diversity?"
"Part of that is policy," Comeaux said. "What policy can you implement that creates conditions where people feel this is a welcoming environment where you can benefit from?"
The ACE racial climate survey reveals that policy change is actually one of the least-taken actions at four-year institutions.
"The most prominent action over the last five years, for both two-year and four-year institutions as well as public and private institutions, has been initiatives aimed at increasing diversity among students, faculty and/or staff," an ACE report of the new survey states.
Specifically, the survey found that, while 76 percent of private and public four-year institutions had undertaken initiatives to increase diversity among students, faculty or staff, only 47 percent had changed policies and procedures.
Asked for a specific example of a policy change that needs to occur, Comeaux said there should be more incentives and rewards in place for faculty of color, who end up doing a lot of additional work mentoring students of color because faculty of color may be few and far between on campus and thus are in high demand.
"Oftentimes the work that they're doing is not recognized," Comeaux said. "And so putting together policies that incentivize that is certainly a way to reward faculty for the work that they're doing but also through the tenure process.
"All of these elements play into the campus climate," Comeaux added.
Indeed, if one were to examine the various lists of demands that student groups have put forth as of late, one of the top concerns has been to hire more diverse faculty that are reflective of the student body.
But diversifying faculty is only part of the equation. The ACE survey found that, when it comes to addressing racial diversity, presidents often rely on others in their administration.
Specifically, about half of presidents at four-year institutions—66 percent at public four-year institutions and 39 percent at the privates—said they have a full-time administrator dedicated to student diversity on campus, such as a chief diversity officer, or CDO, the survey states.
"The two senior administrators that presidents lean on most when it comes to addressing racial diversity among students are their vice president of student affairs and/or dean of students and their campus' diversity officer," the survey states. "For those who don't have the latter, they lean even more so on their senior student affairs leader."
Benjamin D. Reese Jr., president of the National Association of Diversity Officers in Higher Education, or NADOHE, said it would be wrong-headed for presidents to think that assigning a chief diversity officer to deal with student-led movements is enough.
"CDOs are critical in academe, they're necessary, but they're not sufficient," said Reese, who is also vice president for institutional equity at Duke University. "By that I mean it's critically important that a college or university have a CDO, but that doesn't absolve the president and other senior leaders from their responsibility.
"I've been gratified when I see institutions where the president and chief diversity officer are both engaged in strategic planning around issues of climate," Reese said.
Reese said he has reviewed various student demands and has found that "the overwhelming majority of demands are reasonable and appropriate."
"There are clearly some demands that might be open to debate in terms of their focus or how realistic they are, but I think the students have brought forth important issues for all of us in senior leadership to grapple with," Reese said. "I view most of them as being really appropriate and some of them long overdue."
Jamaal Abdul-Alim can be reached at dcwriter360@yahoo.com or follow him on Twitter @dcwriter360.