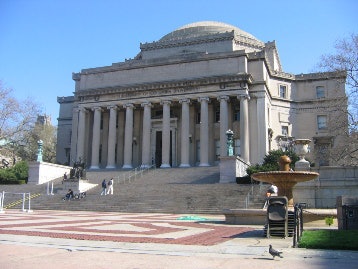 Issues of change, innovation and the contemporary business world were addressed at the renowned business school's Centennial Symposium on Monday.
Business leaders have a significant role to play in society and business schools still play a crucial role in developing many of those leaders. While the traditional notion of someone earning his or her MBA and heading into investment banking or another high-powered financial career certainly still exists, global changes in technology and international commerce have made the content of a business school education evolve.
Leaders from the business world converged in New York on Monday as Columbia Business School celebrated a century of impact and a future of innovation. The audience at the symposium was diverse in terms of age, race and gender.
In the first session of the symposium, What Is Next in Management Education, the deans of Wharton School of the University of Pennsylvania, Columbia Business School, Harvard Business School and Stanford Graduate School of Business discussed the present and future of a business school education.
Dr. Garth Saloner of Stanford noted that a number of students today want to bring about significant change in the world. They don't necessarily see their futures in the financial world, but instead see futures as entrepreneurs, leaders in nonprofit organizations or leaders in a diverse range of industries.
In terms of the question of whether a business school education is worth the cost—approximately $200,000 for a two-year program at leading schools—the deans all said yes. Given that most graduates have nearly 50 years in the workforce ahead of them, the skills and insight they gain in business school will pay off.
In terms of keeping up with change, leading schools such as those represented will continue to evolve and keep up with change, but some schools may not be able to do that. As some institutions cannot keep pace, others will emerge that can meet the needs of new and diverse students. Whether it will be programs that have a large online component—bringing down costs significantly—or new types of programs, there will be schools addressing a more diverse student population.
"All of these deans are very much looking at the business model of the business school and how technology is impacting their world as well as everyone else's world. How do you prepare the leaders of the future for this kind of change?" said Jan Hopkins, who moderated the session. "They all made very clear that this is a transformational time in their histories.
"One of the things that will happen in this disruptive world is some schools—not those on the panel—won't work," she added. "But the ones that will, will be partnering with businesses in their communities to do more specific education. That's another part of how the world of business schools will look different in the future."
A business school graduate, Hopkins, a former CNN anchor and correspondent, said she managed a nonprofit at one point and at CNN was a business journalist. She made note of the diversity among today's business students and said the careers they pursue will be more diverse than in the past.
"That's the world we live in," Hopkins said.
Saloner said management education will have to change. At the next level, leaders will be prepared to lead companies impacted by change and they will have to know how to manage innovation. Companies are seeking these skills in their leaders.
Technology will be a driving force. Online education will have a huge impact in terms of access and cost. Dr. Nitin Nohria of Harvard said Harvard has an online pre-MBA program that provides great preparation. He said that, over the next 20 years, a wide portfolio of online education will become available. He also emphasized the need of learning to operate in a global world and give students, who are the future leaders, a real understanding of what their work is likely to entail.
Business education will become more experiential and practical. Students will gain more hands-on experience with smaller companies and innovative ideas. There will also be increased opportunities to work with nonprofit organizations.
Dr. Glenn Hubbard of Columbia said globalization is a huge factor going forward. Faculty take in information from the world and also go teach internationally, thus making a global impact.