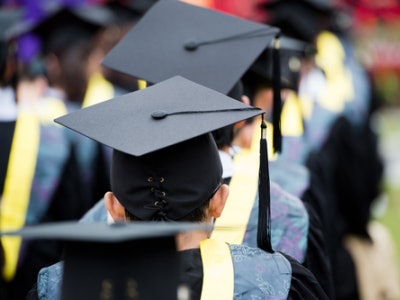 When Rodrick McKee graduates from Lane College this July with a bachelor's degree in physical education, his graduation won't count in the school's federally reported graduation rate.
That's because McKee—a former starting quarterback who now serves as a student football coach at Lane—came to Lane as a part-time student who transferred from a community college, and the federally run Integrated Postsecondary Education Data System—known as IPEDS—does not count part-time or transfer students when it comes to calculating a school's graduation rate.
Instead, it only counts full-time, first-time students, as opposed to students such as McKee, whose path to a degree has been one of twists and turns.
"After my first semester, I took a break from school to help my mother; it was necessary for me to go to work," McKee states in a biography of his college experience.
"After one year of working, I enrolled at Coahoma (Community College) where I walked on to the football team and earned a scholarship; eventually becoming a starting quarterback," McKee states. "I graduated from Coahoma and enrolled at Lane College because they offered me an athletic scholarship."
While colleges and universities have long lamented how they don't get proper credit for graduating part-time or transfer students such as McKee, a group of higher education associations has launched a new effort to change that reality.
Their campaign is called #CountAllStudents, and its leaders and supporters say it is meant to prod the federal government to provide a more accurate picture of graduation rates at America's colleges and universities.
"The degrees earned by students who transferred or attended college part-time aren't any less valuable or meaningful than those who attended full-time and remained at one school," said said Christine Keller, executive director of the Student Achievement Measure, which is coordinating the #CountAllStudents campaign.
"In fact, many of these degrees are earned by students who have graduated despite significant obstacles or difficult circumstances," Keller said. "Yet, the federal graduation rate ignores these students and instead gives the impression that many of them have dropped out."
Frederick M. Hess, resident scholar and director of education policy studies at the American Enterprise Institute, said the #CountAllStudents proposal would be beneficial to a variety of stakeholders.
"If institutions have lots of students who are scored as 'not completing' but are actually being launched onto a successful trajectory elsewhere, that seems like something that potential students, taxpayers and policymakers would want to know about," Hess said.
Mamie Voight, vice president of policy research at the Institute for Higher Education Policy, raised similar concerns, saying "far too many students are missing from today's postsecondary metrics and data systems."
"Policymakers need more complete information to design effective policies; institutions need comprehensive metrics to inform their improvement efforts; and students need reliable information to help them make decisions about college," Voight said.
The #CountAllStudents campaign was launched this week as part of the Student Achievement Measure—or SAM—a collaborative effort of six higher education associations. Some 600 colleges and universities, mostly four-year public institutions, participate on a voluntary basis in the initiative to provide a more comprehensive picture of their graduation rates.
The SAM initiative is supported largely by the Bill & Melinda Gates Foundation, a longstanding player in the higher education arena and efforts to increase the portion of young Americans who earn a college degree.
The #CountAllStudents campaign also comes at a time of increased calls for more accountability in higher education in general and for more transparency when it comes to the value proposition and performance of colleges and universities in particular.
It also comes at a time of changing student demographics—with the percentage of older students and part-time students expected to increase at faster rates than students who go to college full-time straight out of high school—and questions about how well students from diverse groups are faring in their pursuit of degrees.
For those reasons, the stakes are high for some colleges in the SAM initiative when it comes to the percentage of their students that graduate in a timely manner.
"These particular schools that are publicly funded, and some of which compete for funding, likely care about how well they are serving students and want to do better," said Antoinette Flores, a policy analyst on the Postsecondary Education Policy team at the Center for American Progress, a Washington, D.C.-based think tank.
"As a whole, 40 percent of students they serve aren't counted," Flores explained. "Schools that serve these student populations well have more to gain.
"The stakes are higher for schools that don't serve students well. For these institutions, the concern is accountability," Flores continued. "Schools that don't provide value for these students are the ones most at risk."
Although changes to IPEDS would improve understanding by adding rates for specific student populations, it would also vary by college and sector, Flores aid.
"At private non-profit four-year colleges, almost two-thirds of students are covered in the current graduation rate," Flores said. "At private for-profit four-year colleges, roughly a quarter are covered. Changes would allow us to account for a greater proportion of students.
"The mask would be lifted," she said.
As of now, policy stands in the way of counting part-time and transfer students—namely, a congressional ban on using "student-level data" that would enable that to happen.
"It is time for Congress to lift the ban on student-level data so that we can count all students and get a clear and accurate graduation figure along with other key information such as post-collegiate employment," said Peter McPherson, president of Association of Public and Land-grant Universities (APLU), which is participating in the SAM initiative and backs the #CountAllStudents campaign.
"At a time when virtually all businesses rely on rich data to make informed decisions, the federal government is stuck in a time warp with faulty data," McPherson said. "It doesn't have to be like this."
Jamaal Abdul-Alim can be reached at dcwriter360@yahoo.com or follow him on Twitter @dcwriter360.