Donald Trump has already blasphemed higher learning and the word "university."
Now just as he put a © symbol and dubbed a seminar enterprise "Trump University," he seeks to extend his brand to a possible Trump Presidency©, and if elected, the Trump Constitution©.
It would definitely be a Trump United States©.
He's already taken over the Republican Party after the capitulation of House Leader Paul Ryan, who last week said he'd vote for Trump.
And now the New York tycoon seems to think the green light is on to say anything he wants, including passing judgment on "Mexicans." Or perceived Mexicans. Or as he clarified, anybody of Mexican heritage, American or not.
It doesn't seem to matter if you do anything anti-Trump.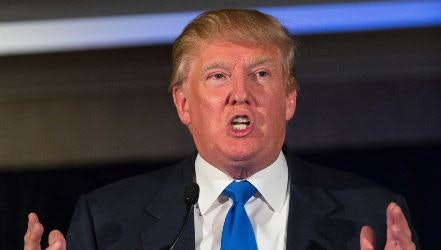 That's Trump's thinking regarding U.S. District Judge Gonzalo Curiel of the Federal District Court in San Diego. Curiel is presiding over a class-action lawsuit seeking refunds for people who say Trump University was a rip-off.
Last week, Curiel released previously sealed documents that showed how Trump U. salespeople preyed on older, retired folks to attend weeklong real estate seminars. The only thing approximating a "university" was the price tag, nearly $40,000.
As it happened, Trump was in San Diego for a campaign rally and let his real feelings known.
"I have a judge who is a hater of Donald Trump, a hater," Trump said at his San Diego rally last week.  He then said he believed, based on last name alone, that the judge was "Mexican."
"The judge who happens to be, we believe Mexican, which is great. I think that's fine. You know what? I think the Mexicans are going to end up loving Donald Trump when I give all these jobs, okay?"
One problem — Curiel, born in Indiana to Mexican immigrants, is as American as it gets. But Trump continues to insist that having Mexican heritage is enough to brand you as disloyal. At least to Trump.
"He's proud of his heritage. OK. I'm building a wall," Trump told CNN. "He's a Mexican. We're building a wall between here and Mexico."
It's not relevant at all to the Trump University case.
In fact, asking for the judge's recusal based on ethnicity would be like asking Justices Clarence Thomas or Sonia Sotomayor to recuse themselves from voting on affirmative action.
But Trump doesn't see it that way. Curiel's ruling is simply one that crosses Trump. And nothing gets in the way of Trump, not even logic.
"They ought to look into Judge Curiel, because what Judge Curiel is doing is a total disgrace. Okay? But we will come back in November. Wouldn't that be wild if I am president and come back and do a civil case?"
Wild? How about troubling. That's what many constitutional lawyers seem to think.
John C. Yoo, a law professor at the University of California, Berkeley, whose views on executive power informed the expanded torture policies during the George W. Bush administration, was concerned about hostility to the concept of an independent judiciary.
"The only two other presidents I can think of who were so hostile to judges on an individual level and to the judiciary as a whole would be Thomas Jefferson and Franklin Roosevelt," Yoo told The New York Times.
"But they weren't doing it because they had cases before those judges as individuals," Yoo continued. "They had legitimate separation-of-powers-fights between the presidency and the judiciary. Trump is lashing out because he has a lawsuit in a private capacity, which is much more disturbing."
During all this, Judge Curiel has been in hiding, but not because of Trump. Due to the judge's tough actions in cases involving Mexican drug cartels, Curiel's been targeted for assassination and is living in a secret location guarded by federal marshals.
Judge Curiel's done more to fight illegal Mexican activity than Trump could ever dream of doing.
By attacking a judge verbally on race, Trump seems to have alarmed many a legal scholar.
"This is how authoritarianism starts, with a president who does not respect the judiciary," David Post, a retired law professor, told The New York Times. "You can criticize the judicial system, you can criticize individual cases, you can criticize individual judges. But the president has to be clear that the law is the law and that he enforces the law. That is his constitutional obligation. … If he is signaling that that is not his position, that's a serious constitutional problem."
So add presidential powers, the Constitution and rule of law to the list that already includes deporting 11 million undocumented, a ban on Muslims, and attacks on the media and free speech.
Is it unpresidential to think that the president is somehow above the law?
Voters will get to weigh in on one last set of big primaries in California, New Jersey and four other states on Tuesday.
And then, all Americans will have to consider the consequences as we hurtle to November.
Emil Guillermo is an award-winning journalist and commentator on race, politics and society. He writes for http://www.aaldef.org/blog.