WASHINGTON ― University of Missouri System interim president Michael Middleton said Tuesday that he is hopeful that a series of initiatives meant to bring about more diversity, equity and inclusion at the system's flagship campus can stave off the tumult that rocked the campus last fall.
"While we've made significant progress since November, there's much more to be done," Middleton said during a talk at the National Press Club. "I'm optimistic about the progress made and will continue to make and hopeful that our students will have the patience to allow us to continue that work."
Middleton—the former deputy chancellor of the University of Missouri who came out of retirement last fall to serve as interim president after protests led to the ouster of his predecessor, Tim Wolfe—has been speaking to various higher education organizations over the past few months about the importance of taking heed to the concerns of student protesters.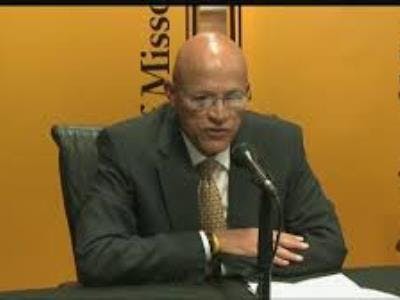 Tuesday's talk was no different except it provided an extended opportunity for journalists to question Middleton about various issues—from strained race relations on campus to threats to academic freedom—that have beset not only Mizzou but campuses nationwide as of late.
Middleton also outlined a series of efforts that he said he hopes will bring about positive change at the main campus at Mizzou, which has been beset by declining enrollment figures—a decline of 2,600 students this fall, by one account—that he conceded were "grim." The decline in tuition revenue is estimated at $36.3 million, according to a recent news report.
Asked what he was doing to counteract the problem, Middleton stated that he had a communications team working to "accentuate the positive and minimize the negative and that kind of thing, but we can't gloss over it."
He also said he was not sure if the target audience for Mizzou's messaging was students as much as it was parents.
"I think parents are going to be a hard sell," Middleton said. "I'm a parent and I would worry about sending my child to a place that I thought was violent and in total disarray. The fact of the matter is the University of Missouri is not violent and is not in total disarray."
Among the various steps that Middleton said the system had taken to increase diversity, equity and inclusion are:
          • Having Kevin McDonald, the UM System's first Chief Diversity, Equity and Inclusion officer, serve as the interim vice chancellor for Inclusion, Diversity and Equity at the main campus through a dual appointment that was announced last week.
          • For the first time, making sure each campus in the system has a chief diversity officer who reports directly to the chancellor.
          • Establishing a task force at the system level that will conduct an audit of programs, policies and practices related to diversity, equity and inclusion. The task force will make recommendations to the board of curators in order to effectuate "positive change" on all four campuses, Middleton said.
He said additional support would be provided to support faculty and staff who have experienced "disparate treatment" and to hire more diverse faculty and staff.
Of the $2.5 million invested in such initiatives to date, Middleton said $921,000 is for a "campus climate" survey, as well as to provide additional training for campus and system administrators, and to provide mental health support for students.
Middleton fielded a number of questions that included the case of Melissa Click, an assistant professor of communication fired for interfering with reporters who were covering the November protests at Mizzou.
The American Association of University Professors moved recently to place Mizzou on its censure list for the firing of Click.
Middleton said he hoped to get the university off the censure list but said he did not find fault with the firing of Click, who took it upon herself to physically block reporters from an area deemed as a "safe space" for protesters, even though it was in a public space on campus.
He said it was "clearly time to do something because the university was really in turmoil and it did not appear that the turmoil would die down unless something were done with Professor Click." But he added: "I don't think that what the university did had anything to do with Dr. Click's academic freedom."
"I think that she just lost control in a very heated situation," Middleton said. "She clearly was very supportive of what our students were doing, so she positioned herself as the protector of our protesting students."
Middleton—who as a student at the University of Missouri founded the Legion of Black Collegians, the official Black student government at Mizzou—defended the right of reporters to cover public events, although he said journalists should be careful about how they assert their First Amendment rights.
"Just because you can doesn't mean you have to, and, if doing it causes too much controversy, it might be wise to consider not doing it," he said of journalists.
At the same time, Middleton said that, if protesters want privacy or to be out of the media spotlight, they should consider holding meetings off campus in a private place.
 "I don't want to deny the press or anyone else to attend functions in a public place," Middleton said.
Jamaal Abdul-Alim can be reached at dcwriter360@yahoo.com or follow him on Twitter @dcwriter360.