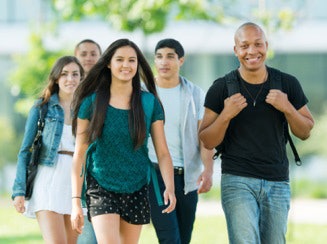 The purpose of diversity efforts on college campuses is to enhance the population ― but in drawing so much attention to people's differences, are we actually deepening divides?
That's the exact argument made by Jonathan Haidt and Lee Jussim in a recent Wall Street Journal piece titled "Hard Truths About Race on Campus" that references recent pushes by universities to meet student diversity demands with initiatives such as adding chief diversity officers.
Haidt, a professor of ethical leadership at New York University and Jussim, a psychology professor at Rutgers University, argue that these efforts won't actually do much to increase diversity or improve race relations on campuses and that they could have the opposite effect of the intention. Rather than separating students by demographic, colleges should focus more on how to get the disadvantaged students on the same footing as those who have always had more educational resources. The authors mention the U.S. Army and how, instead of using affirmative action, the organization provides more in-depth training to minority and women officers to prepare them for promotions.
Are colleges getting it wrong with diversity programs? Do diversity programs, with their grand initiatives, prevent the organic blending of cultures, races and genders that could take place on campuses?
That answer is complicated of course. On one hand, diversity programs instituted at universities have paved the way for the initiatives in workplaces and social programs. Affirmative action, an initiative originated on college campuses, has helped 5 million minorities and 6 million women (White and minority) move up in the workforce, according to the U.S. Labor Department.
But on the other hand, if what we are truly striving to have is a melting pot, are programs that highlight demographics and essentially section them off really healthy for college landscapes?
To be clear, I'm not calling for a stop to diversity programs as they are necessary to provide higher education opportunities for all. I'm asking instead that colleges and universities examine the intentions of their programs. All institutions of higher education with diversity initiatives must:
Focus on quality learning
Admitting students with varied backgrounds is just a small step in truly providing a variety of students with what they need to succeed. How many women, minorities and other disadvantaged students are actually making it to graduation? How many are finding jobs in their fields after they leave? If there are groups, like first-generation college students, who will face more difficulties succeeding, focus on how to help them soar. Colleges have a responsibility that goes far beyond acceptance letters when it comes to diverse student populations.
Praise with caution
If the purpose of your diversity program is to look good, you're doing it wrong. Of course you should make diversity statistics available and let future students know the makeup of your student body — and goals to get there. Choose how you display information strategically and select press releases and other praise-heavy diversity documents with care. A successful diversity initiative has intrinsic benefits that go beyond appearances.
Consider faculty
A diverse student population and the workplace fields that follow start with varied representation in classrooms. Recruiting faculty of diverse backgrounds should never be relegated to one group, or one department. Variety in race, gender, socioeconomic status and even immigrant status among college faculty feeds a more diverse and well-rounded population that in turn expects that diversity in the workplace. This is another area where hiring practices regarding diversity are a necessary part of the process (or else there would be no accountability) but college leadership should recognize the intrinsic value that diverse faculty brings.
Recruit smartly
One of the largest roles of a college is to heighten the quality of life for its community. This means that the people who live and work in that area should benefit directly and indirectly from the actions the college takes. Perhaps the most impactful way to do this is by educating that community. Find the people who need the educational boost the most and then recruit them through affordable programs, scholarships and financial aid. If every college simply recruited the students from its own community that needed the benefit of higher education, the college and university landscape would look a lot different.
Diversity initiatives don't always need a big announcement; the intention of the university will go a long way toward a positive, inclusive campus for students and faculty.
Matthew Lynch is a higher education consultant and owner of Lynch Consulting Group, LLC. He currently resides in Richmond, Virginia.