When Maureen De Armond, associate counsel at Iowa State University, gave a presentation recently about whether to use social media to conduct background checks on prospective hires, she began with two slides that gave opposite bits of advice.
The first slide warned: "Don't do it. Cyberstalking job applicants. No way."
However, the next slide advised: "Do it. Google Happens. Ignoring online data is a mistake."
­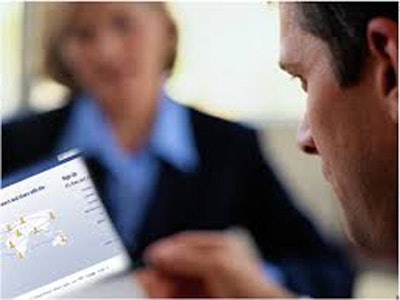 Those two diametrically opposed directives represent one of the biggest dilemmas that human resources officials face in the digital age as they seek to hire candidates and must decide what — if anything — they should consider from an applicant's online profile and activities on social media.
Hiring guidelines
"­There's no easy answer to it," says William "Bill" R. Pokorny, a Chicago-based labor attorney and a member of the National Association of College and University Attorneys, or NACUA.
"It's a tool and there's good ways to use it and there's bad ways to use it," Pokorny says, regarding the use of social media in the hiring process. "You have to know what you're doing."
For instance, Pokorny says, it can be useful to look at a candidate's professional background.
"Clearly, if you're interested in an employee, for example, contributing to the profession and how they're connected to others within professional organizations, then going on sites like LinkedIn and professional sites where people exchange ideas can be very useful to see what they're doing in a way that's related to the job," Pokorny says.
However, the downside of that approach is that it can lead to the discovery of things that "you might not want to know" as someone making an employment decision, Pokorny says.
"For example, what is somebody's religion or are they disabled? Those sort of things you want to screen out for someone making employment decisions," Pokorny says.
One way to avoid the pitfall of coming across information that could lead to discrimination is to delegate someone not directly involved in the hiring decision to review a candidate's online presence, and then pass along only information that can be legally considered.
"Hiring parties must be careful that information seen online is not creating a conflict where aspects of a person are being used in the judging of their candidacy that is actually discriminatory," says Andrew Hazelton, co-author of a paper titled "Legal and Ethical Considerations for Social Media Hiring Practices in the Workplace."
"A possible way to remove this concern, if social media will be reviewed prior to an interview, is to have this process conducted by someone not directly a part of the hiring decision committee — such as the HR person processing the formal paperwork," Hazleton says. "­This would allow the non-committee member to screen a candidate's online footprint with a predetermined rubric and then provide the hiring committee what information was found in relation to the rubric."
Christopher V. Bacon, an employment and labor lawyer based in Houston, also endorses that approach.
"My advice is, if an employer or company or university is going to do that, probably the safer thing to do is to separate who does these searches and for it not to be the person who is going to be part of the decision-making team," Bacon says.
Pitfalls of snooping
Dr. Alessandro Acquisti, a professor of information technology and public policy at Carnegie Mellon University, expounded on the challenges of using social media in the hiring process.
"One of the challenges in managing public/private boundaries in social media is context collapse: Content framed and intended for an audience (for instance, friends) becomes actually available to, but also possibly misunderstood by, a completely different audience (for instance, prospective employers)," Acquisti wrote in an email to Diverse.
"Thus, snooping for personal information in professional settings is a double-edged sword," Acquisti wrote. "It may uncover evidence of a candidate's personal biases, but it may also unintentionally arouse the seeker's (i.e., the employer's) own hidden biases."
Acquisti is co-author of a paper titled "An Experiment in Hiring Discrimination Via Online Social Networks."
The paper found that "online disclosure of certain personal traits can influence the hiring decisions of U.S. firms" and that "the likelihood of hiring discrimination via online searches varies across employers."
More specifically, the paper found that Muslim candidates received a 13 percent lower callback rate than Christian candidates and that the bias against Muslim candidates and in favor of Christian candidates was "significantly larger" in Republican areas than in Democratic areas.
Acquisti's co-author, Dr. Cristina Fong, senior research scientist at Carnegie Mellon's Department of Social and Decision Sciences, notes how "job-irrelevant information and job-relevant information might be bundled together in social media."
For instance, asked for perspective in a situation where a university learns that a candidate "harbors disdain for certain groups," Fong says it could be job-relevant because it could be detrimental to team productivity at the place of employment.
"I view this as an issue of search costs: The job-relevant information (disdain for certain groups) might potentially be obtained through traditional in-person interview practices, but this may be more expensive and less revealing," Fong wrote in an email to Diverse.
"An issue for employers to consider is what is the relative cost of searching online in this case, where the relevant information is cheaper to obtain but the legal risk is higher, versus seeking it out through a traditional interview process where the information is more expensive to obtain but where legal risks may be smaller."
In his paper, Hazelton — a student "success coach" at the University of Toledo — lists a series of steps that universities should take with respect to use of social media in the hiring process.
They include:
Develop policies regarding appropriate and inappropriate uses of internet searching.
Base the use of internet-screening media for selection purposes on recommendations from a job analysis.
Conduct a risk-benefit analysis to determine if the legal risks of using internet-screening media to assess applicants outweigh the potential benefits.
Standardize assessments of internet-screening media and use multiple raters.
Verify the accuracy of information obtained from internet-screening media.
Disclose the potential use of internet-screening media for selection decisions to applicants.
"A final thought is to keep in mind the length of time social media and any online footprint has and will be existing," Hazelton says. "Is there even a way to only permit viewing material that is one month old? Three months? One year?"
"When is it too 'old' to consider if higher education sees student development and our own development as ever-evolving?" Hazelton continues. "These questions prompt a fear of mine that a candidate will be undesirably viewed for posting or being linked to material that the candidate no longer associates with or believes in."
Hazelton says that there are also factors to consider when a candidate does not have much of a social media presence, if at all.
"What about the individual who doesn't have as impressive of an online footprint?" Hazelton asks. "Does this mean the candidate is actually a favorable candidate because of this privacy or is the candidate looked at unfavorably because of 'they have something to hide' thinking?
"Or is the candidate not seen as favorable because they are not as involved online or do not utilize social media that dominates the current student population?"