Diversity training takes on many forms, depending upon where it is implemented, yet, given demographic shi­fts and globalization, an understanding of basic diversity and inclusion principles seems increasingly necessary. In higher education, which does not have the kind of top-down governance structures of business and government, even the term "diversity training" has to be adjusted to fit the academy.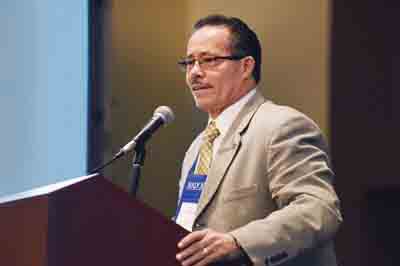 "We don't really call it training because we've done a lot of planning with faculty on this, and we've been told, at least at Berkeley, that faculty don't resonate as much with the idea of being 'trained,'" says Dr. Amy Scharf, director of Faculty And Departmental Diversity Initiatives at the University of California, Berkeley. "So we don't actually call it training, very intentionally. We call it dialogue."
Dr. Archie Ervin, president of the National Association of Diversity Officers in Higher Education (NADOHE) and vice president of institute diversity at the Georgia Institute of Technology, says that he prefers the term "diversity education" over "diversity training."
"What we've done is engage faculty from the perspective that, if we can help them become more consciously aware of the unconscious factors that often impact their behaviors, which is decision-making, they make better decisions, and the decisions are more equitable in terms of impact," says Ervin. "That's a case study for the importance of education."
At the University of Oregon (UO), Dr. Yvette Alex-Assensoh, vice president for equity and inclusion, says that diversity training is termed "empowerment and professional development."
"Training is really a term that doesn't really reflect the scope and the nature of what it is that universities [are] trying to do these days, especially at places like the University of Oregon. So we see efforts to empower faculty and help them develop professionally. I think when you use the word 'training,' folks think of it as remedial."
Alex-Assensoh says empowerment and professional development at UO aims to help faculty have a common understanding of the principles necessary to be "excellent" in the classroom, in student engagement and in community engagement.
Dr. Taffye Benson Clayton, inaugural vice president and associate provost in the Office of Inclusion and Diversity at Auburn University, terms what is known as diversity training as diversity education and organizational learning.
Clayton previously served as the chief diversity officer at the University of North Carolina at Chapel Hill and East Carolina University.
"Diversity education and organizational learning, I think, is a really important and, I think, a far more interesting way of approaching this matter of how it is we help our faculty, staff and students develop the kinds of diversity and inclusion competencies that we'd like to see them have," she says.
Keys to success
Clayton outlines a few principles she believes are key for any diversity training program on a college campus, noting that diversity programming that includes bringing in a national thought leader and involves faculty in breakout sessions can be effective.
"I do find that the models that work are these high-quality, topic-focused formats, seminar formats, featuring the thought leader, lectures, and the action and strategy component," says Clayton, "that really works well."
At Berkeley, Scharf says she believes "it's really valuable" to have classroom diversity training sessions "led by other faculty. That's turned out to be very meaningful to people. Our faculty who run them are not all 'diversity trainer' faculty. They're from a lot of different departments."
Scharf adds that, for instance, one of the Berkeley faculty members selected to lead a diversity training session happens to be a biologist studying the rainforest.
"He goes in and he says, 'I'm not an expert. I'm just a faculty member like you trying to work on these issues.'" This in turn can give faculty "permission to be in [the] process. It gives them permission to not be the expert yet, but to be on this journey."
Clayton adds that she has also seen success in the diversity training area with a model that allows for the infusion of "diversity and inclusion learning opportunities into existing structures."
When Clayton was at UNC-Chapel Hill, she says she was able to work with a faculty governance committee to embed a "learning experience into every faculty governance meeting. And what resulted from that was something called the diversity syllabus."
Subsequently, each faculty governance meeting was "an opportunity to learn about some kind of diversity and inclusion topic," Clayton says. The sessions were "faculty led, or administrator led. Folks can be invited in to talk about things like access and student recruitment, just a variety of different topics. And that's important. And that went over I thought quite well."
As she acclimates to Auburn after having arrived this past December, Clayton says she is discussing how to "approach diversity education as a form of academic and professional development," understanding that diversity "is a mission-driven imperative." At UO, Alex-Assensoh says infusing diversity issues into the accountability matrix factored in faculty tenure and promotion decisions has helped move the diversity ball forward.
"By making contributions to diversity and inclusion part of the tenure and promotion process, that compels faculty to seek out and to be more open to the professional development opportunities around diversity, equity and inclusion, knowing that these will be considered as part of the tenure and promotion process and knowing that these are things that are considered as tools that are important to their professional development," Alex-Assensoh says.
"Does that mean that every faculty member sees them as important? No. But it does mean that it provides a level of accessibility to faculty that may not be obvious or evident in other places."
At Berkeley, Scharf says that diversity training on the faculty side is voluntary, but she believes that there is value in working with the willing when it comes to diversity training, with the hope that others in various departments will be convinced to engage in diversity training initiatives.
"To me, building momentum with that middle-to-interested group ends up helping to shift the culture in a department," Scharf says.
She adds that she approaches this diversity education work by "trying to create enough of a critical mass of people within a department, a program, a college or even on the whole campus, such that that becomes the train people want to get on."
View from Canada
At the College and University Professional Association for Human Resources (CUPA-HR) Annual Conference and Expo last September in Washington, D.C., Katrina Di Gravio, director of organizational and human development at the University of Waterloo in Ontario, Canada, and Annette Denny, organizational and human development coordinator at Waterloo, made a presentation titled "Principles of Inclusivity: Leading an Institutional Cultural Shift."
In the presentation, Di Gravio and Denny outlined six principles of inclusivity that animate the diversity work at Waterloo, which were the result of a yearlong process.
At Waterloo, seven workshops have been developed around these principles of inclusivity. The workshops are titled Introduction to Inclusivity; Understanding Inclusivity; Inclusive Communication; Generational Inclusivity; Sexual Orientation & Gender Identity; Accessible Communities; and Inclusivity Capstone.
"It's been a cultural shift, where at first we had the people who are our cheerleaders and champions and so we were 'preaching to the choir,''' Denny says.
Denny adds that, over time, all new employees were encouraged to complete the introductory workshop, yet "this has been a slow process. But a really valuable one. It has been a grassroots effort in the sense that it was a little bit at a time. And now it's become, I would say … a full expectation that every new employee in staff orientation hears about the principles of inclusivity, so we're setting the tone and expectation from the very beginning."