With threats of deportation, efforts to restrict travel from certain countries and looming cuts to finance at both the state and federal level, the world of higher education currently faces one of the most uncertain periods it has ever faced.
That is the assessment of Dr. Robert L.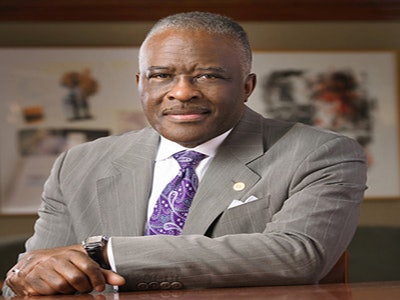 Jones, a veteran research university leader and newly installed chancellor at the University of Illinois at Urbana-Champaign.
"The mood on campus during the six months that I've had the pleasure of serving as the 10th chancellor has been one of uncertainty," Jones said Tuesday at an education summit.
"Our students have to deal with a climate that often time makes them feel unwelcome," Jones said. "It creates a climate of fear.
"They're really concerned about the deterioration of the climate on campus in ways that most of us have not experienced," said Jones, an internationally respected authority on plant physiology.
Jones said when student fears are coupled with budgetary problems at the state level — Illinois is currently grappling with a budgetary gridlock — and federal budget proposals that would "dramatically impact the issue of affordability and accessibility for students," it leads to even more uncertainty.
"It's one of the most uncertain periods in higher education that I've experienced in my narrow 37 years at this work," Jones said.
Jones made the remarks Tuesday at The Atlantic's third annual education summit held at the Newseum.
Issues in higher education figured prominently at the summit, which touched on topics that ranged from diversity and inclusion to free speech on campus.
Gregory Fenves, president at the University of Texas at Austin — a focal point of the nation's affirmative action debate and a hotbed issues of race on campus — stressed the need for university leaders to strike a balance between condemning acts that are deemed offensive to others and protecting free speech.
Of a recent incident on campus in which "Muslim-free America" posters were posted and ultimately removed, Fenves conceded: "I probably didn't say enough."
Jones shared a similar episode in which he failed to strongly condemn some chalk writings on the quad that spoke of President Barack Obama in "not very flattering terms" as well as US Congressman John Lewis.
"It went on to say 'build a wall and deport them all,'" Jones said, describing the chalk writings that supported the policies of President Donald J. Trump to build a wall to curtail illegal immigration along the U.S.-Mexico border and to crack down on illegal immigrants by deporting them.
"We felt an obligation to respond and not respond to each one individually because there was no time," Jones said. "We tried to respond to them collectively by talking about this around values of free speech and that hate speech should be countered with more speech. That message was received by different individuals in different ways."
Some, Jones said, felt he struck the right tone on free speech while others felt he did not denounce the chalk writings and that the failure to denounce them specifically implied that he condoned "that type of white supremacist hateful attitude."
"The lesson to me was I have to be the denouncer-in-chief every time one of these incidents occurs," Jones said, adding that it's "not enough" to send a strong message about a university's value system.
Several students from a wide array of political positions spoke on their respective roles as campus activists.
Chukwuebuka Okoye, a student at the University of Mississippi, said it's important for student activists to not just fight racist symbols — such as statutes of confederate war heroes — but also to concern themselves with issues of academics on campus.
He also said it's important to not just protest but to be willing to negotiate with campus leaders in order to effectuate change, not just stage 60s style protests for aesthetic reasons. He said that is one of the reasons he broke with the campus chapter of the NAACP.
"We have to make some compromises to see how we make steps on diversity," Okoye said. "That is how we got that flag taken down," he said of his and other students' work in getting the University of Mississippi to remove the state flag because it is emblazoned with the emblem of the Confederate flag.
Javon Price, a freshman at Georgetown University, spoke on why he broke with the Georgetown University College Republicans over their decision to invite author Nonie Darwish to speak on campus without having anyone to counter what are considered her anti-Islamic views.
"One of the reasons I came to college is for a dialogue, not a monologue," Price said. He said whenever a campus has a "single person preach in your face about something, we fall susceptible to people going into their own echo chambers."
"It doesn't foster conversation. It doesn't foster growth," Price said. "You have to have someone else there to refute their claims."
Jones, the university chancellor, said despite the challenges that confront higher education today, he remains optimistic about its ability to flourish.
"We're facing some of the greatest challenges in higher education but I look at these great challenges as great opportunities," Jones said.
Then, to underscore his satisfaction with his point, he said: "I would drop the microphone but it's not mine."
Jamaal Abdul-Alim can be reached at jabdul-alim@diverseeducation.com or follow him on Twitter @dcwriter360.