The job search can be a stressful proposition for a candidate, but for those making a hiring decision the process can be just as fraught. At colleges and universities, hiring is a crucial part of creating the desired campus culture. Those invested in the search process must consider the tangible and intangible attributes each candidate brings to a role.
JMahl Stewart, talent acquisition and recruiting manager at Virginia Tech, is one of the people working to make sure the school is getting the right people for the job.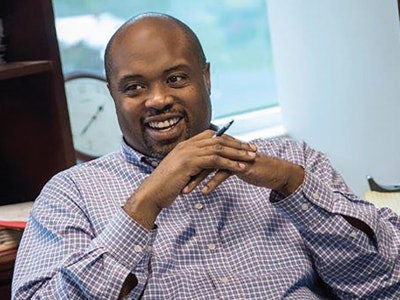 Stewart started his career in talent acquisition in 1998. "Along the way, I've learned new ways to be innovative and strategic so we can always identify the right people at the right time for our organization, not just for today, but where we are going in the future," Stewart says. He honed in on higher education in 2003, with a job at Walden University and has not looked back since.
"Going into higher education wasn't an 'if' for me; it was always a 'when," Stewart says.
In large part, that is due to his upbringing.
His mother was highly passionate about her work as a K-12 teacher in Baltimore, staying on years past her official retirement in order to continue teaching. When she went to college, she was a member of one of the first classes to integrate Tennessee's Memphis State University, now the University of Memphis. After a year there, she transferred to the historically Black Tennessee State University, where the environment was more welcoming. That experience instilled in her a strong belief in the power of education for all, a belief she passed on to her son.
"I think that's one of the reasons she stayed on for so many years and kept wanting to give back," Stewart says.
Stewart's father, by contrast, was in marketing. "I've always looked at [my current career] as a blend of those roles," Stewart says.
At Virginia Tech, Stewart is a talent acquisition leader in the school's advancement office, a division encompassing university relations, development and alumni relations.
There are a range of strategies that schools can employ when searching for the right candidate, Stewart explains. "[Talent acquisition is about] really looking at things from a broad lens of individuals and being able to keep those individuals engaged … so you have that pre-built talent pipeline."
Networking and outreach are crucial pieces of the talent acquisition process, Stewart says, adding that leaders in the industry have shifted away from relying on traditional models of advertising. Instead of hoping that the perfect candidate might stumble across a job posting online and decide to apply, recruiters are now being more proactive in their efforts to engage with prospective employees.
"I think many of us in the industry have moved away from the 'post and pray' type of mentality," Stewart says.
Sometimes the recruiting process starts early with current college students. Outreach with student groups on the Virginia Tech campus can help open up the possibility of a career in advancement to a whole new generation of prospective job seekers, Stewart says.
Innovations in social media mean that schools can make themselves appealing to candidates by developing a compelling presence on platforms like LinkedIn and Twitter.
"Those pay off on a large scale," Stewart comments. Keeping tabs on new platforms is wise, but jumping at the latest trend in technology is ill-advised, Stewart cautions, since not all platforms will reach the desired target audience.
The other piece of the equation is candidate engagement and beginning to develop relationships with potential hires months in advance, so that both parties can get a feel for one another through conversations or even exploratory visits to campus. For job seekers, building those relationships over time allows them to get a real picture of what work would be like at the institution.
The institution is then able to build up a pool of potential candidates, sometimes even before a job opens up.
"I think one of the keys to being successful in that is having really transparent conversations," Stewart says. "Talent acquisition is not just [about communicating] what's in the job description but really being able to talk to individuals about what the community is like."
Some conversations center around what it would be like for a hire to move to a town like Blacksburg, in rural Virginia, something that Stewart has experienced firsthand, after moving there from the greater Washington, D.C., metro area.
The goal is "whether they're in Washington, D.C., or San Antonio, Texas, by the time we finish some of our earlier calls, they almost have a visual of what it's like to be there," Stewart says.
Talent acquisition is about ensuring the right fit — not just for the institution but also for the candidate, Stewart adds. "We're not just interviewing people; they're interviewing us," he says. "So it's important that we look at it from their lens of what it would be like to make that move and take on that role."
This story also appears in the Nov. 2, 2017 print edition of Diverse.