Two universities recently convened a symposium to honor the work and influence of the late civil rights lawyer Charles Hamilton Houston.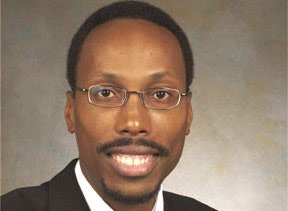 Harvard University's Charles Hamilton Houston Institute for Race and Justice (CHHRIJ) and Clemson University's Charles H. Houston Center for the Study of the Black Experience in Education hosted "The Enduring Legacy of Charles Hamilton Houston: 3rd Biennial Symposium" at Harvard Law School last week.
Speakers called attention to critical educational strategies and research pertaining to desegregation, affirmative action, closing achievement gaps and improving educational attainment outcomes for all Americans.
The purpose of this year's symposium was to "discuss scholarship and strategies designed to enhance underrepresented students' educational outcomes," said Dr. Lamont A. Flowers, executive director of Clemson's Charles H. Houston Center.
The organizers chose this year's symposium theme, "Building Bridges to the Future: Education as a Path to Social Mobility," because it relates to Houston's legal work fighting for equal economic opportunities and fair practices in education for all people.
"The theme of building bridges to the future follows directly from the work of Charles Hamilton Houston, whose work was always built on establishing a foundation from which one could go further," said Dr. David Harris, managing director of CHHRIJ. "He did not see school desegregation as an end but a beginning of a pathway forward. Although he would surely be disappointed in the delays we have experienced as a nation in closing the gaps between students of color and White students, he would applaud the efforts of all our panelists to eliminate obstacles and create opportunities."
Dr. Deborah Bial, president and founder of The Posse Foundation, Inc. served as the symposium's keynote speaker. Additional guest speakers included Dr. Tomiko Brown-Nagin, faculty director of CHHRIJ and a professor at Harvard Law School; Robert Lewis Jr., president and founder of The Base; and Raj Salhortra, a Harvard Law student and co-founder of Students With Ambition Go (SWAG) to College among others.
During the symposium, participants engaged in conversations about increasing college participation rates and workforce outcomes for students. Harris emphasized the role of students themselves in the designing and implementation of strategies helpful to them.
Brown-Nagin suggested that students can benefit from additional strategies discussed at the symposium including talent identification programs, programs to enhance students' critical thinking skills and programs to support students once they matriculate to college, she said.
Another key takeaway from the speakers was that higher education institutions should encourage faculty and other education leaders to provide continuous mentoring to students to support their educational transitions, Flowers and Harris said. The speakers also emphasized the benefits of using cohort models in academic enrichment programs to provide students with peer advocates and support networks.
Overall, organizers hoped to motivate the audience to commit to supporting disadvantaged students in any way, whether it is through mentoring, tutoring or contributing to a relevant organization, Brown-Nagin said.
"We believe that there is so much unfinished business with regard to educational access," she added. "Students of color still suffer disadvantages: disproportionate punishment, fewer resources, less experienced teachers. By working in the educational space around issues of access and quality, the Houston Institute continues the legacy of its namesake," she added.
CHHIRJ at Harvard and Flower's Houston Center at Clemson were established to further Houston's goal of moving the social justice and equity needle in education forward.
In the 1930s, Houston, an alumnus of Harvard Law School and a former dean of the Howard University Law School, served as the first special counsel to the NAACP.
Known as the "The Man Who Killed Jim Crow," Houston played a substantial role in fighting many civil rights cases before the Supreme Court, especially challenging laws pertaining to segregation in schools. He is charged with engineering the multi-year legal strategy that led to the 1945 Brown v. Board of Education Supreme Court decision.
Brown-Nagin said Houston "understood that education is a foundational civil right — going a long way toward determining a child's life chance and conditions — in short, social mobility."

Tiffany Pennamon can be reached at tpennamon@diverseeducation.com. You can follow her on Twitter @tiffanypennamon.