In September, Dr. Billie Jo Kipp was selected as president of the California Tribal College (CTC), following a year-long nationwide search. In this role, Kipp is leading the college in establishing a campus, expanding its programs, developing curricula and earning accreditation.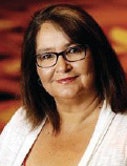 "Dr. Kipp's academic background and administrative skills, combined with her longstanding commitment to addressing the chronic underrepresentation of Native Americans in higher education, make her uniquely qualified to take over the presidency and continue our journey towards a fully operational California Tribal College," says Leland Kinter, chairman of the Board of Regents.
A member of the Blackfeet Nation, Kipp served for six years as the president of Blackfeet Community College in Browning, Montana. She holds a Ph.D. in Clinical Psychology from the University of Montana and spent 10 years as a research assistant professor at the University of New Mexico (UNM) in Albuquerque, maintaining a clinical psychology practice. She was also co-director of the Center for Native American Health at UNM.
"Increasing and sustaining the numbers of Native Americans accessing and completing higher education must be our mission, as it is critical for promoting long-term economic prosperity, professional advancement, and leadership development in tribal communities," Kipp says. "Through the development and operation of the California Tribal College, we can offer Native students the challenging curriculum they need to succeed, incorporating tribal languages, cultures and traditions. I am honored and humbled to be a part of this important project."