Jennifer Hunter's career trajectory has been anything but traditional, particularly as it relates to her work with collegiate sports.
A native of New Orleans, Hunter is a trained lawyer who spent two years working as an English instructor and adviser in her hometown. During her time teaching at the high school level, her interest in college sports only widened.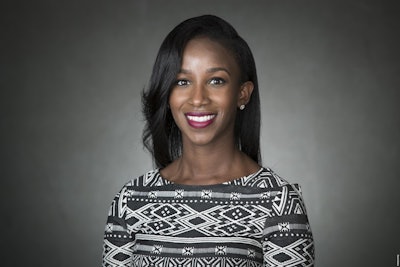 But after spending time as an academic specialist/academic coordinator at the University of California, Berkeley, where she oversaw the academic support program for the university's men's and women's basketball programs, Hunter was tapped last fall to serve as the new director of diversity and inclusion for the athletics division at the University of Wisconsin (UW).
Indeed, the University of Wisconsin's decision to house an office of diversity and inclusion for athletics makes it stand out from other colleges and universities.
At a time when many Division I schools have treated diversity as an afterthought — or just one of the many other duties that staffers have to address — Wisconsin's continued support for an office signals a deeper commitment to the multifaceted issues that student athletes — particularly those from underrepresented backgrounds — face.
In announcing her appointment, Doug Tiedt, senior associate athletic director for student services, hailed Hunter's skills and experience in intercollegiate sports.
"We are thrilled to have someone with Jennifer's expertise and passion joining our program," Tiedt said at the time. "Her perspective and experience will enhance the diversity and inclusion efforts of the athletic department, campus and community."
Her presence on campus has already been made visible, says Dr. Jerlando F. L. Jackson, the Vilas Distinguished Professor of Higher Education and director and chief research scientist at the Wisconsin Equity and Inclusion Laboratory.
"I was very impressed during my time on the UW–Madison's Athletic Board at the commitment to nurturing a true student-athlete experience," says Jackson, who founded Beyond the Games Solutions, LLC, as a university start-up company. He says that the athletic department has responded to challenges that have emerged and have been intentional about the need to address the experiences of students of color. "Jennifer Hunter is poised to advance the work sparked by Sean T. Fraizer, former deputy athletic director at UW, and current athletic director at Northern Illinois University."
Hunter's role includes providing services for close to 900 student-athletes, while working to ensure that the department's work is in alignment with the larger campus community.
"A lot of times we look at diversity from a racial standpoint, but socioeconomic issues are critical," she says, adding that during her time at UC Berkeley she also witnessed the challenges that students of color were facing during the advent of the Black Lives Matter movement.
"From an academic standpoint, a lot of student-athletes get tracked," she said. "A lot of student athletes are discriminated against just because they are athletes."
Hunter says that the stereotype threat that students of color face from the moment that they enroll at the institution is very real.
Despite not knowing their academic profiles, there is often "an assumption they were not there on academic merit but only on athletic merit," says Hunter, who adds that studies have indicated that professors have discouraged some student-athletes from taking certain courses, particularly challenging ones, in their majors.
That form of discrimination "tends to take a toll on a student's academic identity and their academic confidence," says Hunter.
"A lot of students don't have networks, so the major becomes really critical," she says. "Internship opportunities becomes really critical so that our students get the jobs they need."
During her time at Cal, Hunter spearheaded the revitalization of the men's basketball academic and student development program, which previously was the lowest in the Pac-12. Hunter helped the team earn Cal's Most Improved Team GPA award and perfect APR scores in the last two years. In her role, she devised individualized learning plans and strategies to assist the student-athletes during their matriculation. She was also responsible for the faculty engagement and outreach program between athletics and campus.
In presentations to groups, Hunter is quick to remind individuals that college athletics remains largely White, despite the visible diversity that many Americans see when they turn on their televisions to watch college basketball and football.
"Even professional sports are more diverse than college athletics," she says matter-of-factly, pointing out that there are only 12 Black head coaches in Division I, out of more than a hundred.
Basketball, she says, is the only college sport where Blacks outnumber Whites. The miniscule number of athletic directors who are people of color is also disconcerting, she adds.
"I am hopeful that things do move forward, but I think it's very difficult because things have been done a certain way for so long that some don't believe that things need to be fixed or resolved," she says, adding that the exclusion of people of color from top positions in college sports has not necessarily been willful. "But it's there, and sometimes, until it's illuminated, you don't recognize the problem."
An early embrace of sports
A graduate of Howard University, where she majored in public relations and sports administration, before earning her law degree from Thurgood Marshall School of Law at Texas Southern University, Hunter has always been a sports enthusiast.
"I wasn't an athlete, which is funny, but I've worked in sports the majority of my life, she says. "I've watched sports most of my life. I wanted to play football as a kid, and I'm a small girl, so it's always funny when I tell people that story. … But I've always been around NBA, NFL."
While she attended two HBCUs and did not attend a Power Five university, Hunter says that she's had the unusual experience of being able to now work at two.
"I've been pretty fortunate to see athletics from all different arenas, from pros to high school to college," she says. "Being creative about how we talk about issues around diversity is important for our students."
Executive Editor Jamal Watson contributed to this article.