After an eight-year tenure, Dr. George Ross will resign from the presidency at Central Michigan University in July.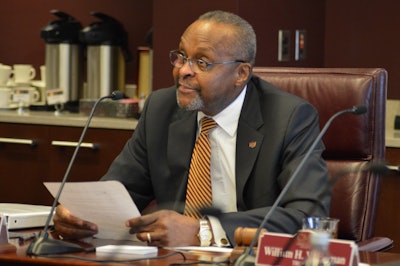 Ross, who became the university's 14th president in 2010, made the announcement Monday on the university's website, stating that after months of contemplation, becoming a grandfather in December triggered the decision.
"It did touch me in a certain way," Ross told Diverse in an interview. "If I wasn't sure before, I was sure then. It's time."
An expert in higher education administration, Ross is the 14th president of Central Michigan and held the position since 2010. He previously served at Alcorn State University from 2008 to 2010. Before that, he worked in other executive roles at universities across the country, including Clark Atlanta University, University of Tennessee at Chattanooga and Tuskegee University.
Ross said one of his greatest accomplishments has been the opening of the Central Michigan University College of Medicine. Starting in 2010, he oversaw the design of curriculum, the recruitment of students and the hiring of faculty and staff. The medical school's inaugural class of 62 students entered in 2013 and graduated in 2017.  Ross proudly noted that every graduate attained residencies in the United States.
Apart from his presidency, Ross has served on committees for the American Association of State Colleges and Universities, or AASCU. He also chairs the board of the Central Michigan University Research Corporation and is a board member of the Michigan College Access Network.
Before administration, Ross was an associate professor of accounting at Chattanooga and Central Michigan. He plans to eventually return to the life of faculty after stepping down from the presidency.
"I'm going to get some rest, first of all," he said. "I'm looking forward to more time with my family and with my new grandson."
He also hopes to begin a book project about the work he has done at six universities.
"At some point, I'll probably write that book I've been talking about writing for the past 25 years," he said.
As of now, he imagines it will be a series of essays based on his experiences as a president and chief financial officer in higher education.
"I love to tell stories," he said. "I've had some experiences, some good, some challenging. I've also met some interesting people and some outstanding students."
In the short term, Ross intends to assist in an ongoing fundraising campaign at the university and facilitate the transition to a new president.
Asked what advice he might offer his successor, Ross said he suggests that the new president be himself or herself while embracing the Central Michigan community.
"I would encourage them to help our faculty, our students, our staff and our alumni see themselves as part of CMU's mission and future," he said. "Nothing gets done on a university campus by a president alone."
Joseph Hong can be reached at jhong@diverseeducation.com. You can follow him on Twitter @jjshong5.