A Ram truck commercial shown during Sunday night's Super Bowl ignited backlash for using one of Dr. Martin Luther King Jr.'s speeches despite his social justice message that criticized the excesses of capitalism, according to scholars.
The 60-second ad featured a voiceover of King's "Drum Major Instinct" sermon – delivered exactly 50 years ago to the date – over images of firefighters, football players, military members and others in acts of service, with a final scene revealing a Ram logo and the words "Built To Serve."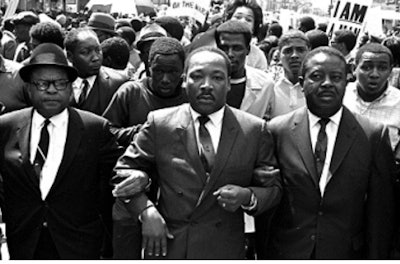 Many condemned the commercial, including Bernice King, King's youngest child and chief executive of The King Center, as well as scholars who argued that the monetization of King's legacy to sell commodities directly opposes his beliefs.
"When I see something like this on television, it's almost as if this is perpetuating the sanitizing of King's legacy and his true meaning, not just then in his own time, but his persistent meaning today in our own time," said Dr. Andrew Rosa, assistant professor in the Department of Diversity and Community Studies at Western Kentucky University. "The real irony is that King himself, toward the end of his life, really believed in a vision of social justice that was people-centered rather than profit-centered or property-centered, and this is really what this ad is about."
Rosa added that near the end of his life, King spoke heavily about racism in the North and South, eloquently critiqued the Vietnam War and mobilized people for the Poor People's Campaign, confronting issues he considered the "three evils of society:" racism, militarism and capitalism. In his 1968 "Drum Major Instinct" sermon two months before his assassination, he warned against "celebrity culture," overspending and the influences of advertisers, whom he referred to as "those gentlemen of massive verbal persuasion."
King's voice, words and image have been used in ads on various occasions over the years, noted Dr. Clayborne Carson, a historian at Stanford University. However, he said commercial use should "honor his legacy rather than sell a product. In advertising, the product itself is not the good cause. And part of King's sermon made that point. The whole point is to do [service] without calling attention to yourself."
Dr. Greg Carr, associate professor of Africana Studies and chair of the Department of Afro-American Studies at Howard University offered another critique. "When we listen to Dr. King's 'Drum Major Instinct' speech …When we read his last book, Where Do We Go From Here: Chaos or Community?, what we saw yesterday was a beautiful, compelling example of exactly what Dr. King said was the problem in this society."
For Carr, the Ram commercial showed that King was right about "the dangers of capitalism."
"It sounds very plain and very simple, but I think the ad did what it did deliberately," he said. "We are faced with a society that Dr. King, in critiquing, became an example of."
Seeing the commercial provoked feelings of immediate disgust for Dr. David J. Garrow, former professor of law and history and distinguished faculty scholar at the University of Pittsburgh School of Law. Garrow has written extensively about King, including the 1986 book Bearing the Cross: Martin Luther King, Jr., and the Southern Christian Leadership Conference that won the 1987 Pulitzer Prize in biography and the seventh annual Robert F. Kennedy Book Award.
"Given my years of experience with the King family, I'm not at all surprised that Intellectual Properties Management would do this," said Garrow.  "The thing I'd like to know is how much [Chrysler] paid them."
Bernice King and The King Center distanced themselves from the ad, even though Eric D. Tidwell, managing director of Intellectual Properties Management and licenser of the King estate, agreed to using King's voice in the commercial.
"When you see the Martin Luther King Jr. Center coming out with a critique, we have to understand that the King Center itself has subsisted on meager resources in the arc of its nearly 50-year existence,"  Carr explained, adding that the family had little resources to support itself at the time of King's untimely death. "When the opportunity to monetize Dr. King's corpus came along, the family debated, there were splits and ultimately this is what has come out of it."
While this year's pickup-truck ad sparked a new wave of controversy surrounding the appropriation of King's legacy, the commercialization of King's legacy has been widely discussed in academic circles as scholars have found that access to King's papers and documents can come with a very high price tag.
Fees to use King's written and spoken words at length and many images of the civil rights icon have risen dramatically over the decades, making it more difficult for academics, nonprofits and others to afford. As a result, in the public domain, King's voice is more likely to be heard in a commercial for a big business than on C-Span or PBS, Garrow noted.
In writing Bearing the Cross, Garrow worked with King's longtime literary agent and recalls paying less than $1,000 for rights to publish quotations that were not brief enough to allow free use under copyright laws. He knows scholars who have studiously done the same thing in their published and broadcast works.
"I think most people nowadays have heard so much about the [King] estate that they just try to stay away from them," said Garrow. "The estate's reputation is such that they have shrunken the distribution of King's message by a tremendous amount because people are so leery about using his words."
At Stanford, Carson has been able to bypass the costs and rigors of using King's prose for decades because Coretta Scott King selected him in 1985 to edit and publish her husband's papers. He has devoted most of his professional life to studying King and the movements he inspired.
Carson directed production of the seven-volume Martin Luther King, Jr. Papers Project and has edited numerous books based on the comprehensive compilation of King sermons, speeches, publications, correspondence and unpublished writings. Carson's uses are authorized by the estate – permission sometimes accompanied by direct cooperation – and result in royalties to the estate, even if not on the same scale as multimillion-dollar Super Bowl commercials.
"I don't have a problem with that. In some ways, I wish they would do more of that," said Carson, founding director of Stanford's Martin Luther King, Jr. Research and Education Institute, which houses the King Papers Project. He suggested that further creative use of the King papers, such as in audiobooks and smartphone apps, could be created "in partnership with companies at the center of the communications revolution in the world."
"I'm not against ventures that are profitable but also useful in terms of getting King's message to the world," he said. "If large corporations want to cooperate with the King Institute to try to get his message in the hands of more and more people globally, and even for free, I would welcome that. I would hope that the estate would be open to more possibilities."
Propositions for open-sourcing Dr. King's papers "would be ideal," Carr said, but "then you have to deal with the profit motive and it comes back to what Dr. King was talking about."
Rosa added that there needs to be "workable middle ground" between King's estate and scholars who want to continue generating work on King's significance and legacy. And he expressed concerns about younger generations that may be largely misled in their understanding of King's work due to messages similar to those displayed in the controversial commercial.
Such messages, he said, misinform younger people about what King would say today about issues of police brutality, anti-democratic forces reigning against social justice campaigns, American foreign policy across the globe and immigration issues, for example.
"It completely gets lost on the current generation," Rosa said. "King still speaks to the shortcomings of American society in very real ways that are still relevant, and it gets lost in that commercial."
Tiffany Pennamon can be reached at tpennamon@diverseeducation.com. You can follow her on Twitter @tiffanypennamon. LaMont Jones contributed to this report and can be reached at ljones@diverseeducation.com.