A study conducted by Interfaith Youth Core (IFYC) and research partners at North Carolina State University and The Ohio State University offers fresh insight into how first-year college students think about and experience religious diversity on campuses across the United States.
The Interfaith Diversity Experiences and Attitudes Longitudinal Survey (IDEALS) found that 85 percent of first-year students arrived on campus expecting the climate to be welcoming to diverse religious and nonreligious perspectives. However, by the end of the year, the same students reported "perceiving their campus to be less welcoming" than expected, especially for peers holding minority worldviews.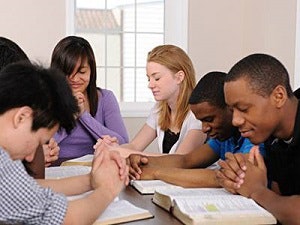 "Compared to the 12 months prior to arriving on campus, declines in interfaith engagement are common in the first year of college," said Dr. Alyssa Rockenbach, professor of higher education at North Carolina State University. "Turning the tide on trends in the first year will require closely attending to campus climate, creating space for students of diverse worldview identities, inspiring productive and challenging encounters across difference, encouraging interfaith friendship formation and cultivating interreligious literacy."
Conducted between 2015 and 2016, the survey analyzed responses from 7,194 students at 122 colleges and universities. Variations in responses for religious groups showed that on arrival, students believed their campuses to be more welcoming to atheists (82 percent), Evangelical Christians (79 percent) and Jews (78 percent), and less welcoming for Buddhists (73 percent), Hindus (73 percent), Muslims (70 percent) and Latter-day Saints/Mormons (69 percent).
Campus educators should keep in mind "potential gaps between expectations and experiences," the report said. "The disconnect between expectations and experiences could be disillusioning for students and potentially limit their social integration into the campus community, resulting in repercussions for collegiate success."
While survey findings indicate few "overt indicators of religious prejudice," researchers point out that underlying "insidious discriminatory practices" are more common on college campuses.
A slight majority of students – 53 percent – feel that "people on this campus interact most often with others of their same worldview," leading to subtle instances of divisiveness on campus. This tendency for students to self-segregate is combined with them feeling pressured or coerced to "change their worldview" (52 percent); "listen to others' perspectives when they didn't want to hear about them" (61 percent); or "keep their worldview to themselves" (62 percent).
"Although frequent coercion is uncommon, pressure from others may reinforce students' inclinations in their first year on campus to interact primarily with people of the same worldview," the report said.
Survey findings also show some correlation between appreciation for religious diversity and changes in attitudes toward liberals and conservatives, which can particularly affect how students engage "civilly and constructively" with their peers, the report said.
Nonetheless, perceptions of divisiveness and insensitivity on campus vary depending on a student's worldview. In their first year on campus, 49 percent of students reported overhearing insensitive comments from faculty and 79 percent reported hearing insensitive remarks from peers and friends.
Further, students' attitudes about embracing religious diversity skewed from their actual behaviors after the first year. Between 2015 and 2016, student participation in formal or classroom-based interfaith activities dropped 18 percentage points. Sharing a meal or holding a conversation with someone of a different religious or non-religious perspective and worldview dropped by 10 percentage points while socializing across diverse perspective remained constant. The sharpest decline researchers found was in students' discussions of religious or spiritual topics with teachers, the report said.
"Educators seem to be afraid to discuss issues of religion and spirituality in and out of class … more likely, educators are not equipped with the pedagogical strategies needed to support students as they address and sometimes struggle with interfaith ideas," said Dr. Matthew Mayhew, the William Ray and Marie Adamson Flesher Professor of Educational Administration at The Ohio State University and IDEALS co-principal investigator.
"As the primary stewards of institutional messaging, faculty and educators in college need to refine their skills as teachers first – understanding how to help students productively exchange across religious and worldview differences," Mayhew added.
The survey also found that students become more appreciative in their attitudes toward specific social identities when there are positive campus climate features, close friendships, productive interpersonal diversity engagement opportunities and support for spiritual expression.
Researchers said they hope the survey's findings can be an intuitive resource for higher education institutions looking to foster a sense of inclusion for students of all backgrounds amid a climate of political polarization. Proposed questions for institutional leaders to consider reflect on how colleges and universities can integrate interfaith-based activities into first-year initiatives and organizations such as orientation, first-year seminar, residence life, multicultural affairs and student activities.
Tiffany Pennamon can be reached at [email protected]. You can follow her on Twitter @tiffanypennamon.