Talking about sexism is fine, but it also should bring about some change for the better, according to Chloe Fishman.
The sophomore at Appalachian State University wants frank conversations to spur people to acknowledge and address discrimination, which is why she and a classmate are helming a project to collect first-person stories from students on the Boone, N.C., campus who have encountered sexism.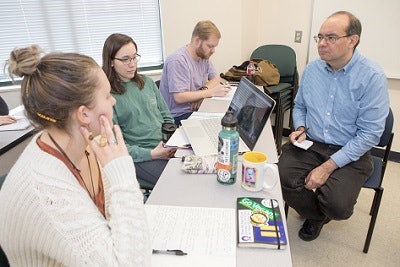 "The goal of our project is to raise awareness of prejudice against college-aged women students because we feel like, especially in colleges, it's a pretty liberal space often and people tend to just assume that things are happy-go-lucky," said Fishman, 20, a Chapel Hill, N.C., native majoring in sustainable development.
Fishman and her classmate, Meagan Williams, are among Appalachian State students participating in the campus-wide Global Peacebuilding Project, a contest in which students propose and complete social justice initiatives meant to challenge discrimination in various forms.
The program is modeled after a 2015 worldwide United Nations project, the Diversity Contest, said Martin Schoenhals, an Appalachian State adjunct professor who is a key organizer of the college initiative in the Global Diversity Project class he teaches and the concurrent campus-wide contest.
"I think this project is very special educationally because most of the time, college professors, we talk to the students about all the problems in the world… I think it's important to say that we're not going to leave it there," said Schoenhals, who also was the project manager for the United Nations competition.
The Appalachian State contest submission deadline is April 9. Judging by faculty members, mostly academics with backgrounds in social science, will take place in late April. Schoenhals hopes to draw at least 25 students to the campus-wide contest.
Three winners will receive $2,000 each — paid for by the university and an anonymous donor — to put their ideas into action or further their projects, Schoenhals said.
"It's a project that is to carry on in the model and the spirit of what happened at the United Nations, also with direct connections to" the winners, some of whom have communicated with students in Schoenhals' class via Skype from Mexico, he said.
In the 2015 UN contest, 10 winners — individuals and groups enrolled in colleges around the world — each received $20,000 from the United Nations Academic Impact program and the United Colors of Benetton's UNHate Foundation to carry out their proposals to confront some form of bigotry, such as religious intolerance, homophobia or xenophobia, in their communities.
For example, a transnational group of eight students at Columbia University in New York City and the National Autonomous University of Mexico planned to document the experiences of Mexican and Central American women who immigrated to the United States. The project aimed to increase understanding of the many barriers and challenges they had faced as well as their contributions to society.
Another of the UN winners, Lara-Zuzan Golesorkhi, a German student enrolled at the New School in New York, proposed a project to increase employment opportunities for Muslim women in her home country. She was to provide job training and work with employers to increase the hiring of Muslim women, who often face discrimination in Germany.
And another winner, Varsha Thebo at Agnes Scott College in Decatur, Ga., submitted a project to improve religious tolerance in Sindh, Pakistan, her native country. She planned to develop a booklet of passages from the holy books of Christianity, Hinduism and Islam to show children that they all promote peaceful existence.
Using the UN program as a model, Schoenhals hopes to expand the Global Peacebuilding Project to become an ongoing program with a coalition of universities around the country, he said. Several institutions, including Duke University, the University of North Carolina at Chapel Hill and the City University of New York, have expressed interest in joining with their own students' proposals at their respective campuses.
The goal is to bring the coalition's student project leaders and faculty mentors to Appalachian State in spring 2019 to discuss best practices and lessons learned, Schoenhals said.
Fishman and Williams are among the 10 students in Schoenhals' class completing Global Peacebuilding Project initiatives and they will enter their anti-sexism work in the campus-wide contest, too.
As part of their project, Fishman and Williams are collecting, via private messaging on Facebook, Appalachian State students' written accounts of sexism they have experienced, Fishman said.
In April, the two will video record about 15 random volunteers reading those written accounts aloud on campus "to walk in someone else's shoes," and interview them about their thoughts on the incidents and how their attitudes and behavior might change in the future, Fishman said.
She expects it to open some participants' eyes about how common sex-based discrimination is, she said.
"It's been really inspiring … to get to work on this project that is actually looking at solutions," she said.