Throughout the course of the summer, six Morgan State University architecture students will participate in a new pilot program as part of an initiative to encourage more young African-Americans to enter the architectural and historical preservation field.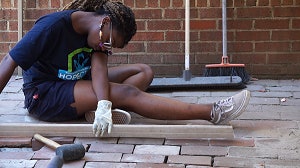 The National Trust for Historic Preservation's Hands-on Preservation Experience (HOPE) crew partnered with Morgan State, the Advisory Council on Historic Preservation and the National Park Service's Western Center for Historic Preservation to create the project, "Touching History: Preservation in Practice."
According to the National Architectural Accrediting Board, only 2 percent of the number of registered architects are African-American. Additionally, only 0.3 percent of licensed architects are African-American women.
The lack of representation within the design field has been an ongoing conversation, according to Monica Rhodes, associate director of the National Trust's HOPE crew. For example, in late September, the National Museum of African American History and Culture is hosting a symposium titled, "Shifting the Landscape: Black Architects and Planners, 1968 to Now."
The HOPE crew was searching for students who were affluent in architecture and its theories. Morgan State recommended Akiel Allen, Tiffany Dockins, Nathaniel Mitchell, Jamil Nelson, Taylor Proctor and Monique Robinson for the project.
"Preservation and having students be a part of the program just really anchored them closer to their field," said Monica Rhodes, associate director for the HOPE crew. "It's one thing for a student to sit in a classroom and learn something, and it's totally something completely different when you go out into the field and are actually able to test that model and see if it works on the ground. These students have been able to do that throughout the summer."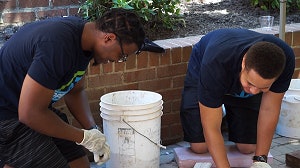 The program's main focus was on the restoration of the Peale Center for Baltimore History and Architecture, the oldest museum building in the United States. It sat vacant for 20 years until it was reopened as a city cultural center last year.
Students worked on the Peale Center's courtyard and performed tasks such as banister repairs, painting the gates and resetting brick pavements.
"What I'm learning so far from this [program] is not necessarily the actual building, but the stories that go behind the building," said Mitchell. "The connections that we make with these historical places is really enticing."
Before restoring the Peale Center, students participated in training June 11-21 at the Western Center in Wyoming. While there, they visited Bill Menor's homestead buildings, Menor's ferry and the Maud Noble cluster in Grand Teton National Park in order to study their condition and needed treatment.
"The students focused on the principles for field-based historic preservation, heritage asset maintenance planning, documentation and hands-on treatment," according to the National Trust.
Following restoration of the Peale Center, Morgan State students will have additional training in Frederick, Maryland before taking fields trips to historical places around the Washington, D.C. area July 30 through August 4.
At the end of the program, students will create portfolios that will target the importance of Morgan State's restoration of their campus buildings. Morgan State has 20 structures eligible for listing on the National Register of Historic Places, according to the National Trust.
Since its establishment in 2014, the HOPE crew program has contributed 80,000 hours and $14.3 million in preservation work at historical sites across the United States, according to the National Trust. The next step is to partner with other historically Black colleges and universities (HBCUs) to establish more programs similar to the one this summer.
"It's all about establishing and reestablishing these connections," said Rhodes. "Getting these HBCU students, in particular, to reclaim the history of them and that legacy of them constructing their own buildings that they are now learning in. A lot of the preservation should have student involvement as well as a part of the legacy of these institutions, and it should continue."
As Mitchell draws closer to entering the professional world, he hopes to attract more people into the field and make it a more diverse environment.
"We need to think, 'How can we make it look more presentable and not make it look so boring?'" said Mitchell. "If people don't know what it is and they hear preservation, they think it's just old stuff. But when you actually get into it, learn why we do it, understand the story behind preservation and how important it is to cultures, I think it's about getting that message."
Sarah Wood can be reached at swood@diverseeducation.com.