Rather than portray Nelson Mandela (Madiba) as the famous leader of South Africa, his grandson, Ndaba Mandela, in his newly published book Going to the Mountain, chose to focus more on his role as a grandfather to him, as well as to the rest of the world.
Mandela's book was released last month in honor of what would have been the year of his grandfather's 100th birthday. Mandela recently traveled to cities across the United States including New York, Washington D.C., Atlanta and Malibu promoting the new book.
"This is my tribute to my grandfather and I wanted people to understand the value of Nelson Mandela," says Mandela, in an interview with Diverse. "Many of us, our age and older, know why Nelson Mandela is important for this world. But the younger people do not, necessarily. I wanted the younger people to be able to relate to him from the point of view of being a grandfather because they would be able to relate to him as a grandfather much more than they would a Statesman and as this iconic leader. It's a grandfather, everybody has a grandfather."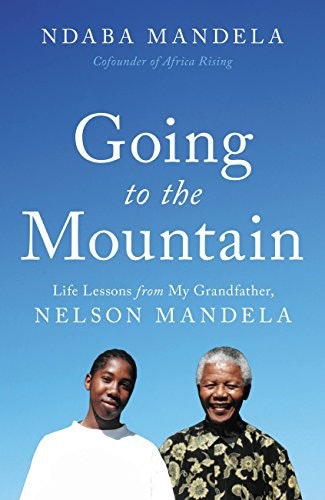 Mandela's book highlights his experiences living with his famous grandfather, who became the public face of the anti-apartheid movement, eventually emerging as the leader of the African National Congress (ANC) political party and later, as president of South Africa's president. Along the way, Mandela details the lessons that he learned from his grandfather.
When Mandela moved in with Madiba at age 11, that was only the second time the two had met. The only other interaction was four years earlier, when his grandfather was held as a political prisoner at Victor Verster Prison near Cape Town, South Africa.
Mandela grew up in the poverty-stricken township of Soweto located in Johannesburg, South Africa during the apartheid period. Within his home, he often experienced alcohol-related abuse. Due to apartheid's racialized segregated system, Soweto was consistently filled with police raids, brutality and protests.
"Soweto is a ghetto by any standards," says Mandela. "Most of the houses use coal stoves to cook so there is like a smog that sits over Soweto. The nice thing about Soweto though is that everybody knows everybody. You don't just know your neighbors, you know the whole street, that street and that street. Very communal, very family oriented but of course, there is a lot of social ills that happen. I did see cops and every time cops came by, people would freeze up. It was hostile. People's houses getting ransacked and people getting searched."
In one of the book anecdotes, Mandela recalled the moment, in 1993, when his life changed forever. Madiba's longtime employee and friend, Mike Maponya, arrived at his house in a black BMW and ordered him to come back with him to his grandfather's house. To Mandela, Maponya was a stranger, thus he refused to leave with him out of fear of being kidnapped.
"That was obviously a very weird situation," says Mandela. "I only met my grandfather once, two weeks before he came out of jail. Obviously on the day he came out of jail, the whole family was there. And I didn't see or hear from him for three years. Right, I go back to my normal life, living in the ghetto, poor by any standards and then I'm at home, playing marbles with my friends at 11 years old, when a black BMW comes up. I'm like, 'hey what's happening' because it's a luxury car in the ghetto. A Black man steps out and says 'I've been sent by your grandfather to come and fetch you.'"
After his father returned home that evening, he told Mandela that he needed to go with Maponya if he came back again. Later that same week, Maponya came back and Mandela was told that while his parents were getting an education, he would be living with his grandfather.
This began Mandela's transition from living in a poor area, mostly eating rice and ketchup, to living the lavish lifestyle provided by his grandfather. He compared his transition period to Will Smith's character from the television sitcom "The Fresh Prince of Bel-Air", where a young Black teenager moved from a poor neighborhood in West Philadelphia to a mansion in Bel Air.
During the early years of living together, Mandela felt the pressure from his grandfather to be a leader as well as the need to perform his best in school. However, Mandela just wanted to be a normal kid.
"I remember him saying, 'Ndaba, you are my grandson so therefore people look at you as a leader and as a leader, you must get the best marks in class,'" says Mandela. "He did put a lot of pressure on me but obviously all I just wanted to do was have fun. I just wanted to fit in and be like other kids. I was that kid when there was a new person or new student, there would be whispers. 'Hey, that's Nelson Mandela's grandson, do you know who he is?'"
When Mandela had a son of his own, who was only three at the time of Madiba's death, he wanted him to still have a connection to his "baba" or "big father" and understand his impact on the world.
"I think [my son] is very proud [of Madiba] and of course, he's seven years old, he understands," says Mandela. "For example, there is Mandela Day. On Mandela Day, his grandfather's pictures are all over the place. They have a cake at school with his grandfather's face on the cake. So I think it makes him very proud and so I try to talk to him about Nelson Mandela. About what he was and what he did and why he became so powerful."
Mandela lived with his grandfather until his death in 2013 and has focused on keeping his grandfather's legacy and mission for South Africa alive.
"We have to continue doing great things for other people," says Mandela. "It's not about us, leadership is about service. Leadership is not about being the best, it's about serving. It's not about shining, it's about serving. It's not about defeating your enemy. As a leader, you aspire not to have enemies. As a leader, you aspire to create a better world for generations to come."
In regards to South Africa's political climate today, Mandela believes that his grandfather would be disappointed with the ANC due to the division and in-fights within the party. However, with Cyril Ramaphosa becoming South Africa's stand-in president, after Jacob Zuma stepped down earlier this year, Mandela believes that his grandfather would be encouraged by the country's new direction.
"I'm not sure, to be honest, how he would react to the new president," says Mandela. "But I think it would be very positive because he worked with the new president before. So in that way, he would be very welcoming and positive."
In addition to maintaining his grandfather's legacy, Mandela co-founded the organization Africa Rising, alongside his cousin Kweku Mandela Amuah. He created the foundation after discovering that many people in the Western world had limited knowledge about the continent of Africa.
"We have to do something about this image of Africa," says Mandela. "We need to clean it up. Africa is not just about war, poverty, disease and dictators as they show on TV. If you come to Africa, you will experience some of the best views, sights and your taste buds will be dancing for days."
Sarah Wood can be reached at swood@diverseeducation.com