WASHINGTON – Leaders of student government organizations on college campuses perceive themselves as having more impact on institutional decision-making when they have a right to speak during discussion as opposed to an ability to vote later in the process.
That was one of the key findings in a research report released Thursday by the National Campus Leadership Council (NCLC). The Student Voice Index (SVI) report, titled "A Study on Student Voice in Decision-Making at Institutions of Higher Education," is the result of a comprehensive study of the perceptions of more than 200 chief student representatives at a broad range of campuses across the nation, from public flagship universities and private research schools to community colleges, regional campuses and minority serving institutions.
With a rise in student activism on issues ranging from mental health and campus safety to college affordability and cultural diversity, some experts say an in-depth look at the level of student inclusion in school governing is overdue. The NCLC study examined not only student perceptions, but also institutional practices and policies relative to the role of student government leaders in institutional decision-making.
"Especially as we move into this new academic year and try to think ahead, it's important we understand the issues on campuses today and the mechanisms to address them and build a culture that supports student involvement in problem-solving," Andy MacCracken, NCLC executive director and co-founder, said in an interview with Diverse.
During the research report launch event at the National Press Club, other key report findings discussed were:
· 66 percent of student body presidents said they feel that they have a voice in their school's decision-making.
· 61 percent said their school seeks their input on proposals that may affect students.
· 75 percent indicated that they have an opportunity to raise issues before they get out of hand.
· Three in four said their institution fosters cooperation among students and administrators.
· Only 22 percent were trained for involvement with the institution's governing board, and a small percentage of that number felt the training prepared them well for their role.
The students leaders were asked about the regularity and quality of their meetings with officials such as the president, student affairs vice president or chief financial officer, since those relationships "are shaped by the culture and norms at an institution and may determine how well student voice is perceived and received," said lead researcher Lindsey Templeton, a Ph.D. student at the University of Maryland, College Park.
The study captured varying degrees of cooperation, respect, input, voice and opportunity – "five key indicators to understand how student leaders perceive their involvement in and impact on institutional decision-making," the report states.
In reviewing practices and policies at some schools, researchers observed four important factors that significantly affect student leaders' perceived voice in decision-making at their schools:
1. Speaking rights at meetings of the board of trustees or other governing entity, which correlates to a higher sense of voice among student leaders.
2. Regular engagement, whether formal or informal, with the governing board, which contributes to a stronger perception of student voice.
3. Frequent, productive meetings with key institutional leaders, particularly the head of student life. Nearly nine in 10 student government presidents reported meeting with the vice president of student affairs, and 70 percent of that number expressed satisfaction with the frequency of meetings.
4. Fostering a sense of influence among student leaders, which they correlate with a strong voice. A slight majority of student government presidents – 55 percent – felt very or extremely influential in institutional decision-making and effecting change.
At the Thursday event, Megan McCafferty, program director at the Bill & Melinda Gates Foundation, said the foundation supported the project to help "elevate authentic voices" on campuses. She said she hopes the findings and recommendations become conversation-starters and that school administrators use the report as "a stepping stone" to collaborate more with student leaders.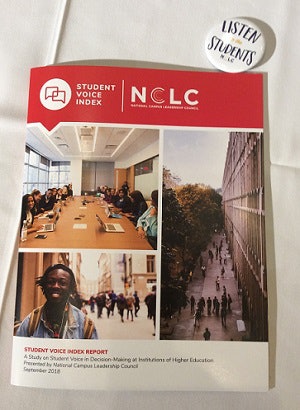 Doing so is imperative because when students are involved in making institutional decisions, the solutions ultimately serve students better, said MacCracken.
Excluding, marginalizing or ignoring student voices leaves "many colleges sitting atop dormant volcanoes," he said, with unrest erupting when students tire of not feeling heard.
NCLC is drilling deeper into the research with case studies and showed a video clip exploring the SVI at Ohio State University, where Shamina Merchant is the current student body president.
During a panel discussion at Thursday's event, Merchant said she enjoys full speaking and voting rights on the university's board, "but the biggest important step is being in executive sessions and getting to participate."
Panelist Valentina Fernandez, student body president at American University, said she can't vote. However, she has full speaking rights that she feels give her "a level of influence" and the sense that her voice matters.
Governing boards are obligated to be intentional about orienting student and other new members, and reaching out to students with information, said panelist Dr. Merrill Schwartz, senior vice president at the Association of Governing Boards.
"You have an affirmative responsibility to communicate what the board is doing," she said, to "assure that that bridge is there from the board to the campus community."
Aside from partnering with schools to do case studies, NCLC has developed a 10-metric "index benchmarking tool," will conduct SVI trainings and has launched a website where students can see how their school compares to others.
Claire Halffield, who sits on the SVI Campus Alumni Council and attended the launch, told Diverse that the study findings would have helped her during her tenure as student government president at DePauw University in 2016-17, where she could occasionally present to a committee but was not invited to twice-yearly trustee board meetings.
"If I were a student body president now and I had access to this information, I would feel affirmed that my voice is valued and needed in conversations," she said. "And despite the fact that students are still learning, they have a valuable voice to add."
LaMont Jones can be reached at ljones@diverseeducation.com. Follow him on Twitter @DrLaMontJones