LAS VEGAS— By Tuesday afternoon, a group of tourists and convention-goers had lined a hotel bar on the famous Strip to learn of Bill Cosby's fate.
Peering at a jumbo television screen, there were audible gasps and cheers from spectators who watched as police escorted the 81-year-old Cosby out of a Pennsylvania courthouse in handcuffs.
Brittany Scott, 39, a Ph.D. student who came to Las Vegas to celebrate her birthday with a group of friends, broke down in tears. Like many, she's conflicted about the sentence that will put the entertainer away for three to 10 years.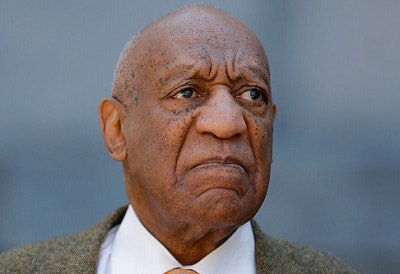 Cosby was found guilty in April of three counts of aggravated indecent assault for drugging and sexually assaulting Andrea Constand in 2004. The punishment, which also included a $25,000 fine, came at the end of a two-day hearing at which the judge declared Cosby a sexually violent predator.
"I certainly believe that he should be punished in some form," said Scott. "But I also am still having a hard time with the idea of sending Bill Cosby to prison, partly because I know that he's done so much for Black people in general, and Black colleges in particular."
Like many, Scott grew up watching "The Cosby Show" and its spinoff "A Different World"– a popular 1980s sitcom about a fictitious Black college name Hillman. Although she has never met him before, Cosby was a major influence.
Here in Vegas, the actor-comedian was a regular fixture, performing at casinos for decades.
But on Tuesday, locals and tourists reflected on what his legacy will be.
"It's a shame because all of the good that he did won't matter much anymore," said Jacob Carroll, 28, a student at the local community college. "He will always be known as the man who raped that woman, and possibly many others too."
Dr. Trimiko Melancon, associate professor of English, African-American studies and Women's studies at Loyola University in New Orleans said that Cosby's legacy will be predicated on "who is curating the narrative and how 'the story gets told,' as the saying goes," she said.
"Oftentimes, we polarize or hold people and entities into what appears to be tensions as either 'good' or 'bad.' In this regard, Cosby, like many artists and people of influence, is the embodiment of our very own seeming American contradictions," said Melancon.
"We are a nation whose founding fathers were, by and large, slaveholders….Yet they advocated for our nation's freedom. If we have the ability to parse out and approach with nuance these different, seemingly tensional elements of many historical figures, we are equipped to do so for Cosby," she added. "This is not at all to exonerate, as we could and should hold them wholly accountable. It just prompts us to approach these situations and people in their totality rather than look at someone like Cosby – or Thomas Jefferson, for that matter – as either 'good' or 'bad.'"
That kind of thinking makes sense to Dr. Treva B. Lindsey, an associate professor of Women's, Gender, and Sexuality Studies at The Ohio State University.
"While I remain committed to a prison abolitionist politics, I think it is important that Cosby is being held accountable for some of the harm that he has caused," said Lindsey.
Lindsey said that while it is "significant for survivors contemplating coming forward to see that being believed is possible," the Cosby verdict and subsequent sentencing should not be viewed as a panacea.
"Look at where we are in the SCOTUS nomination or even with the current president with regards to accusations against him," said Lindsey.
Still, It's not easy to disentangle Cosby's demise from the influence of the #MeToo and #TimesUp movements, whose power cannot be underestimated, said Melancon, who noted the denial of bail or house arrest as Cosby appeals his sentence.
"These are not isolated endeavors," she said. "Neither is it coincidental that Mr. Cosby's sentencing comes at the precise moment of mounting accusations against Supreme Court Justice nominee, Brett Kavanaugh. This begs us to consider not only what the sentencing and scenario speak to in this very moment and tell us about earlier eras, but, equally consequential, it forces us to consider the fundamental notion of where do we go from here?"
For Scott—who considers herself a feminist scholar— Cosby's conviction and his incarceration, is no reason to rejoice.
"It's just so sad," she said, wiping away tears. "Yes, he needed to be punished. But this is still a tough day."
Monica Levitan and LaMont Jones contributed to this article.