U.S. Secretary of Education Betsy DeVos addressed topics ranging from teacher strikes to the recently introduced Education Freedom Scholarships and Opportunity Act in an appearance Monday at the 72nd national seminar of the Education Writers Association.
Describing her approach to education as "a freedom philosophy" with policies aimed at empowering families rather than the government, DeVos told the gathering in Baltimore that she is an advocate of the legislation introduced in the Senate in February by Ted Cruz, R-TX, and in the House of Representatives by Rep. Bradley Byrne, R-AL.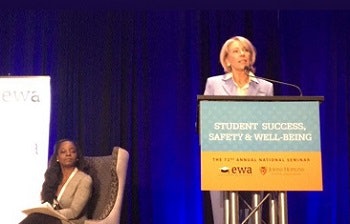 The legislation allows states to participate in an optional program in which federal tax credits would be given to businesses and individuals that donate to nonprofit scholarship funds in efforts to expand elementary, secondary and vocational education opportunities. Proponents describe it as an additional way of improving education leading into college and workforce preparedness.
DeVos expounded on the legislative initiative in an interview with EWA board member Erica Green of The New York Times that followed DeVos' brief prepared remarks.
Debunking a myth that the program is a voucher scheme for charter schools, DeVos said it allows people "to direct money that they themselves earned" and is "a more effective and efficient way to get resources to students who need them the most."
Education Freedom scholarship money could benefit public schools, she added, where 90 percent of American elementary and secondary students attend and where 60 percent of parents said they "would prefer something different if they could choose."
It's past time for such creative new options in American education that make more options available to all students and families, DeVos contended.
"If we expect to have better and different results for kids, we've got to do something different," she said. "A lot of kids are stuck in schools that are not working for them. The reality is that there's a wide range of choices that could be adopted. We want people to think very broadly of what introducing more choice to students could mean, and for states to think very creatively about what kinds of new opportunities they could make available to their students."
Noting federal government statistics that there re about seven million available but unfilled jobs – largely in fields that require post-secondary education but not necessarily a college degree – DeVos said the proposed Education Freedom initiative could address the "mismatch" and help states "jumpstart" efforts to fill those jobs while tearing down the walls between K-12 and post-secondary education.
"We need to become more holistic about how students prepare themselves for a lifelong learning journey," she said.
In response to a question by Green about the department's commitment to quality neighborhood schools, DeVos cited Florida as a leader among states that have expanded choices for families. In school districts where the highest percentages of students have chosen to attend a school that was not their assigned neighborhood one, both those students and the pupils who remained at their assigned schools are posting improved academic performances, she said.
It's partly because of comparison and competition, she said.
"I would argue that more choices and more freedom in education will ultimately mean better experiences and more excellence at every school," said DeVos.
Financial resources are critical to the success of every type of school, she acknowledged in response to another question from Green, but "the ability to direct and control where the resources go at a child or family level helps families become wise consumers and make decisions based upon what their particular needs are for their child."
DeVos pointed out that the proposal would not take tax funding away from public schools but rather would encourage creativity and innovation in how schools choose to spend money to best educate students.
While it ultimately is up to Congress to decide whether to pass or defeat the legislation, DeVos said, she "will continue to advocate and argue for the fact that we need to do something different for students. We've got to do something different after 50 or 60 years of doing the same thing. Let's try a new approach and let's try it in a way that doesn't in any way negatively impact what already is going on."
Asked if she supports the current teacher strikes, DeVos said "great teachers need to be well paid" and that every state has teacher issues to address. But she stopped short of endorsing strikes.
"I think it's important that adults have adult disagreements on adult time and that they not ultimately hurt kids in the process, and I think too often they're doing so by walking out of classrooms and having their arguments in the way that they are," she said.'
One problem, she said, is that the current system doesn't recognize teachers as individuals and doesn't offer higher compensation to better teachers.
"I think teaching as a profession should be a highly honored and respected profession," said DeVos. "I think it's been de-professionalized in many ways. And I think great teachers perhaps should be making at least half as much as Randi Weingarten does at a half-million dollars a year."
That was a criticism of the president of the American Federation of Teachers union, who was in Michigan visiting public schools with Democratic presidential candidate and U.S. Sen. Kamala Harris.
Weingarten wasted no time clapping back, emailing out a three-paragraph statement that cited her success alongside New York City mayor Michael Bloomberg in winning salaries of $100,000 for Gotham's public school teachers.
"I'd be delighted if Betsy wants to get all teachers close to $200,000 — they deserve that — and so much more," wrote Weingarten. "We could do this if Betsy worked with us to revoke tax cuts for rich people. She won't even have to give up the summer homes and the yachts."
DeVos is married to former Amway CEO and billionaire Dick DeVos and donates her annual federal salary of $199,700 to charities.
In response to questions about the education department's rollback of Obama-era guidance regarding school discipline, safety, affirmative action and other civil rights issues, DeVos said the administration has responded to "overreach" by the prior administration.
"I am, and we are at the department, very committed to ensuring all students' civil rights are protected," she said. "I'm also committed to following the law. I will not overstep and make law where there is not law. We need to be focused on what we need to do to make sure that each individual is treated and respected as an individual and follow the laws as made by Congress or as clarified by the Supreme Court. And I'm very committed to doing that and to protecting all students' civil rights."
Perhaps the biggest lesson she has learned in traveling the nation and visiting schools is that all communities and regions have different needs, she said.
"It just continues to underscore the fact that a one-size-fits-all system and approach doesn't work, and it can't work, and it won't work for the 21st century and our future."
LaMont Jones can be reached at ljones@diverseeducation.com. You can follow him on Twitter @DrLaMontJones