PITTSBURGH – Using education and activism to disrupt the school-to-prison pipeline is an ongoing battle that is as fierce as ever, according to speakers on the opening day of the 2019 Summer Educator Forum presented by the Center for Education at the University of Pittsburgh.
In panel discussions and breakout sessions Thursday, scholars and other experts in education, criminal justice and restorative justice talked about strategies in line with this year's theme, "Dismantling the School-to-Prison Pipeline: Re-Imagining Policies, Practices, and Politics in Education Systems."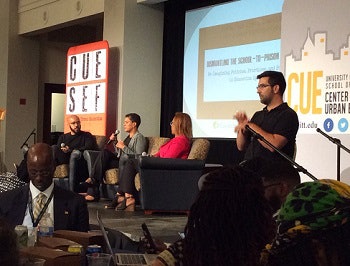 Although the phrase school-to-prison pipeline is now a common term in government and education circles after initially being coined at a local level, many academics have come to understand the phenomenon as more like an intricate web or network of factors that work together as a system to sideline Black and Brown youth – and increasingly, girls – at early ages.
Speakers challenged attendees of the three-day event to be leaders in collaborating on ways to imagine and create healthy alternatives to suspending, expelling and incarcerating young people – and to be champions of restorative justice approaches that honor the worth, dignity and potential of all.
In the nine years since Michelle Alexander released The New Jim Crow, her seminal best-selling book about race and mass incarceration, "everything has changed and everything has remained the same" in terms of criminal justice, she said during a lunchtime panel.
"I've seen extraordinary activism and movement-building, and yet in so many ways, things have remained the same," said Alexander, a visiting professor of social justice at Union Theological Seminary.
The system "has been able to co-opt many reform efforts" in new ways, she said, including immigrants being detained, mass deportation and "expansion of digital imprisonment" with increased electronic monitoring of offenders across the nation.
"What I worry about are those advocacy efforts that are trying to fix a system that is actually not designed to serve us," Alexander said. "If we think that we can just tinker with this machine and somehow get it right and not wrestle with the way these systems are built –they are not designed for people to flourish but to contain and control them – then it will result in their continuation."
A critical strategy is to engage teachers and help them create and appreciate more just approaches, said Judith Browne-Dianis, a civil rights advocate who combats structural racism and the school-to-prison pipeline in her national leadership role at the Advancement Project.
"As much as our movements have done incredible work to change – we have had some wins – the system morphs, the system adapts, the system adjusts to do the same thing it was doing under a different name," she said.
Teachers play a critical role in confronting and solving the problem because they are on the front line in schools – and they need to get comfortable with truth-telling about the connection between what happens in their classrooms and mass incarceration, said Browne-Dianis.
"We have to give people tools to do something different, to think about and work toward restorative justice," she said. "It's about the culture of a school. It's not about a program."
Mariame Kaba, a New York-based educator, researcher, author and activist involved in numerous efforts to address youth incarceration and other justice issues, agreed.
"Often these days, a lot of people treat restorative justice as a program and wonder why stuff hasn't magically disappeared, or behavior hasn't transformed overnight," said Kaba. "Then they get discouraged and want to move on to another silver bullet. I think about it as a community-based practiced to heal and to repair harm. It's not a program."
Speaking at the opening panel, which focused on restorative justice and revolutionary practice in schools and society, Kaba said values for restorative-justice practitioners should be informed by the answers to central questions about the origin of the nation's system of "mass punishment" – what happened, who has been harmed, what needs emerged as a result, related obligations and who is obligated to meet the identified needs.
"The state has stolen our ability to actually resolve our conflicts ourselves," said Kaba, describing an unhealthy overreliance on police powers in schools and neighborhoods. "We outsource to others our ability to resolve conflicts. Reclaiming that is the basis of restorative justice work, if you really take it seriously."
Members of communities need to come together to repair the harm with a systemwide response rather than internalizing a punishment mindset, adding trauma and fueling a cycle that disproportionately discards Black and Brown youth, Kaba said.
"We have to think these things through. Uproot your own punishment mindset and help your students do the same," she urged educators
Dr. Carla Shedd, an associate professor of sociology and urban education at The Graduate Center of City University of New York, said "a sociological imagination has to be ignited in everyone" to envision healthy and affirming ways of helping youth navigate challenges and troubles.
It's time, she said, to "move the locus from individuals" to all levels of the wider society and remove the "universal carceral apparatus" that has a ripple effect beyond individuals on families and communities.
"Turn the lens on the system instead of individuals living in an unfair and unjust system," she said. "We have to change the system."
That likely means changing the concept of what school is and transforming the idea of how education is delivered, Shedd suggested.
Dr. David Stovall went a step farther.
"In restorative justice, the question is, 'What are we restoring people to?'" asked the professor of African-American studies, criminology and law and justice at the University of Illinois at Chicago.
A persistent obstacle to resolving the mass incarceration and long-term marginalization of youth of color and economically disadvantaged youngsters is a pervasive failure to understand the historical underpinnings that perpetuate the problem, especially for Black people, Stovall said.
"Black people were excluded from public education from the beginning, and every effort of Black people and others toward self-determination of their own education has always been fought vehemently by the White supremacist system," he said. "So what is happening is not new."
He challenged the assumption that schools are "naturally good" in terms of their structure and processes, a misconception based on "ahistoricism deeply rooted in fear."
They are about order and compliance that teach minoritized students "how to hate themselves," he said, and the result of such a dysfunctional system is subpar outcomes for disadvantaged groups already disadvantaged.
"Systems were never created to destroy themselves," he said. "Systems were created to perpetuate power."
LaMont Jones can be reached at [email protected].