HOUSTON – Tanaya Washington attended a KIPP Academy in South Bronx, N.Y. and is now an assistant principal at KIPP WAYS Academy in Atlanta.
Three of Washington's five children attend KIPP schools, and she was one of hundreds of KIPP alum who shared their experiences this week at the annual KIPP Summit as the charter school marks its 25th anniversary.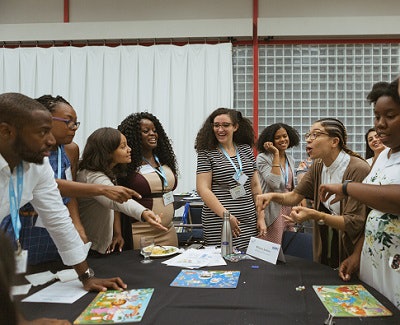 "It was definitely one of the most transformative times of my life I can say at this point," said Washington, who ended up in Atlanta after attending Spelman College. "My mom found out about it word-of-mouth and asked about how I could enroll in the fifth grade. I formed a strong bond with the teachers there. They were really big on relationship-building. Even though I went to a public high school, I still kept in touch."
Eventually, the group formed the KIPP to College program that helped with SAT prep, internships and essay-writing, she said. While at Spelman, she began volunteering at the academy – a few blocks away from the college campus – and eventually gained employment there as a teacher's assistant, a sixth-grade math teacher and, last year, became assistant principal.
"I'm just proud KIPP is still doing what it set out to do," Washington said during the three-day summit.
Richard Buery Jr., chief of policy and public affairs for KIPP, said there are almost 30,000 KIPP alum and 100,000 current enrollees, making it "about the 30th-largest school district in the country."
KIPP, which stands for Knowledge is Power Program, is a network of free college-prep schools with open enrollment across the United States. It opened its first school in Houston in 1994 and soon its second in New York.
KIPP touts 242 schools in 20 states, including the District of Columbia. Among them are 101 elementary schools, 106 middle schools and 35 high schools.
"Part of our theme this year was having an alumni-led conference as part of our 25th anniversary and creating these spaces for different alum to share their skills and talents with the world," said Buery.
Most KIPP students, 95 percent, are African-American or Latinx, and 88 percent are eligible for federal free or reduced-price meal programs.
"I think the promise of charter education is fundamentally about helping to support innovation throughout the entire system," he added. "It's a wonderful blessing to operate one excellent school. I think the real win is that the work of operating an excellent school can have an impact into the broader system."
KIPP issued a report eight years ago on the college-completion rates of its graduates, which was only 11 percent among low-income students in general but about 33 percent for KIPP college graduates, Buery said.
"Rather than celebrating the fact that we are sending kids to college at three times the rate of other low-income students, we went to a process of evaluating what was wrong with our K-12 system," he said. "That was a brave and powerful thing. That's how you do better and learn."
This week's summit brought out many alumni, current teachers and students.
Dave Levin, who co-founded KIPP, said he was delighted to see the attendees gather to celebrate and learn from each other at more than 300 sessions offered at the summit.
"The fact that over 100,000 students attend KIPP schools today is something that inspires us every day to become better at what we do," said Levin. "And, there are over 28,000 KIPP alums pursuing choice-filled lives and changing the world, yet our work is just beginning. Over the next 25 years, I am so excited about working with our students, families, alums and communities to build a better, more just, world."
Dolores Lozano, a KIPP Houston alum, works with Genesys Works, a nonprofit program that encourages companies to offer internships to youth across the country.
"We place high school seniors in corporate companies for year-long paid internships," said Lozano. "They apply during the spring of their junior year and through the summer leading into their senior year. The students go through an eight-week program and, based on their achievements within the program, they are placed in corporate companies."
After attending KIPP 3D Academy in Houston, the first-generation college student and the oldest of three children graduated from Baylor University, where she had studied communication sciences and disorders.
"I thought I wanted to become a speech therapist, so I did that," she said. "Through the power of networking, I found my way into sports. So, I started interning at ESPN Radio. I have worked for the Super Bowl when it was here in Houston and The Final Four in Minneapolis."
Lozano recently wrapped up being a part of a KIPP alumni leadership accelerator, a 10-month leadership program.
"Last month, I had the opportunity to be a scholar at the Aspen Ideas Festival, engaging in deep thought with leaders from across the globe," she said. "It was very incredible to see the likes of Jemele Hill, DeMar DeRozan and Tara Westover all in one space."
Lozano praised KIPP's efforts to support alumni, mentioning that she recently benefitted from a $10-million grant KIPP received to support its former students.
"Everything they instilled in me helped me to be the person I am today," she said.