There is a shortage of qualified professionals within the cybersecurity field across the globe, and universities in the United States are looking for solutions.
It is predicted that by 2021, there will be 3.5 million unfilled cybersecurity jobs globally. Comparably, there were one million open jobs in 2014, according to research organization Cybersecurity Ventures.
The unfilled cybersecurity jobs could cause both security and financial concerns.
Cybercrime damages are predicted to cost the world $6 trillion annually by 2021, up from $3 trillion in 2015, Cybersecurity Ventures reported.
"The Internet is still a lot like the wild West with barely enough law enforcement," said Steve Morgan, founder and editor-in-chief at Cybersecurity Ventures. "This is placing enormous demand on governments and private enterprise to provide cybersecurity products and services."
Since cybersecurity professionals handle internet security, Robert Jorgensen, assistant professor of cybersecurity at Utah Valley University, believes that working in the field can have both a "rewarding aspect as well as a challenge aspect."
Dr. Eman El-Sheikh, director of the University of West Florida Center for Cybersecurity, believes that the ever-changing environment of the cybersecurity field contributes to the low rates of qualified professionals currently in the workforce.
"The cybersecurity landscape continues to evolve and there is a lot of knowledge and skills needed," she said. "The traditional academic and training models are not quick enough to evolve where students can gain the skill sets needed."
UWF and Felician University are among a growing number of institutions implementing cybersecurity training and education programs.
"I think one of the things that universities can do is to basically let people know that this is not just for the computer scientists, this is not just for the information technology professionals," said Jorgensen. "This is a field where there are opportunities for a lot of people to apply a lot of different knowledge and backgrounds."
Beginning in September, UWF's program, Cybersecurity for All, will provide flexible hands-on training to prepare individuals for various cyber work roles. The courses and certificates offered include network defense, risk management, cloud security, incident response, CompTIA Security+, malware analysis, system administration and scripting, industrial control systems and SCADA security.
The majority of the classes are offered in person from 8 a.m. to 4:30 p.m. and are taught by UWF faculty and staff. A few of the classes can be taken online. The course costs range from $1,500 to $2,500.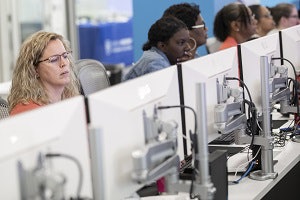 At the end of the program, participants will receive UWF certificates of completion.
"We are big believers in that cybersecurity needs to be everyone's business," said El-Sheikh. "Many organizations may not realize that they could have breaches. So part of our goal is to bring more awareness so that every organization – whether a small, medium or large business across sectors in government, healthcare, finance or retail – has cybersecurity professionals on their team."
Felician partnered with Cellebrite, a digital intelligence solutions organization, to create two courses for participants to develop workforce skills and work towards certification or a college degree.
The courses, Introduction to Mobile Forensics and Mobile Forensic Data Analysis, are mostly targeted toward veteran students.
"Felician University has worked with the veteran's community for years, so we know that veterans can struggle to find careers with the same sense of mission and purpose they had in uniform," according to John Meagle, the university's executive director of marketing. "We believe that careers in law enforcement, those devoted to public safety and protecting civilians, will provide that same sense of purpose."
For the Introduction to Mobile Forensics course, students will experiment with forensic processes and examine extracted digital data. Hands-on training with Cellebrite technology is used to teach the Mobile Forensic Data Analysis course. Both are taught by Cellebrite professionals.
"These courses teach a comprehensive set of tools augmenting digital intelligence solutions for the extraction, decoding, analysis and collaboration of digital data," said Buddy Tidwell, senior vice president of global training for Cellebrite. "The skills learned are highly desired for positions in information/cyber security and analysis that the U.S. Labor Department shows are in demand and pay excellent salaries."
Upon program completion, students will receive either the Cellebrite Certified Physical Analysis Certification or the Cellebrite Certified Operator Certification.
"Universities are doing a great job of fine-tuning and making sure they understand the nuances of this issue," said Kelvin Coleman, executive director of the National Cyber Security Alliance. "They are also doing a much better job at looking at the policy piece of it and the programming piece of it."
Another issue facing the cybersecurity workforce is the low amount of females.
Women make up only 20 percent of the field, according to Cybersecurity Ventures.
Morgan believes that in order to make changes in the field, parents need to talk and encourage their children to pursue these kinds of jobs in the future.
"We need more role models for young girls and women, encouraging them to explore careers in cybersecurity," he said.
Sarah Wood can be reached at swood@diverseeducation.com.