When President Donald J. Trump addressed the 2019 HBCU Conference in Washington D.C. last week, he told the crowd of historically Black college and university leaders that his administration's commitment to HBCUs is "bigger and better and stronger than any previous administration, by far."
While HBCUs have enjoyed some success under Trump's tenure, the president's remarks paint an incomplete picture, according to some HBCU experts.
Dr. Ivory A. Toldson, a clinical psychology professor at Howard University, said Trump's rhetoric struck him as "a bit bombastic and overstated." Toldson was the executive director of the White House Initiative on HBCUs under former President Barack Obama. He now serves as the president and CEO of Quality Education for Minorities Network and is editor-in-chief of The Journal of Negro Education.
While Trump has maintained policies that benefit HBCUs, it's hard to quantify a president's success in this area, Toldson said. Congress and federal agencies like the Department of Education are largely responsible for policies that fund these institutions.
"With presidents, the only thing they can do is not obstruct Congress and not try to actively prevent anything they're interested in funding," he said.
Plus, by some measures, support for HBCUs has actually decreased under Trump.
For example, since 2016, federal funding for scientific research at HBCUs dropped by 17 percent, according to a 2019 report from the National Center for Science and Engineering Statistics.
Toldson suggested this is in part because of Trump's decision to move the Initiative on HBCUs back to the White House, instead of leaving it under the auspices of the Department of Education. While Trump praised the decision to move the Initiative to the White House "where it belongs," Toldson said it "politicizes" the Initiative and distances HBCUs from the agencies that fund them.
"What HBCUs need is a fair playing field when competing for research dollars," he said.
Meanwhile, Trump claimed in his speech that he increased federal funding to HBCUs by a "record" 13 percent, "the highest ever done." But Dillard University President Dr. Walter M. Kimbrough said that's not quite accurate. He pointed out that Trump's percentage isn't just money given directly to institutions. It includes loans, as well as capital finance loan deferment for 13 HBCUs.
"The overall budget has increased but most of that increase is borrowing capacity," he said. "It's going to have to be paid back."
This isn't to say HBCUs haven't made concrete gains from decisions made under the Trump administration.
Dr. Marybeth Gasman – the executive director of the Samuel DeWitt Proctor Institute for Leadership, Equity, and Justice and the Rutgers Center for Minority Serving Institutions – said she finds it hard to take Trump's commitment to HBCUs seriously "when he is simultaneously supporting White supremacists and their movements."
Still, she acknowledges HBCUs have benefitted from increases in federal funding, the restoration of year-round Pell Grants and debt cancellation for HBCUs hit by Hurricanes Katrina and Rita.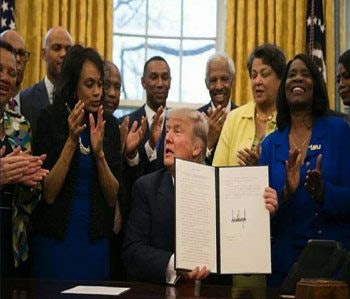 Gasman emphasized that many initiatives on behalf of HBCUs came about "through the work of Congress," though she's "glad that Trump signed the legislation."
Dillard University, was one of the schools that had its disaster loan forgiven after Hurricane Katrina. Without loan forgiveness, the university would have had to pay back $2 million a year for 20 years which would've put a "strain" on the budget, said Kimbrough. While it was proposed under the Obama administration, Congress passed it under the Trump administration with the help of U.S. Secretary of Education Betsy DeVos.
"I can't act like that's nothing," Kimbrough said. "That's a big deal. And the administration should be proud of that."
At the same time, Trump's speech neglected to mention decisions not directly related to HBCUs that harmed them, he added.
For example, changes to Upward Bound, a federal TRIO program which provides college preparation for low-income families, caused a third of HBCUs with Upward Bound programs to lose them, including Dillard. Also, the Federal Perkins Loan program expired, phasing out low-interest federal student loans to low-income students, which helped HBCUs and other schools.
"Those are the things that we're not talking about that happened," said Kimbrough.
But the biggest elephant in the room during Trump's remarks was the Fostering Undergraduate Talent by Unlocking Resources for Education Act or FUTURE Act, which just passed in the U.S. House of Representatives and will soon head to the Senate.
This legislation would renew $255 million in annual funding for HBCUs and other minority serving institutions. The $850 million program initiated under Obama funded HBCUs for ten years. The funding is set to expire on Sept. 30th.
"That's real money," Kimbrough said. While Obama has often been accused of neglecting HBCUs, Trump has done "nothing comparable" to support them.
On the day of Trump's remarks, Dr. Harry L. Williams, president and CEO of the Thurgood Marshall College Fund, released a statement thanking the president for acknowledging the organization's work to restore year-long Pell grants and his "renewed commitment to increasing support."
But Williams emphasized that "the most obvious way for the Administration to meet that commitment real-time is to leverage the White House's influence with Congress to achieve passage of the FUTURE Act."
Instead of addressing the FUTURE Act, in his speech, Trump announced a Department of Justice opinion that he said allowed 40 faith-based HBCUs and seminaries "equal access to federal support."
But "that's not a thing," Kimbrough said. "They made that up."
HBCUs, religious or otherwise, have always had access to capital finance loans, Gasman added.
Kimbrough doesn't blame the president – he must've gotten "bad information," Kimbrough said – but the 28-page document did nothing for HBCUs, as far as he could tell.
To Kimbrough, and other HBCU presidents, the fate of the FUTURE Act is far more critical, and if it doesn't pass, it'll be a stain on the Trump administration's record with HBCUs.
"He should've given a full-throated endorsement to the FUTURE Act," Kimbrough said. "Because if that goes away and we lose that money, he's hurt these institutions worse than President Obama did."
Sara Weissman can be reached at sweissman@diverseeducation.com.